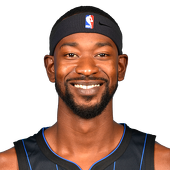 Own

8%

Start

1%

SF Rank

NR
Latest News
Ross is averaging 3.6 points (on 28.6 percent shooting), 1.6 rebounds, and 0.8 three-pointers over 14.8 minutes in his five games since returning from a thumb injury. Ross returned about a week earlier than expected from the injury, but he's looked a little rusty since reclaiming his bench role, particularly with his shot. The swingman has never been an especially efficient shooter, and the offseason addition of DeMarre Carroll may no longer necessitate coach Dwane Casey calling on Ross for three-point production. That seems to be reflected in the playing time Ross has received this season, as he's averaging just 16.4 minutes per game, down all the way from 25.5 in 2014-15.

Ross (thumb) scored eight points (3-6 FG, 2-3 3Pt) with a rebound in 14 minutes off the bench during Friday's win over the Lakers. He missed six games with a thumb injury, but Ross didn't seem hampered by the digit Friday despite playing with the digit heavily taped. Barring an injury to one of the Raptors' starting wings, though, his minutes will likely remain limited even when he's fully healthy.

Ross (finger) will return to action Friday versus the Lakers, Rusty Simmons of The San Francisco Chronicle reports. Ross has missed the Raptors' last six games with a hand injury. He was originally expected to miss at least two weeks with the injury, so his return is somewhat of a surprise as it has not been two weeks yet. It is unclear what type of role he will take on in his first game back.

Ross (thumb/wrist) will be out at least two weeks, TSN 1050's Josh Lewenberg reports. He suffered the ligament injury in Monday's workout and will be out until at least the last week of November. James Johnson started and played 29 minutes in Tuesday's competition and figures to continue to see solid run in the short term.

Ross has been diagnosed with a ligament injury to his left thumb and has no timetable established for his return. Ross sat out Tuesday's 111-109 loss to the Knicks with the injury, and it appears he'll be out indefinitely until the Raptors get a full handle on the nature of his injury. For the time being, it appears safe to rule him out for Wednesday's game against the 76ers, and at least the next few games to follow. With Ross out of commission and DeMarre Carroll day-to-day with plantar fasciitis on his right heel, the Raptors are suddenly short on depth at the wing spots. Their absences should pave the way for more playing time in the short term for James Johnson, who started and played 29 minutes Tuesday.
Recent Tweets
NEW Raptors Report podcast with @WolstatSun & myself. Improved D, 3pt shooting, slumping T-Ross, JJ tweet and Kobe: https://t.co/rDyynTouur

More on Raptors-Suns including Ross extension looking like bad call, Bebe subtly impresses, Re-drafting 2013, etc. https://t.co/uXRNKExeov

Comment on the NBA apology post: "I'd rather see an apology from masai for extending ross's contract"