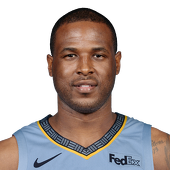 Own

31%

Start

13%

SG Rank

NR
Latest News
Waiters posted 16 points (6-13 FG, 2-6 3Pt, 2-2 FT), three rebounds, two assists, and one steal in 27 minutes Wednesday against the Nets. Waiters returned to the bench last game with the return of Kevin Durant, but has now posted 12 and 16 points over the last two contests. He still appears to be poised for 25-28 minutes per night, and he's going to take his share of shots, so in spite of a possible dip in production, Waiters may still be in line to score 10-plus points a night, with occasional outbursts in steals moving forward.

Waiters moved back to the bench Monday, but still put up 12 points (5-9 FG, 1-2 3Pt, 1-2 FT), three rebounds, six assists, four steals, and a block in 29 minutes against the Jazz. Despite the move back to the bench, Waiters played almost identical minutes to the previous two games where he started. He also amassed more assists and steals Monday than in the his two starts combined. Even with the return of Kevin Durant, Waiter will probably continue to get plenty of opportunities to score off the bench.

Waiters will start Sunday's game against the Mavericks, Anthony Slater of the Oklahoman reports. Waiters will start for the second consecutive game, as Kevin Durant remains sidelined with a hamstring injury. Waiters scored 16 points in his start on Friday, despite missing all six of his three-point attempts. He should be able to get off a bunch of shots again with Russell Westbrook taking most of the focus of the defense, although he'll be looking to shoot a little better than he did on Friday.

Waiters will get the start Friday versus New York, Anthony Slater of The Oklahoman reports. Waiters will replace Anthony Morrow in the starting lineup. It could potentially be the last game the Thunder have without Kevin Durant, so Waiters will try and make the most of his extra minutes and usage in the offense. He's currently averaging 10.3 points, 3.8 boards, 1.7 assists, 0.8 steals, and 1.1 threes in 28 minutes per game.

Waiters played a season-high 38 minutes in Monday's loss to the Grizzlies, finishing with 14 points (6-14 FG, 1-3 3Pt, 1-2 FT), seven rebounds, two assists, and a steal. Though Waiters continued to come off the bench, most of the minutes on the wing vacated by the absences of Andre Roberson (illness) and Kevin Durant (hamstring) ended up going to the fourth-year pro. Waiters finished third on the team in shot attempts behind Russell Westbrook (19) and Serge Ibaka (16), showing that he'll retain a large role on offense so long as Durant remains sidelined. That could make him worth a roster addition in the short-term if he's still available in mid-sized formats.
Recent Tweets
Thunder bench at work: Collison to Waiters to Morrow for 3. https://t.co/UOmyOlkDcX

Quite frankly, the Dion Waiters over Jeremy Lamb decision doesn't look all that hot either https://t.co/jfIsS4irF5

On cue, double techs for Waiters and Johnson.