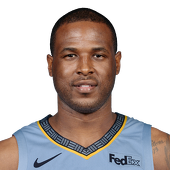 Own

24%

Start

13%

SG Rank

91
Player News
Waiters recorded 15 points (5-11 FG, 2-7 3Pt, 3-5 FT), four assists, three steals, one rebound, and one block in 41 minutes during the Thunder's 122-106 win against the Suns on Monday. Over the last five games, Waiters is averaging 10.2 points, three rebounds, 2.2 steals, two assists, and 0.4 blocks in 36 minutes per contest. He has seen 32 minutes or more in nine straight appearances, and he continues to start at shooting guard with Andre Roberson (knee) out for at least another couple weeks. Waiters is far from efficient. However, he is providing numbers that are fairly serviceable--especially to those in deeper leagues--and he will likely continue earning heavy minutes until Roberson returns.

Waiters will draw another start Wednesday versus the Timberwolves, Alan Horton of WCCO 830 AM reports. Waiter started his first game since Nov. 22 Tuesday, and will draw his second consecutive start Wednesday versus the Timberwolves. Waiters will look to take advantage of the starting opportunity while Andre Roberson is sidelined. He posted 14 points, three rebounds, one assist, and two triples in 43 minutes Tuesday.

Waiters provided 14 points (6-10 FG, 2-3 3Pt), three rebounds, and one assist in 43 minutes during the Thunder's 128-122 overtime win versus the Knicks on Tuesday. Waiters entered the starting lineup with Andre Roberson set to miss at least three weeks due to a sprained knee. This was Waiters' third start of the season, and he played a surprisingly efficient game. He was already seeing 27 minutes per game, so Waiters seems likely to average at least 30 minutes per game while Roberson remains sidelined. However, expecting much outside of scoring is likely to end in disappointment for fantasy owners.

Waiters will start at two-guard in Tuesday's game against the Knicks in New York, Anthony Slater of The Oklahoman reports. After Andre Roberson was given a recovery timetable of at least three weeks due to a right knee sprain, Waiters was the logical candidate to enter the starting five. In two nods this season, Waiters averaged 15.0 points (on 41 percent shooting), 3.0 rebounds, 2.0 steals, 1.5 assists, and 1.0 three-pointer in 30 minutes.

Waiters had 13 points (5-10 FG, 3-6 3Pt, 0-2 FT), four rebounds, one assist, and one block in 35 minutes during the Thunder's 109-106 win over the Mavericks on Friday. The 24-year-old guard is scoring 12.2 points to go with 1.8 rebounds, 1.6 assists, 0.8 steals, and 0.4 blocks in 29 minutes per appearance over the last five match-ups. His scoring is up while everything else besides blocks and minutes are down in comparison to his season averages, and Waiters already offers very little outside of scoring.
Recent Tweets
Dion Waiters (15 pts) on ThunderRadio after win. "We just wanted to bounce back, play the right way, play together." https://t.co/hmat9FWQtW

Thunder beat the Suns 122-106. Durant 32, Westbrook 29-8-8, Waiters 15, 4 assists and 3 steals, Kanter and Payne each with 11.

Waiters for 3! Thunder UP 106-97. 4:34 left in 4th. #OKCatPHX https://t.co/rmzt6hvFqA