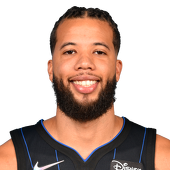 Own

99%

Start

75%

PG Rank

21
Player News
Carter-Williams will come off the bench again Thursday against Washington, CF Gardner of the Journal Sentinel reports. Coach Jason Kidd made the surprising move to bring both Carter-Williams and Greg Monroe off the bench Tuesday against the Celtics, and both players responded well in the victory, with Carter-Williams putting up 16 points, six rebounds and five assists in 26 minutes. Speaking to reporters Wednesday, Kidd confirmed that he'll stick with the same starting five Thursday, meaning O.J. Mayo and Miles Plumlee will start at point guard and center, respectively. Kidd has not provided a real reason for the decision to switch up the lineup, but it appears as though the minutes loads of Monroe and Carter-Williams will remain relatively constant, regardless of whether or not they begin the game on the bench.

Carter-Williams scored 16 points (6-8 FG, 0-1 3Pt, 4-6 FT) to go with six rebounds, five assists, and a steal over 26 minutes in a 112-111 victory over the Celtics on Tuesday. Carter-Williams posted an excellent stat line in a reserve role, scoring 16 or more points for just the second time since Jan. 26. While Carter-Williams was slated to receive a reduction in court time, his starting lineup replacement -- O.J. Mayo -- made little use of his spot start, going scoreless over 18 minutes. MCW has regressed in several categories this season, but seems unlikely to cede minutes to the likes of Mayo or Rashad Vaughn.

Carter-Williams will come off the bench Tuesday against the Celtics, Gary Washburn of the Boston Globe reports Carter-Williams will play second fiddle to O.J. Mayo on Tuesday, although there's no guarantee this dynamic will have lasting power since coach Jason Kidd is also choosing to start Miles Plumlee over Greg Monroe at center. Despite the demotion, Carter-Williams could still realistically see his average of 31 minutes per game against Boston while coming off the bench.

Carter-Williams contributed 18 points (6-8 FG, 1-1 3Pt, 5-6 FT), 13 assists, five rebounds, one steal, and one block in 34 minutes during the Bucks' 111-104 loss to the Kings on Monday. MCW made six of his eight shot attempts, and dished 13 assists while committing just three turnovers. Nevertheless, the Kings' defense typically finds ways to make the opponents' offenses look good. This was his sixth double-double of the season, and it was already his fourth in 2016. Though his numbers were a bit stronger in December than January, MCW is still managing to post fairly well-rounded stat-lines--albeit without consistently making threes or blocking shots.

Carter-Williams pitched in with 10 points (4-7 FG, 2-2 FT), six rebounds and an assist over 27 minutes in Thursday's 103-83 loss to the Grizzlies. The three-year pro posted under 10 shot attempts for the second straight game, resulting in another modest scoring total. Carter-Williams seems to alternate between serving as a ball distributor and scorer from game-to-game, making it dificult to get a read on him fantasy-wise. He now has six single-digit scoring performances and eight double-digit point tallies in January, along with three double-doubles. He's predictably put up single-digit attempts in all of the contests where he's managed under 10 points, while the opposite has been true in all but one game in which he's managed double-digit scoring. Carter-Williams' January scoring average is also down three full points from his 13.8 December figure.
Recent Tweets
Greg Monroe, Michael Carter-Williams to come off bench vs. Boston https://t.co/ce3UML2AOr https://t.co/vQk1PKOgLl

I asked Kidd who was the PG in that lineup: "All five. Look, we've done this before with Michael and O.J. We trust O.J. as the point guard."

Kidd: "Michael and Moose are going to play as many minutes if not more, than if they were starting."