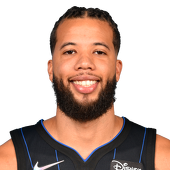 Own

99%

Start

74%

PG Rank

12
Latest News
Carter-Williams failed to register an assist for the first time all season in Tuesday's 115-86 loss to the Wizards. He finished with 12 points (5-10 FG, 2-4 3Pt, 0-2 FT) and four turnovers. In his second game back from an ankle injury that caused him to miss four games, Carter-Williams didn't exactly give John Wall a tough time opposite him. The young point guard has always been more known for his scoring ability, but even that was lacking Tuesday, so the fact that he didn't get a single assist really hurts his fantasy value.

Carter-Williams (ankle) will get the start Saturday against the Cavaliers. He practiced Friday and requested to play Saturday, so he must be feeling better, however, given the Bucks' depth at point guard, Carter-Williams may not see a typical starter's workload right away.

Carter-Williams (ankle) practiced Friday and is listed as probable for Saturday's game against the Cavaliers, Charles Gardner of the Milwaukee Journal Sentinel reports. After missing the last five games, it looks as if the Bucks' starting point guard will be back in action Saturday. Tyler Ennis has gotten the start in Carter-Williams's absence, but Greivis Vasquez and Jerryd Bayless have taken on a majority of the minutes in the backcourt. It's unknown whether Carter-Williams will be limited in any way in his return, but both Bayless and Vasquez have shown the Bucks have solid depth at point guard moving forward.

Carter-Williams (ankle) is out again Wednesday in Denver, Charles Gardner of the Milwaukee Journal Sentinel reports. This is Carter-Williams fifth consecutive game missed since injuring his ankle at the end of the Bucks contest versus Brooklyn a week ago. Tyler Ennis will get the start again in place of Carter-Williams. Head coach Jason Kidd he's on pace to reach his target return date Saturday versus Cleveland.

Carter-Williams (ankle) remained limited at practice Monday, and he'll sit out Tuesday's game against the Celtics, CF Gardner of the Journal Sentinel reports. Carter-Williams injured his ankle a week ago in a game against the Nets, and he's been held out of the last three contests. He'll sit for a fourth game Tuesday, meaning Tyler Ennis could get another starting nod at point guard, while Greivis Vasquez and Jerryd Bayless should each see heavier workloads off the bench.
Recent Tweets
Thanks to @Bill_Michaels for having me on @1057FMTheFan earlier. Here's the audio: https://t.co/A16e3Jgkjj

Friends: I'll be joining @Bill_Michaels on @1057FMTheFan shortly.

Coach Kidd on tonight's game and the first time he faced Michael Jordan MUST WATCH » https://t.co/VyokhIJUfB https://t.co/DaXdpuSshH