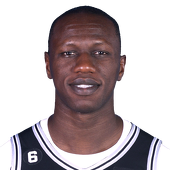 Own

92%

Start

72%

C Rank

23
Player News
Dieng dropped 14 points (4-7 FG, 6-9 FT), 10 rebounds, six assists, two steals, and one block in 41 minutes during the Timberwolves' 117-112 win against the Raptors on Wednesday. Dieng delivered his fourth straight double-double and sixth in the last seven games. He now has 10 total in 2015-16, and heads into the All-Star break with scintillating averages of 16.2 points, 10.2 rebounds, 4.4 assists, 0.6 steals, and 0.6 blocks in 36 minutes per appearance through the first five games of February. If coach Sam Mitchell keeps feeding Dieng this many minutes, he will likely possess solid value for the remainder of the season. Nevertheless, Nikola Pekovic (foot) and Kevin Garnett (knee) returning to the lineup could potentially eat away at some of Dieng's minutes down the road.

Dieng had a double-double with 12 points (5-10 FG, 1-3 FT, 1-2 3Pt) and 12 rebounds in addition to four assists and one block in 31 minutes of action during Monday's loss to New Orleans. The third-year pro started for the seventh consecutive game and registered his fifth double-double during that stretch, to go along with averages of 17.3 points, 10.7 rebounds and three assists. Dieng also hit his second three-pointer of the season Monday, adding a cherry on top of another productive fantasy outing. If Dieng keeps producing at this rate, the presence of Niokla Pekovic and the eventual return of Kevin Garnett may not diminish his role much, as the Timberwolves look toward the future.

Dieng contributed 24 points (10-13 FG, 0-1 3PT, 4-4 FT), 13 rebounds and seven assists over 41 minutes in Saturday's win against the Bulls. Dieng has been enjoying a very productive couple of weeks, averaging 17.4 points and 9.9 rebounds over his last seven games. He has thrived alongside rookie Karl-Anthony Towns and is taking advantage of Kevin Garnett's prolonged absence. As long as his minutes mark stays around 30 minutes, he is capable of continuing his productive. However, it remains to be seen if these heavy minutes continue.

Dieng contributed 12 points (4-6 FG, 4-5 FT) and grabbed 10 rebounds in 31 minutes during Wednesday's victory over the Clippers. With Kevin Garnett and Nikola Pekovic still out, Dieng played 30-plus minutes in his fourth consecutive game and tallied his seventh double-double of the season. He's played well during his increase in minutes and provides a formidable inside presence alongside Karl-Anthony Towns in the front court. Still, it's hard to envision Dieng's minutes remaining at this level once the Timberwolves return to health.

Dieng dropped 19 points (6-9 FG, 0-2 3Pt, 7-9 FT), six rebounds, five assists, and one steal in 37 minutes during the Timberwolves' 119-115 loss to the Lakers on Tuesday. Dieng's five assists matched his season-high, and he has now seen 37 or more minutes in three straight match-ups. With Kevin Garnett (knee) and Nikola Pekovic (foot) ailing, Dieng has been called upon to play heavy minutes lately, and he has responded with extremely respectable results. Over the last five games, Dieng has managed 17.2 points, 9.2 rebounds, 2.4 assists, 1.2 steals, and 0.4 blocks in 33 minutes per appearance. It's unclear how long K.G. and Pekovic will remain sidelined, but when they do return it's safe to say Dieng will probably see his minutes head south of 30 per once again.
Recent Tweets
Final Stats: @KarlTowns: 35pts 11rbs 3blks @22wiggins: 26pts 3rbs @rickyrubio9: 19pts 8rbs 8ast @GorguiDieng: 14pts 10rbs 6ast #WolvesWin