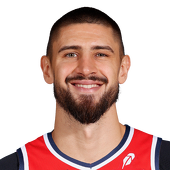 Own

26%

Start

5%

C Rank

34
Latest News
Len is in the starting lineup for Sunday's matchup with the Raptors, Paul Coro of the Arizona Republic reports. With Tyson Chandler sidelined due to a hamstring injury, Alex Len will take his spot in the starting lineup. Len started Wednesday's game for Chandler earlier this week and finished with two points, eight rebounds and two blocked shots over 16 minutes. Considering Len played just 16 minutes compared to the 25 of Jon Leuer, it remains questionable how much of an increase in production he'll actually have while running with the starters. Despite the minutes share with Leuer and recent struggles offensively, Len should still provide some rebounds and blocks for fantasy owners.

Len started for the ill Tyson Chandler Wednesday against the Pelicans and posted two points (1-2 FG, 0-1 FT), eight rebounds, two steals, and two blocks in 16 minutes. Chandler was a late scratch on Wednesday, so it's unlikely that Len will stay in the starting lineup for long. That being said, Len didn't exactly capitalize on the opportunity, as he played just 16 minutes compared to teammate Jon Leuer (25 minutes, 20 points). Len hasn't had enough opportunities, nor has he demonstrated enough consistency to be worth thinking about most formats.

Len will start at center Wednesday against the Pelicans, Paul Coro of The Arizona Republic reports. With Tyson Chandler ruled out with an illness, Len gets the unexpected start even though he's played a total of just eight minutes over the last two games. Look for Jon Leuer to also see considerable minutes Wednesday, while most likely eating away at Len's viability despite getting the starting nod.

Len scored 10 points (4-7 FG, 2-3 FT) and grabbed six rebounds over 25 minutes in Monday's win over the Lakers. The Suns' 19-point victory allowed Len to see his heaviest playing time of the season, but he's been averaging only 15 minutes per game as the backup center behind Tyson Chandler. That arrangement isn't likely to change in the near future, so Len remains worthy ignoring in most formats.

Suns center Alex Len (ankle) is out for Tuesday night's game versus the Rockets, Paul Coro of The Arizona Republic reports. Coach Hornacek said Len's ankle sprain wouldn't have kept him out of a regular season game, so it appears Pheonix is simply being cautious here. Len has potential to be a productive fantasy player, but his ankles and inconsistency have been a concern.