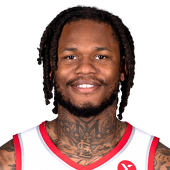 Own

17%

Start

5%

SG Rank

88
Latest News
McLemore posted eight points (2-5 FG, 0-1 3Pt, 4-4 FT), four rebounds, three steals, and one assist over 27 minutes in Wednesday's win over the Bucks. McLemore has started the Kings' last six games and has scored at least eight points in every contest. Nonetheless, McLemore is usually no better than a third option on offense whenever he's on the court and doesn't regularly contribute even league-average production in any category aside from steals, which continues to limit his value to deeper leagues.

McLemore scored a season-high 17 points (7-12 FG, 3-4 3Pt, 0-1 FT) to go along with three assists and a rebound over 32 minutes in Thursday's loss to the Heat. After being exiled from the rotation following his early-season shooting struggles, McLemore is back in coach George Karl's good graces again and looks like he'll continue to hold down a starting role even with Darren Collison back from a hamstring injury. Don't count on McLemore to regularly see 30 minutes and shoot the ball as well as he did Thursday, but with his arrow on the rise, he might be worth a look in certain formats if he was dropped earlier this season.

McLemore scored 11 points (4-8 FG, 3-3 3Pt) in 18 minutes in Wednesday's loss to Atlanta. McLemore started his second consecutive game Wednesday even though Darren Collison (hamstring) returned from injury. Despite starting, McLemore logged just 18 minutes and got one rebound and one assist to go along with his scoring total. To date this season McLemore hasn't put up very good fantasy numbers, his season highs being 4 rebounds, 4 assists, 3 steals, and 15 points. Though he's started the past few games McLemore is still a risky fantasy option until he shows some consistency in his shooting and playing time.

McLemore will move into the starting lineup Sunday night, James Ham of CSNreports. McLemore has struggled out of the gate, connecting on just 39.6 percent of his field goal attempts in just 17.0 minutes per game. He's come off the bench for each of the last seven games, but after putting up 15 points in 25 minutes in Friday's win over the Nets, McLemore will move back into the starting lineup, as James Anderson shifts to the bench.

McLemore tallied 15 points (5-8 FG, 3-4 3Pt, 2-2 FT), three assists, a rebound, and a steal over 25 minutes in Friday's 111-109 victory over the Nets. McLemore managed his season-high in scoring over 25 efficient minutes off the bench, which matched his longest stretch of time on the court to date in 2015-16. The former first-string shooting guard received considerably more minutes than starter James Anderson Friday, who only spent six minutes on the floor and was held scoreless. Kings head coach George Karl may continue to bring McLemore off the bench for the time being, and his inconsistent shooting and playing time presently make the third-year pro a risky fantasy option in essentially any format.
Recent Tweets
Brandon Rush heads to the bench to a loud ovation. A 14pt 3rd thus far. 4/5 from 3pt land in this qtr

Warriors led by Steph Curry's 17pts, it's the team's only player in double figures. Bench has been really good. 24pts led by Festus Ezeli 8

Kosta Koufos got the start tonight for the Kings in absence of DeMarcus Cousins - George Karl opting for Quincy Acy early off bench