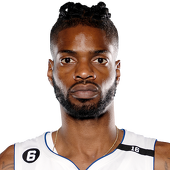 Own

99%

Start

80%

PF Rank

21
Latest News
Noel scored just seven points and added five rebounds along with with two blocks in Monday's 100-95 loss to the Timberwolves. Noel has quieted down on the offensive end in the past couple games for the 76ers, but he's still averaging just shy of a double-double (10.7 PPG, 8.5 RPG) and will continue to be the team's starting power forward in the future. Philadelphia will continue to rely on him and fellow big man Jahlil Okafor, and they are both double-double threats every night they are in the lineup.

Noel recorded 16 points (7-9 FG, 2-4 FT) and nine rebounds in 27 minutes during the 76ers' 113-88 loss versus the Hornets. Noel came off the bench in this one, as 76ers' coach Brett Brown elected to start Robert Covington at the four against a Hornets' small-ball starting lineup that featured Marvin Williams at power forward. Noel and rookie Jahlil Okafor haven't meshed that well on either end of the floor early on, and it's possible Brown will continue to stagger the minutes of his two young big men, especially when opponents go small. Still, even if coming off the bench becomes the norm, Noel is likely to receive plenty of playing time going forward.

Noel will come off the bench Friday in Charlotte, Keith Pompey of the Philly Inquirer reports. Philadelphia has decided the to shake things up to try and ignite their lineup. Even with the demotion to the bench for Friday, it remains to be seen if it will affect Noel's overall minutes. Noel is coming off his worst performance of the season with two points, three rebounds, and two turnovers in 24 minutes.

Noel finished with only two points (1-3 FG) and three rebounds in 24 minutes prior to being benched in the fourth quarter in a loss to the Pacers on Wednesday. Noel had been eating major minutes as a member of the starting lineup for the Sixers, but coach Brett Brown decided to cut the 21-year-old's night short Wednesday after attempting only three shots and turning the ball over twice. Noel is still averaging 10.6 PPG and 8.8 RPG on the season, so he still stands to be a big part of the Sixers' offense if he can get bounce back from this tough game.

Noel will get the start Wednesday against the Pacers, Candace Buckner of Indy Star Sports reports. Noel was originally listed as a bench player for Wednesday's game in attempt to match the smaller lineup that Indiana had. However, Indiana started a big lineup, forcing coach Brett Brown to reinsert Noel into the starting lineup over Robert Covington.
Recent Tweets
Jah, RoCo and Noel combined for 31 rebounds tonight. Rest of team: 19.

Nerlens Noel was 1-7 from the floor and a -20 in a 4 point game.

Nerlens was really really horrendous tonight. Hard to play him 34 minutes when he's that bad.