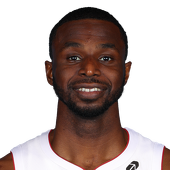 Own

100%

Start

66%

SG Rank

42
Latest News
Wiggins collected 22 points (8-17 FG, 1-3 3Pt, 5-6 FT), six rebounds, an assist and a block over 36 minutes in Friday's 101-91 victory over the Kings. Wiggins led Minnesota in scoring while bouncing back from a difficult 5-for-17 night from the field in the T-Wolves' victory over the Hawks on Wednesday. After being held to nine points in the opener versus the Lakers, Wiggins has rattled off 14 consecutive double-digit scoring performances and seems to just need a notch or two more of consistency with his shot. The second-year standout is averaging 21.8 points per game on somewhat lackluster 43 percent shooting so far this season.

Wiggins posted 32 points (10-21 FG, 1-3 3Pt, 11-12 FT), six rebounds, three assists, two blocks, and one steal in 38 minutes Monday against the Sixers. Wiggins has been on a tear recently, averaging 25.2 points, 4.0 rebounds, 1.0 steal, 1.2 blocks, and 8.4 free-throws made over the last five games. He showed this kind of stellar production near the end of last season, so it's not surprising to see him rise back to this state. He's obviously a big part of the Timberwolves' future, and he has the opportunity to contribute like this on a regular basis.

Wiggins went for 28 points (8-17 FG, 0-1 3Pt, 12-14 FT), five rebounds, one assist, and two blocks in 38 minutes during the Wolves' 104-101 loss versus the Magic on Wednesday. Through 11 games, the sophomore is averaging 21.5 points (43.1 FG, 34.6 3Pt, 74.1 FT), 3.3 rebounds, 1.8 assists, 0.6 steals, 0.6 blocks, and 2.2 turnovers in 34 minutes per game. Wiggins has been scoring the ball at will as of late. However, his rebounding, assist, and steals numbers are all lower than they were as a rookie. On the positive side, he has looked more confident launching from downtown, something that will be exceedingly important if Wolves' interim coach Sam Mitchell continues to surround Wiggins in the starting lineup with weak outside shooters such as Ricky Rubio and Tayshaun Prince.

Wiggins went for 26 points (10-19 FG, 1-4 3Pt, 5-6 FT), two rebounds, and two assists in 42 minutes during the Wolves' 107-103 loss versus the Pacers. Wiggins did commit three turnovers, but his scoring efficiency was solid on Friday. In his last four contests, he's averaging 27.3 points (50.6 FG, 53.8 3Pt, 61.5 FT), 3.0 rebounds, 3.3 assists, 0.3 steals, and 0.5 blocks in 39 minutes per game. Though his rebounding has been sub-par so far this season, Wiggins has really picked up his scoring of late after averaging only 12.3 points per game through his first four contests of the year. Expect the sophomore's shooting percentages to dip a bit going forward, but if he can start contributing more boards and steals, he could make the leap and become an elite fantasy contributor.

Wiggins (knee) will play on Thursday against the Warriors, Jerry Zgoda of the Star Tribune reports. Wiggins had been listed as probable, which makes it unsurprising that he will play and start against Golden State. It is unlikely that he'll be at all limited, but if he is look for Kevin Martin and Shabazz Muhammad to get a few extra minutes.
Recent Tweets
The future is now: Wiggins, Towns, LaVine combine for 55 points https://t.co/Vz7JcV6hgG https://t.co/4vT2Ooytid

FINAL STATS: @22wiggins- 21pts 2rbs 2ast @ZachLaVine- 18pts 7ast @KarlTowns- 17pts 8rbs @GorguiDieng- 14pts 10rbs @Bjelica88- 10pts

It's final: Clippers 107, Wolves 99. Blake w/ 26, CP3 w/ 20 and Wiggins w/ 21 for Wolves