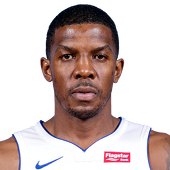 Own

84%

Start

57%

SG Rank

75
Player News
Johnson scored 27 points (11-16 FG, 5-7 3Pt) to go along with 11 assists, six rebounds, two steals and a block in 37 minutes on Friday in a win against the Kings. Johnson has been on fire these last two games, but this was a great matchup in which he took full advantage of. Friday marked a night of season-highs across the board for Johnson. In addition to the 27 points, his 11 assists and five 3-pointers set new marks as well. In the last two contests, he's tallied 20 assists and nine 3-pointers. Johnson has another fine opportunity ahead of him on Saturday, as the Nets take on the Sixers.

Johnson had 20 points (7-12 FG, 4-5 3Pt, 2-2 FT), nine assists, four rebounds and two steals in 36 minutes on Wednesday in a loss to the Pacers. Johnson is certainly on the back-nine of his career, but every now and again, you'll see him come up with a performance like the one he had on Wednesday. Since the moment has passed, "January Joe" can no longer live up to his timely moniker and it doesn't seem like more 20-point outings like this one are on the horizon. However, the Nets take on the Kings in their next game and that is a very favorable matchup for the aging Johnson.

Johnson tallied 15 points (5-8 FG, 2-4 3Pt, 3-3 FT), eight assists, four rebounds, and five turnovers across 37 minutes in Tuesday's 102-98 loss to the Heat. Johnson's 15 points led the Nets' starting unit, but he finished second on the team in the scoring column behind Andrea Bargnani, who poured in 20 off the bench. The season-ending injury suffered by Jarrett Jack on Jan. 2 has allowed Donald Sloan and Shane Larkin to see more minutes at point guard, but Johnson has joined those two players in taking on an increased role as a distributor. He's averaging 5.2 assists over his last five contests.

Johnson matched his season high with 22 points (9-12 FG, 3-4 3Pt, 1-1 FT) with seven assists and five rebounds during 37 minutes in Monday's 112-100 loss to the Raptors. It's odd that 22 points was enough to match his season high, but at least Johnson is starting to find some consistency. He's scored in double figures in seven straight games and has been on fire from downtown, shooting a cool 52.6 percent in January -- Johnson has also drained at least three treys in three straight contests.

Johnson (quad) managed 14 points (6-12 FG, 2-4 3Pt), seven rebounds, six assists, and one steal in 39 minutes during the Nets' 110-104 win over the Knicks on Wednesday. Johnson sat out of Tuesday's practice with a bruised quad, but was able to give it a go on Wednesday. With Jarrett Jack (knee) out for the season, Johnson will likely be afforded more on-ball opportunities going forward unless there's a major shakeup. Over the last five games, the 34-year-old guard is averaging 12.4 points (52.1 FG, 58.8 3Pt, 100.0 FT), 3.8 rebounds, 2.8 assists, and 0.4 steals in 34 minutes per night.
Recent Tweets
Johnson shooting .500 (30-60) from 3 in 14 games under Brown. Bogdanovic shooting .448 (26-58) from 3 in 14 games under Brown.

last two games, Joe Johnson is shooting 60% overall and 75% from three, averaging 23.5 ppg and 10 apg.

Joe Johnson: "It feels great, to see everyone click. The ball movement was great. A great win." #Nets https://t.co/a369H8l5XU