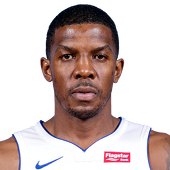 Own

89%

Start

52%

SG Rank

40
Latest News
Johnson scored just 13 points (5-14 FG, 2-5 3Pt, 1-2 FT), but dished out nine assists with seven rebounds and a steal over 39 minutes in a 90-88 win against his former team, the Hawks. Johnson had an off shooting night, but was able to make up for it with a near triple-double. The days of Johnson filling it up seem to be over, as his season-high sits at just 22 points. Fortunately, Johnson is averaging five boards and five assists in eight games in November to make up for his lack of points.

Johnson struggled to score again, posting just 14 points (5-14 FG, 2-7 3Pt, 2-2 FT) with six assists and three rebounds in 41 minutes during Monday's loss to the Nets. Johnson just couldn't deal with the length and athleticism of Giannis Antetokounmpo resulting in a very poor shooting performance. He's downplayed a bruise on his right hand, but clearly something is bothering Johnson. Perhaps age is kicking in or maybe the Nets offense just needs to get going for Johnson to awake from his scoring slumber.

Johnson (hand) will play and start Saturday against the Grizzlies, Andy Vasquez of The Record reports. Johnson suffered a minor right hand injury Friday against the Spurs but has publicly proclaimed the issue to be a non-factor. Although, he's already struggled to produce this season and this injury on his shooting hand only complicates things, especially after scoring a total of just 12 points through the first two games of the season.

Nets veteran guard Joe Johnson (hand) is questionable for Saturday in Memphis, per Mike Mazzeo of ESPN.com. Johnson was only 1 of 7 from the field Friday and put up two points, two rebounds, one assist, and one steal in 25 minutes. He was spotted icing his hand after the game, which could explain the poor line.

Johnson was spotted icing his right hand following Friday's 25-minute outing against the Spurs, Mike Mazzeo of ESPN reports. There have only been two games thus far in the season for Brooklyn but already Johnson is giving off the impression that he'll struggle to make it through a full 82 games. Not only is the icing of the hand concerning, but he's already taken off practices to rest and has posted just 12 points after a total of 57 minutes on the court. Certainly there's room for improvement, although early indications suggest the 34-year-old is in the twilight of his career.
Recent Tweets
Joe Johnson, who ranks 338th out of 409 players in real plus-minus, was honest about where his game is at... https://t.co/uJvwrQdrGb

No Fred VanVleet for Wichita State, but still a nice victory for former Nets coach Avery Johnson. https://t.co/4LWdeehJDb

Wonder if Sean Sweeney or Joe Prunty will coach next game? https://t.co/kzjw7ioOBG