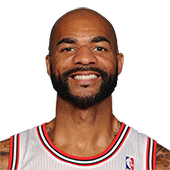 Own

1%

Start

0%

PF Rank

99
Latest News
Several teams are in the mix to land veteran power forward Carlos Boozer, sources have told ESPN, which is claiming he has had conversations with the Clippers, Spurs, Mavericks and Raptors. The 33-year-old Boozer showed signs of age last season with the Lakers. He averaged just 11.8 points a game, his lowest since his rookie year, and a career-worst 6.8 rebounds. But he was limited to 24 minutes per game and shot nearly 50 percent from the floor.

According to reports, the Heat are on the verge of signing veteran point guard J.J. Barea to a backup role and are exploring the possibility of acquiring power forward Carlos Boozer, per the Palm Beach Post. The Heat are crowded at guard, which may make Mario Chalmers the odd-man out given his $4.3 million salary. Barea averaged 7.5 points and 3.7 assists for the Mavericks last season. Boozer could be viewed as a replacement for Chris Andersen. Boozer is not a strong defender, but did average 17.8 points last season for the Lakers.

Fresh off a 21-61 season, Lakers forward Carlos Boozer said he'd be willing to return to the team if it's competitive, reports the Los Angeles Daily News. "If they have a team that could compete, I'd love to come back," Boozer said. Despite the struggles throughout the season, Boozer said coach Byron Scott did a good job of fostering a winning environment. Boozer added that he would be accepting of a bench role if that's what it takes to be on a winning team.

Lakers guard Jeremy Lin and forward Carlos Boozer are both out for Monday's game in Philadelphia with upper respiratory infections, the Los Angeles Times reports. It had been reported earlier that Boozer would be available.Lin missed Sunday's game in Brooklyn with an upper respiratory infection while Boozer has sat the last four games.The Lakers are 4.5-point favorites against the 76ers.

After missing the last three games to allow younger players to receive more playing time, Lakers center Jordan Hill will be available to play in Sunday's game at Brooklyn, the team announced. While Hill will play Sunday, forwards Carlos Boozer and Ed Davis will sit out to rest. The Lakers are 7 1/2-point underdogs.
Last 7 Games
| DATE | Opp | Result | Min | PTS | TRB | AST | BK | ST | TO | FPTS |
| --- | --- | --- | --- | --- | --- | --- | --- | --- | --- | --- |
Career Stats
| Season | G | FG | FGP | 3PT | 3PTP | FT | FTP | PTS | PPG | FPTS |
| --- | --- | --- | --- | --- | --- | --- | --- | --- | --- | --- |
| 2015 | 0 | 0 | 0 | 0 | 0 | 0 | 0 | 0 | 0 | 0 |
| 2014 | 71 | 371 | 49.9 | 0 | 0 | 94 | 62.7 | 836 | 11.77 | 20.6 |
| 2013 | 76 | 447 | 45.6 | 0 | 0.0 | 148 | 76.7 | 1042 | 13.71 | 24 |
| 2012 | 79 | 544 | 47.7 | 0 | 0.0 | 193 | 73.1 | 1281 | 16.22 | 29.4 |
| 2011 | 66 | 448 | 53.2 | 0 | 0.0 | 95 | 69.3 | 991 | 15.02 | 26.9 |
| 2010 | 59 | 431 | 51.0 | 0 | 0.0 | 171 | 70.1 | 1033 | 17.51 | 30.5 |
| 2009 | 78 | 617 | 56.2 | 0 | 0.0 | 285 | 74.2 | 1519 | 19.47 | 35.8 |
| 2008 | 37 | 251 | 49.0 | 0 | 0.0 | 97 | 69.8 | 599 | 16.19 | 29.9 |
| 2007 | 81 | 709 | 54.7 | 0 | 0.0 | 290 | 73.8 | 1708 | 21.09 | 36.4 |
| 2006 | 74 | 647 | 56.1 | 0 | 0.0 | 255 | 68.5 | 1549 | 20.93 | 37.2 |
| 2005 | 33 | 219 | 54.9 | 0 | 0.0 | 99 | 72.3 | 537 | 16.27 | 29.3 |
| 2004 | 51 | 361 | 52.1 | 0 | 0.0 | 187 | 69.8 | 909 | 17.82 | 31 |
| 2003 | 75 | 471 | 52.3 | 1 | 16.7 | 219 | 76.8 | 1162 | 15.49 | 30.8 |
| 2002 | 81 | 331 | 53.6 | 0 | 0.0 | 148 | 77.1 | 810 | 10.00 | 20.2 |
| 3 Year Avg | 75 | 454 | 47.6 | 0 | 0.0 | 145 | 71.8 | 1053 | 14.04 | 25 |
| Career | 861 | 5847 | 52.1 | 1 | 7.1 | 2281 | 72.2 | 13976 | 16.23 | |
Depth Chart
| | PF |
| --- | --- |
| | |