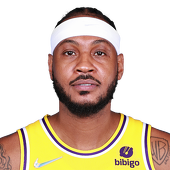 Own

100%

Start

75%

SF Rank

NR
Player News
Anthony had 33 points (12-22 FG, 3-6 3Pt, 6-6 FT), 13 rebounds, two assists, and two steals in 39 minutes during the Knicks' 111-108 loss to the Wizards on Tuesday. Anthony played a team-high 39 minutes on Tuesday, and he delivered game-highs of 33 points and 13 boards. Despite the Knicks suffering yet another loss, it was a solid showing from Anthony, who will appear in the All-Star game this Sunday and then have off until Feb. 19 versus the Nets.

Anthony (knee) played 35 minutes in his return from a one-game absence in Sunday's loss to the Nuggets, finishing with 21 points (7-19 FG, 0-3 3Pt, 7-8 FT), seven assists, six rebounds, and three turnovers. Anthony missed all five of his first-quarter shot attempts, but settled down thereafter in a matchup with the team that drafted him. He said after the game that his surgically-repaired knee felt better after taking some brief time off to rest, but there's justifiably some growing concern about his availability for the remainder of the season. Though Anthony acknowledged that he plans to play in next weekend's NBA All-Star Game, the Knicks could be inclined to rest him semi-regularly in the second half, especially as the team fades further from the playoff picture. According to the New York Daily News' Frank Isola, Anthony has already required two MRIs on his left knee over the last three weeks, and has missed seven total games this season due to the injury. The knee soreness could be something he's forced to manage on and off the rest of the way.

Anthony (knee) will start on Sunday against the Nuggets, Chris Herring of The Wall Street Journal reports. Anthony missed Friday's tilt with the Grizzlies due to soreness in his left knee but will be back on the court Sunday. He was able to go through a light workout on Saturday and now will return to the starting lineup. He has missed five games since mid-January due to soreness in his knee. His minutes could be sightly monitored on Sunday.

Anthony will not play Friday against the Grizzlies due to soreness in his left knee, Steve Popper of The Record reports. Anthony has been dealing with soreness in the surgically repaired knee for several weeks, and Friday will mark his fifth absence since mid-January. The 31-year-old has struggled in each of the last two games, shooting a combined 8-of-34 from the field with six turnovers. With Lance Thomas (concussion) also out for New York, the Knicks will be forced to lean heavily on Derrick Williams at small forward, with Thanasis Antetokounmpo, who recently signed a 10-day contract, potentially being thrust into an increased role. Anthony's next chance to play will come Sunday against the Nuggets.

Anthony dropped 19 points (4-18 FG, 1-5 3Pt, 10-14 FT) to go along with 11 rebounds, eight assists and a steal on Thursday in a loss to the Pistons. Anthony really struggled from the field on Thursday in a very tough matchup against Marcus Morris and the Pistons. He did most of his damage from the free-throw line, getting there a season-high 14 times. Melo is also starting to rack up the rebounds and Thursday marked the fourth consecutive game that he had at least 10 of them. The Knicks have lost seven of their last eight games and if they're going to turn it around and make the playoffs, Melo will be the guy that gets them there. He's been a great play in all fantasy formats lately and there's nothing that shows that will stop in the near future.
Recent Tweets
.@carmeloanthony talks about #Knicks' mindset heading into the All-Star break. WATCH https://t.co/MmesqpYKXD https://t.co/gefpvhL2w3

Classy Carmelo says Fisher firing "politics" and he will coach again https://t.co/DfZaAKu2RT

From earlier: Carmelo says he puts his "trust into Phil" & has no plans to leave NYK in the wake of Fisher's firing: https://t.co/Yo27PyJMYH