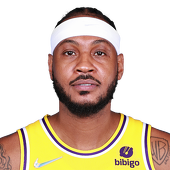 Own

100%

Start

92%

SF Rank

NR
Latest News
Anthony totaled 28 points (9-17 FG, 3-4 3Pt, 7-9 FT), 13 rebounds, three assists, and one steal in 35 minutes during the Knicks' 100-91 loss versus the Magic on Wednesday. It was one of Anthony's best games of the season, but the Knicks shot 37 percent from the field and suffered a nine-point loss. This was his fourth double-double of the year, and Anthony continues to get to the free-throw line enough to maintain his efficiency through an ugly start shooting the ball from the field. Expect Anthony to continue scoring 20 or more points on most nights even if he struggles with his shot.

Anthony scored 20 points (6-16 FG, 0-5 3Pt, 9-9 FT) with eight rebounds, four assists and four steals in Monday's 95-87 loss to the Heat. The Heat did an excellent job shutting Anthony down, employing Luol Deng and Justice Winslow. Despite the poor shooting performance, Anthony still managed a nice stat line with the four steals (he even added a block). It was disappointing that he couldn't produce a higher scoring output while playing a season-high 41 minutes.

Anthony poured in 14 points (5-10 FG, 1-2 3Pt, 3-4 FT) and six rebounds over 25 minutes in Saturday's 107-102 victory over the Rockets. Anthony appeared to take somewhat of a back seat offensively to Arron Afflalo and rookie Kristaps Porzingis, a sign of the times on a 2015-16 Knicks squad that no longer has to primarily rely on the All-Star for scoring. The 10 shot attempts were not only Anthony's lowest of the season, but also the least he'd put up since a November 19, 2014 contest versus the Timberwolves. He was also limited by foul trouble, as he collected five personals over 25 minutes on the court. Anthony also posted his third game of shooting at least 50 percent from the field, perhaps as a result of being able to be more selective with his shot.

Anthony recorded 29 points (11-21 FG, 1-5 3Pt, 6-7 FT), 13 rebounds, three assists, and one steal in 39 minutes during the Knicks' 95-87 win versus the Pelicans on Sunday. Anthony was dominant, delivering easily one of his best performances of the season. His efficiency was a welcome sight for fantasy owners, as he was shooting just 40 percent from the field entering Sunday's contest. Anthony has now scored 24 or more points in five straight games after achieving that only twice in the first six games.

Anthony added 26 points (9-20 FG, 4-8 3Pt, 4-4 FT), five rebounds, four assists, and one block in 36 minutes during the Knicks' 90-84 loss versus the Cavaliers on Friday. Anthony was fairly efficient scoring the ball, something he has struggled to do on a regular basis so far this season. Anthony is the only Knick averaging 30 minutes per game, though Arron Afflalo is averaging 29 minutes through two games. However, if Anthony is going to re-assert himself as an elite fantasy option, he will have to improve on his 40 percent shooting from the field through 10 games.
Recent Tweets
Knicks need to take advantage of the soft schedule noted below. May be why Carmelo said Sunday should be a must-win: https://t.co/Ti0whmmdz6

Here's a video of what seems to be some Knicks doing SoulCycle, via Cleanthony Early (h/t @ptknicksblog): https://t.co/a2xJwowShb

.@carmeloanthony on the #Knicks foul trouble & bouncing back vs. HOU on Sunday. WATCH https://t.co/BYHJ920MVk https://t.co/CPI2S9SnL0