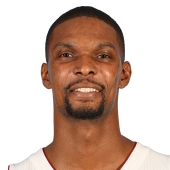 Own

100%

Start

87%

PF Rank

25
Latest News
Bosh (illness) battled through and finished with 21 points (8-17 FG, 2-5 3Pt, 3-3 FT), 10 rebounds and five assists in Monday's 105-95 loss to the Celtics. The veteran power forward toughed it out despite dealing with an illness, but was ultimately held in check. Still, Bosh managed to post his seventh double-double of the season. His numbers are a bit down lately as he's scoring just 15.8 points with 8.0 rebounds per game in his past five contests.

Bosh (illness) will play Monday against the Celtics, the Sun Sentinel reports. Bosh was absent from shootaround due to illness, but after resting throughout the afternoon he's been given clearance to play. The illness has made its way through the Heat locker room, as Luol Deng, Dwyane Wade, Amar'e Stoudemire and Chris Andersen have all been under the weather of late. "It goes around," coach Erik Spoelstra said. "Every team goes through it. You take whatever measures you can. Things happen." While Bosh will play Monday, Stoudemire remains ill and will miss his fourth straight game.

Bosh is listed as a game-time decision for Monday's tilt with the Celtics due to an illness, Ira Winderman of the South Florida Sun Sentinel reports. Bosh was absent from the Heat's Monday morning shootaround after feeling under the weather, and it sounds like he'll be reevaluated during pregame warmups before it's determined if he'll play. The flu seems to be spreading around the Miami locker room of late, as both Chris Andersen and Amar'e Stoudemire have been sick in recent days. The illness will prevent Stoudemire from playing Monday and Luol Deng is also sitting out with a left hamstring strain, potentially leaving the Heat shorthanded in the frontcourt if Bosh ends up being deemed unavailable.

Bosh scored 16 points (2-12 FG, 1-5 3Pt, 11-12 FT) with just six rebounds in Monday's 95-78 win over the Knicks. Bosh struggled with his shot Monday, but was able to get to the line enough to make up for it. He was never really a perimeter player earlier in his career, but Bosh has taken more 3-point shots this season, which gives him a bit of a fantasy boost.

Bosh recorded 23 points (8-12 FG, 2-2 3Pt, 5-5 FT), 11 rebounds, four assists, and one block over 35 minutes in Thursday's win over the Kings. It was a nearly flawless performance from Bosh, who has been the Heat's go-to option on offense with Dwyane Wade taking more of a backseat than in previous seasons. Bosh's shooting percentages (.467/.375/.815) are nearly identical to what he posted in 2014-15, though the more balanced nature of the Heat's starting five this season has led to decline in his shot attempts. Still, he's lived up to expectations for fantasy owners thus far, posting averages of 18.5 points, 9.5 boards, 1.7 assists, and 1.1 blocks.
Recent Tweets
Chris Bosh: "Before the started, if you would have told me we would be 10-6 after 16 games, I would have taken that."

[VIDEO] Inside the postgame HEAT locker room Wade: https://t.co/v1ZDGDbM7f Bosh: https://t.co/wsfrG8GJ0F Whiteside: https://t.co/FNOjgDEv2I

Hosting with @ChrisWittyngham from 4 to 7 on @790TheTicket ... Guests include @randymac81 & @MikePereira