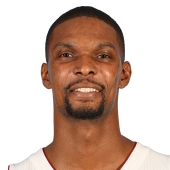 Own

100%

Start

94%

PF Rank

25
Latest News
Bosh scored 16 points (2-12 FG, 1-5 3Pt, 11-12 FT) with just six rebounds in Monday's 95-78 win over the Knicks. Bosh struggled with his shot Monday, but was able to get to the line enough to make up for it. He was never really a perimeter player earlier in his career, but Bosh has taken more 3-point shots this season, which gives him a bit of a fantasy boost.

Bosh recorded 23 points (8-12 FG, 2-2 3Pt, 5-5 FT), 11 rebounds, four assists, and one block over 35 minutes in Thursday's win over the Kings. It was a nearly flawless performance from Bosh, who has been the Heat's go-to option on offense with Dwyane Wade taking more of a backseat than in previous seasons. Bosh's shooting percentages (.467/.375/.815) are nearly identical to what he posted in 2014-15, though the more balanced nature of the Heat's starting five this season has led to decline in his shot attempts. Still, he's lived up to expectations for fantasy owners thus far, posting averages of 18.5 points, 9.5 boards, 1.7 assists, and 1.1 blocks.

Bosh scored a season-high 30 points (9-16 FG, 2-5 3Pt, 10-12 FT) and grabbed 11 rebounds over 33 minutes in Tuesday's 101-88 win against the Lakers. The all-star power forward is starting to hit his stride, posting double-digit rebounds for the fourth time in five games. Bosh took advantage of a young Lakers frontcourt, but has a tough task ahead Thursday against the Jazz.

Bosh scored 23 points (8-14 FG, 4-7 3Pt, 3-5 FT) with eight rebounds and a steal in 30 minutes during Sunday's win over the Raptors. As per usual, Bosh punished his former club, and he's now averaging 16.6 points, 9.7 boards, 1.9 threes and 1.1 steals on the season.

Bosh contributed 21 points (7-16 FG, 1-5 3Pt, 6-7 FT), 11 rebounds, two assists, one steal, and one block in 35 minutes during the Heat's 90-87 loss versus the Pacers on Friday. That's back-to-back double-doubles for Bosh, who had arguably his best game of the season despite the loss. Bosh hasn't been shooting the ball particularly well from the field thus far, but he made up it for another sub-par shooting night on Friday by getting to the free-throw line seven times. The Heat are back in action on Sunday versus the Raptors.
Recent Tweets
Chris Bosh just poked his finger into Winslow's interview: "I'm getting your nose."

Big key to Heat's 9-4 start, other than all the home games, is that Bosh and Winslow are versatile enough to make nearly any lineup work.

Winslow for Bosh, plus other 4 starters https://t.co/Mq9gAwyzON