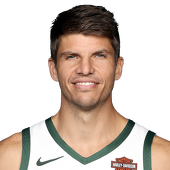 Own

65%

Start

32%

SG Rank

58
Player News
Korver provided 16 points (6-8 FG, 4-6 3Pt), four assists, three rebounds, and two steals across 36 minutes in Monday's 117-110 loss to the Magic. Though he's still shooting a disappointing 38.4 percent from downtown this season, Korver seems to have rediscovered his mojo here in February. Through the first five games of the month, Korver has turned in three double-digit scoring performances while knocking down multiple three-pointers in four of those contests. Collectively, he's hit 13-of-26 shots from downtown in February.

Korver scored 16 points (5-8 FG, 4-7 3Pt, 2-3 FT) with three assists, two rebounds, and a block over 28 minutes in a 112-97 victory over the Mavericks on Monday. Korver's season had reached its nadir with a scoreless outing against the Heat on Sunday. The 34-year-old's fantasy production has dropped across the board this season, as the sharp shooter entered Monday averaging just seven points with 35 percent accuracy over his last nine games (compared to 12.1 points per game in 2014-15). While Korver's return to form from beyond the arc was an encouraging sign in Monday's victory, his lack of statistical diversity and shooting slumps have left him with diminished fantasy value.

Korver had 14 points (4-5 FG, 4-4 3Pt, 2-2 FT), three rebounds, three assists, and one block in 32 minutes during the Hawks' 85-83 loss versus the Clippers on Wednesday. Korver was extremely efficient in the Hawks' loss on Wednesday, and he has made 14 threes in the last four games. He is still earning 30 plus minutes per game, but unless Korver is able to raise his scoring average into the double figures, he makes for an inconsistent option in standard leagues.

Korver (ankle) is listed as probable for Wednesday's matchup with the Hornets, KL Chouinard of ATLHawks.com reports. Korver has played over 30 minutes in each of his last two games, so it comes as no surprise that he's expected to be available to play Wednesday. Expect him to remain in the starting lineup and to see minutes near his season average of 30.9 per game. Korver has struggled of late with his trademarked three-point shot and his hit just 8-of-24 from deep over his last four games. He'll look to get back on track Wednesday.

Korver scored just two points (0-11 FG, 0-10 3Pt) to go with four assists, three rebounds, and a blocked shot across 31 minutes in Wednesday's 121-115 win over the Rockets. Korver has now tallied just seven points combined over his last three games, as his normally pristine three-point stroke has betrayed him. During that three-game stretch, Korver has gone a wretched 1-for-23 from downtown, dropping his season mark from long range to 36.4 percent. That's a perfectly serviceable number for most of the league's wings, but certainly not for Korver, a 43 percent career three-point shooter.
Recent Tweets
Kyle Korver has moved into sole possession of eighth place on NBA/ABA all-time 3-point list with 1,831.

Hawks with the very interesting lineup of Dennis, Korver, Bazemore, Scott and Muscala on the floor

"I still marvel how much confidence matters, even at this level." Q and A with @KyleKorver: https://t.co/jUVGyY0Z9c