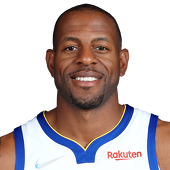 Own

75%

Start

50%

SG Rank

NR
Latest News
Iguodala provided six points (3-4 FG, 0-1 3Pt), nine rebounds, four assists, and one steal in Tuesday's 111-77 win over the Lakers. The Warriors were plus-25 with Iguodala on the court, as the veteran swingman bounced flawlessly between the team's first and second units. Despite his standing as the Warriors' sixth man, Iguodala has supplied useful bottom-of-the-roster type of production for those in deep leagues. He's averaging 9.1 points, 4.6 rebounds, 4.2 assists, 1.4 steals, and 1.2 three-pointers over 16 games, while shooting 53.7 percent from the field.

Iguodala dished out seven assists for a second straight game in Golden State's 124-117 win over the Clippers on Thursday. In the past four games, Iguodala has posted 26 assists. Iguodala will often find himself with the ball in his hands, but is possessing it more than normal the last two games as Shaun Livingston has been sidelined (hip). The Warriors are back in action Friday at home against the Bulls.

Iguodala tied a season-high with seven assists in 32 minutes in Tuesday night's win over the Raptors. He added seven points (3-3 FG, 1-1 3Pt) and three rebounds in the win. Iguodala got some extra run Tuesday with backup point guard Shaun Livingston (hip) unavailable, which resulted in Iguodala having the ball in his hands more. Both Livingston and Klay Thompson (back) are nursing injuries this week, so Iguodala may get a few more minutes than normal in Thursday night's marquee matchup against the Clippers.

Iguodala scored 15 points, including a game-tying three pointer with six seconds left in regulation, in Saturday night's 107-99 overtime win over Brooklyn. While Brooklyn keyed on Stephen Curry, Iguodala got himself open for that final shot in regulation and calmly buried the three-pointer. When the Warriors are rolling, Iguodala's not a big part of the scoring offense. But when the team is under duress, that's when we see him return to his scoring ways.

Iguodala scored 20 points (6-9 FG, 4-5 3Pt, 4-6 FT) in 27 minutes Wednesday night in a 100-84 win over Memphis. Iguodala has posted double-digit scoring nights the last three games while averaging 30 minutes a night. That's more playing time than normal, but Iguodala has been needed of late -- whether due to foul trouble or ineffectiveness in the starting unit, or the coaching strategy to go with a small lineup.
Recent Tweets
#DubNation, please join us in wishing @andrewbogut & @TheBlurBarbosa a very Happy Birthday! 🎈 https://t.co/M4HX6UXKIO

Think it should be Andre, but it probably won't be. Maybe Rush? https://t.co/smQOkgeacY

Troll master Iguodala briefly extends a high fave to Bledsoe after his dunk, before swiping it away