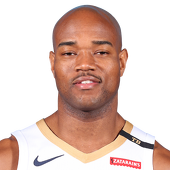 Own

98%

Start

76%

PG Rank

39
Latest News
Jack scored 12 points (3-13 FG, 2-5 3Pt, 4-4 FT) while adding 14 assists and five rebounds in 35 minutes during Saturday's loss to the Cavaliers. It's his third double-double of the year, and Jack's 7.3 assists per game would be a personal best if he can maintain that pace. Throughout his career the 32-year-old has never been able to hold up as a starter, though, and he hasn't started more than 39 games in a season since the 2009-2010 season, so if you'd been relying on Jack's distribution on your roster, make sure you have a contingency plan.

Jack recorded 16 points (6-12 FG, 2-4 3Pt, 2-2 FT), eight rebounds, nine assists, and two blocks in 33 minutes during the Nets' 116-111 loss versus the Hornets on Wednesday. Jack did commit three turnovers, but he has been uncharacteristically efficient through the Nets' last five games, turning in averages of 17.2 points (45.2 FG, 45.0 3Pt, 87.5 FT), 4.4 rebounds, 8.8 assists, 1.0 steal, 0.4 blocks, and 1.8 turnovers in 34 minutes per game. Continue to ride the hot hand while you can knowing that the Nets don't have anyone that can really push him for minutes, but don't expect Jack to continue committing so few turnovers or shooting such a high percentage, especially from beyond the arc. The Nets take on the fast-paced Celtics twice this weekend with games slated for Friday and Sunday, so Jack could be primed to produce plenty of counting stats if he can keep things up.

Jack scored 14 points (5-10 FG, 3-5 3Pt, 1-3 FT) and collected eight assists in Tuesday's 90-88 win over the Hawks. Jack had another solid game shooting the ball, particularly from the outside where he's hit five of his past 10 three-point attempts. The veteran point guard is locked into big minutes with Brooklyn and should continue to put up solid assist numbers on a nightly basis.

Jack poured in 28 points (9-20 FG, 2-5 3Pt, 8-8 FT), nine assists, four rebounds, and two steals over 44 minutes in Saturday's 107-99 overtime loss to the Warriors. Jack was an assist shy of a second consecutive double-double, but played an outstanding game in his showdown with Stephen Curry. The veteran guard has demonstrated an ability to still light up the scoreboard and stuff the stat sheet over the last two games in particular, and seems willing and able to shoulder a sizable offensive load on a Nets squad that has struggled to find points at times this season. The 32-year-old has also shown a proficiency for feeding his teammates when his own shot may not be there, totaling 20 assists over his last pair of outings and averaging a solid 7.3 dimes per game over Brooklyn's first 10 contests. Considering his primary role in the offense, Jack is a strong play in all fantasy formats at present.

Jack collected 21 points (5-10 FG, 1-3 3Pt, 10-11 FT), 12 assists, a rebound, and a steal over 33 minutes in Friday's 111-109 loss to the Kings. Jack poured in a season high in points and also collected his second double-double of the campaign. When he hasn't been plagued by a hamstring injury, the veteran has been solid in his starting role, closely paralleling the production provided by departed 2014-15 starter Deron Williams. Jack's 12 dimes Friday, which tied his high-water mark in that category this season, and set the stage for the struggling Brooklyn offense's best showing over the first nine games.
Recent Tweets
Pistons PG Reggie Jackson gets a $25k fine for firing expletives at fan in OKC

In the first month, the #Nets top-10 rotation players missed a combined two games (Jack and Ellington, one each). Team health!

The trade that didn't happen (2/3). #Nets would have sent Jarrett Jack to Wash for Martell Webster, now done as player but owed $8.3m.