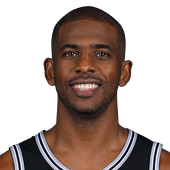 Own

100%

Start

98%

PG Rank

5
Player News
Paul scored a team-high 27 points (11-18 FG, 3-6 3Pt, 2-2 FT), seven assists, a rebound and two steals over 31 minutes in Friday's 105-93 victory over the Lakers. The 11-year veteran put the offense on his shoulders again Friday, taking advantage of the Lakers' defensive vulernabilities in the backcourt to tally his third 20-point-plus performance in the last four games. Paul's 61 percent success rate from the field was a nice bounce back from a forgettable 33 percent night on Wednesday versus the Hawks, and represented his best shooting performance since Nov. 25 against the Jazz. In Blake Griffin's (hand) continued absence, Paul will undoubtedly be asked to carry the load in similar fashion to Friday in the majority of games.

Paul scored a team-high 26 points (11-21 FG, 4-8 3Pt) with seven assists and six rebounds during 36 minutes in Tuesday's 91-89 win against the Pacers. Paul owners were certainly happy to see the news that Blake Griffin will remain sidelined for another four-to-six weeks considering how well he's played without Griffin this season. CP3 absolutely took over in the fourth quarter, scoring 12 of his 26 points to help the Clippers edge out the Pacers. The weight of the team is on Paul's shoulders, so expect more of these games from him.

Paul posted 23 points (9-17 FG, 3-7 3Pt, 2-3 FT), 11 assists, four rebounds, two steals, and one block in 31 minutes during the Clippers' 112-94 loss against the Raptors on Sunday. Paul is producing 22.4 points, 10.4 assists to 3.8 turnovers, 4.6 rebounds, 2.6 assists, and 0.6 blocks in 33 minutes per contest over the last five games. He is turning the ball over a lot lately, but shooting a scalding 49 percent from the field, 54 percent from beyond the arc, and 88 percent from the charity stripe during that same stretch. Even if Blake Griffin (quadriceps) returning to the lineup in the near future results in a little less counting stats for Paul, his All-Star forward should help him remain efficient since defenses won't be able to key on him as much.

Paul scored 30 points (11-19 FG, 1-3 3Pt, 7-7 FT) with nine assists, three rebounds, three steals, and a block over 34 minutes in a 115-102 loss to the Cavaliers on Thursday. Paul has been on a tear of late, now scoring at least 20 points for the fifth time in his last seven games. With a quadriceps injury sidelining Blake Griffin, Paul has assumed much of the Clippers' offensive workload. This trend should be expected to continue in the immediate future, as Griffin has been ruled out of Friday's game against the Knicks as well as Sunday's match-up with the Raptors.

Paul provided 28 points (8-15 FG, 5-7 3Pt, 7-9 FT), 12 assists, six rebounds, six steals, and one block in 43 minutes during the Clippers' 140-132 overtime win against the Rockets on Monday. Paul is on a tear lately with his running mate Blake Griffin (quadriceps) out. Over the last five games, Paul is producing 21.6 points (48.8 FG, 66.7 3Pt, 73.7 FT) on 16.0 shots, 9.8 assists to 3.4 turnovers, 5.6 rebounds, 3.2 steals, and 0.8 blocks in 34 minutes per contest. Griffin is on track to potentially return to the lineup sometime this week, which could curtail some of Paul's recent numbers. However, the 30-year-old point guard is still one of the top players at his position, and he remains an obvious must-start option across all formats even if his numbers dip a bit in the near future.
Recent Tweets
Chris Bosh on Clippers: "They did a great job defensively. I didn't know what they were doing. They were always just a step ahead of us."

Chris Paul might be dancing. 👀 https://t.co/mGi9LmoSrr

Chris Paul finished with 22 points, making eight of his last 14 shots after an 0/9 start.