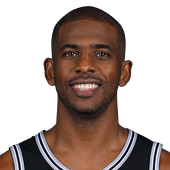 Own

100%

Start

98%

PG Rank

5
Latest News
Paul scored 13 points (5-13 FG, 1-4 3Pt, 2-2 FT) with 11 assists, five rebounds and two steals in 33 minutes during Sunday's loss to the Raptors. Neither he nor Blake Griffin could make a basket through the first quarter-plus of the game, as Toronto's defense proved to be the difference on the afternoon. Paul now has four double-doubles on the season, and is averaging 19.7 points, 9.0 assists, 3.7 boards, 2.3 threes and 2.0 steals in three games since returning from a groin injury.

Paul posted a season-high 35 points (13-22 FG, 5-9 3Pt, 4-4 FT), eight assists, four rebounds and three steals over 32 minutes in Thursday's 124-117 loss to the Warriors. The Clippers point guard did his best to hand rival Golden State their first loss of the season, but it ultimately wasn't enough. Paul had been questionable leading up to the game with a groin injury that had caused him to miss the previous two contests, so the performance was all the more notable. The veteran All-Star spearheaded the Clippers' early assault, scoring 18 of his points (and Los Angeles' first 18 of the game) in the opening period. Despite the disappointing defeat, the positive for Paul and his fantasy owners is that he appears to be healed from his injury and ready to contribute in significant fashion.

Paul (groin) is active and will play in Thursday's game against the Warriors, Monte Poole of CSN Bay Area reports. Paul came into Thursday as questionable with a groin injury, but he's seen enough improvement that he'll take the court after missing his previous two outings. There hasn't been any reports of Paul being on a minutes restriction, but it's something to keep in mind considering he's wasn't originally even expected to play Thursday. Paul should move into the starting lineup, pushing Austin Rivers back into a reserve role.

Paul (groin) will be a game-time decision Thursday against the Warriors, Ben Bolch of the L.A. Times reports. Paul's availability for Thursday had been closer to doubtful than questionable ahead of tipoff, but now there seems to be legitimate hope he'll be able to take the court. Although, it remains unclear just how viable of an option he'll be with his right groin strain still lingering. Nevertheless, Austin Rivers will be ready for extended minutes if Paul is ultimately scratched shortly before the players take the court.

Clippers coach Doc Rivers said Wednesday that neither Paul (groin) nor J.J. Redick (back) are probable for Thursday's game against the Warriors, Dan Woike of the Orange County Register reports. Rivers' interesting choice of language would seem to imply that both players are questionable, at best, for Thursday's contest, but clarification on the status of either Paul or Redick isn't expected to come until the Clippers' morning shootaround the day of the game. Paul, who wasn't a full participant in the team's most recent practice Tuesday, said that he was feeling improvement with his right groin, but it's too early to tell if the Clippers' medical staff will give him the green light to play.
Recent Tweets
DeAndre Jordan massive one-handed jam off Chris Paul lob that Jordan caught a mile above sea level. Get it?

Chris Paul vs. Mudiay...Blake Griffin vs. Harris...DeAndre Jordan vs. Jokic...Clippers should be winning each of these matchups big.

Chris Paul jumper and Clippers have a 20-14 lead. Timeout Nuggets.