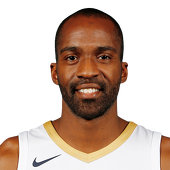 Own

0%

Start

0%

SG Rank

NR
Player News
Webster was waived by the Wizards on Monday, J. Michael of CSN Mid-Atlantic reports. Webster underwent season-ending hip surgery in mid-November and never actually saw time on the court during the new season since he originally picked up the ailment at the onset of October. He'll head into next season looking for a franchise to take a chance on a 29-year-old depth player who's never averaged more than 12 points throughout his 11-year career. In a related move, Ryan Hollins was acquired by the Wizards on Monday.

Webster's time in Washington appears to be coming to an end, as the Wizards plan to waive the guard/forward, Yahoo's Shams Charania reports. Webster currently faces a long road to recovery after undergoing season-ending hip surgery earlier in November, and likely wouldn't be ready to return until training camp next season. Because his 2016-17 contract is partially guaranteed, the Wizards appear destined to buy him out soon, as they have enough depth on the wing as it is.

Webster will undergo season-ending surgery on his right hip Friday, J. Michael of CSN Washington reports. Things have seemingly been trending in this direction for a while, as Webster initially planned to play through the chronic pain in his right hip caused by a bone chip, but had yet to see the court this season. Webster suffered the injury during training camp and hadn't been able to consistently practice with the Wizards since that time, so the lack of progress in his recovery likely motivated the swingman to opt for the procedure. The Wizards have plenty of depth on the wing to handle Webster's absence, putting the 28-year-old's future with the club on shaky ground. Though Webster is facing a nine-to-10-month recovery window that should put him on track to be ready for training camp next season, his 2016-17 contract is only partially guaranteed, which may motivate the Wizards to buy him out.

Webster (hip) still has not practiced, but he was observed swimming laps Monday morning, J. Michael of CSN reports. Webster is yet to appear in a game this season as he works back from a partially torn labrum. While he's making progress, the fact that he's yet to practice indicates that he's not particularly close at this point to making his season debut.

Webster (hip) hasn't appeared in any of the Wizards' five games this season. Webster, who was diagnosed with a partial tear of his right labrum shortly before the season started, indicated he planned to play through the injury, but the Wizards haven't afforded the swingman that opportunity. Rather than risk worsening Webster's condition, it seems that the Wizards are content to just sit him out until he begins to experience less pain. With Bradley Beal, Otto Porter, Gary Neal, Jared Dudley, and Kelly Oubre on hand to play on the wing, there's simply no need for the Wizards to rush Webster back to action.