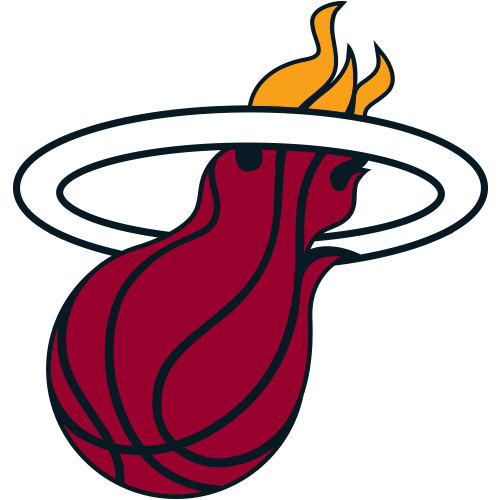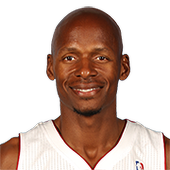 Ray Allen
SG / Miami Heat / EXP: YRS
Height:
Weight: lb
Age:
College: None
Own

0%

Start

0%

SG Rank

NR
Player News
Earlier this week, free agent shooting guard Ray Allen announced he wouldn't return to the NBA this season. That didn't stop the Trail Blazers from trying. With Wesley Matthews tearing his Achilles tendon on Thursday, Portland reached out to Allen to see if he'd reconsider, according to a report from Yahoo! Sports. Allen stood by his original decision and declined the offer. Allen hasn't ruled out the possibility of returning next season. But he is 39 at this time and could be nearing retirement.

Guard Ray Allen will not play during the 2014-15 season, his agent announced Wednesday. "Over the past several months, I have taken a lot of time to deliberate what is best for me," Allen said in a statement. "I've ultimately decided that I will not play this NBA season. I'm going to take the remainder of this season, as well as the upcoming off-season, to reassess my situation, spend time with my family and determine if I will play in the 2015-16 season." Allen made 73 appearances with the Heat in 2013-14, averaing a career-low 9.6 points and 26.5 minutes per game.

Although his playing future remains uncertain, if Ray Allen does return to the NBA it won't be with LeBron James and the Cleveland Cavaliers, Brian Windhorst of ESPN said in a radio appearance, per ESPN Cleveland. Allen's camp was in contact with several teams this season for his threat behind arc, However, with approximately 70 percent of the regular season already in the books, there's a growing belief around the league that the veteran 39-year-old guard will not return for a 19th season. Allen averaged a career-low 9.6 points in 73 games with the Heat in 2013-14. If he does decide to play this season, it will likely come for a championship contender.

There's a growing belief around the league that free-agent guard Ray Allen will not play this season, Yahoo! Sports reports. Allen still has yet to indicate through his agent that he has interest in playing, leaving interested teams around the league to believe the 10-time All-Star will sit the 2014-15 season out. Allen has been working out but not at the level that would signify an imminent return to the NBA. Though Allen has yet to indicate an interest in a particular team, there's an assumption that the Cavaliers would be the front-runners to land him. He averaged a career-low 9.6 points in 73 games with the Heat last season.

A few teams in the running for a deep playoff run have been linked to free-agent guard Ray Allen . One of those teams, the Cavaliers, have been in contact with the sharp-shooter, according to the Akron Beacon Journal. However, no decision has been made and it's still possible Allen won't sign on with any team. It remains possible that Allen could turn down any NBA suitor and retire from the game altogether. In 18 career seasons, Allen has averaged 18.9 points per game and holds a 40 percent career three-point percentage.
Last 7 Games
| DATE | Opp | Result | Min | PTS | TRB | AST | BK | ST | TO | FPTS |
| --- | --- | --- | --- | --- | --- | --- | --- | --- | --- | --- |
Career Stats
| Season | G | FG | FGP | 3PT | 3PTP | FT | FTP | PTS | PPG | FPTS |
| --- | --- | --- | --- | --- | --- | --- | --- | --- | --- | --- |
| 2015 | 0 | 0 | 0 | 0 | 0 | 0 | 0 | 0 | 0 | 0 |
| 2014 | 0 | 0 | 0 | 0 | 0 | 0 | 0 | 0 | 0 | 0 |
| 2013 | 73 | 240 | 44.2 | 116 | 37.5 | 105 | 90.5 | 701 | 9.60 | 16 |
| 2012 | 79 | 292 | 44.9 | 139 | 41.9 | 140 | 88.6 | 863 | 10.92 | 16.8 |
| 2011 | 46 | 226 | 45.8 | 106 | 45.3 | 97 | 91.5 | 655 | 14.24 | 21.8 |
| 2010 | 80 | 480 | 49.1 | 168 | 44.4 | 193 | 88.1 | 1321 | 16.51 | 25.1 |
| 2009 | 80 | 464 | 47.7 | 145 | 36.3 | 231 | 91.3 | 1304 | 16.30 | 24.2 |
| 2008 | 79 | 499 | 48.0 | 199 | 40.9 | 237 | 95.2 | 1434 | 18.15 | 26.5 |
| 2007 | 73 | 439 | 44.5 | 180 | 39.8 | 215 | 90.7 | 1273 | 17.44 | 26.6 |
| 2006 | 55 | 505 | 43.8 | 165 | 37.2 | 279 | 90.3 | 1454 | 26.44 | 38.1 |
| 2005 | 78 | 681 | 45.4 | 269 | 41.2 | 324 | 90.3 | 1955 | 25.06 | 35.7 |
| 2004 | 78 | 640 | 42.8 | 209 | 37.6 | 378 | 88.3 | 1867 | 23.94 | 34.7 |
| 2003 | 56 | 447 | 44.0 | 148 | 39.2 | 245 | 90.4 | 1287 | 22.98 | 36.3 |
| 2002 | 76 | 598 | 43.9 | 201 | 37.7 | 316 | 91.6 | 1713 | 22.54 | 35.2 |
| 2001 | 69 | 530 | 46.2 | 229 | 43.4 | 214 | 87.3 | 1503 | 21.78 | 33.3 |
| 2000 | 82 | 628 | 48.0 | 202 | 43.3 | 348 | 88.8 | 1806 | 22.02 | 35.6 |
| 1999 | 82 | 642 | 45.5 | 172 | 42.3 | 353 | 88.7 | 1809 | 22.06 | 33.2 |
| 1998 | 50 | 303 | 45.0 | 74 | 35.6 | 176 | 90.3 | 856 | 17.12 | 27.2 |
| 1997 | 82 | 563 | 42.8 | 134 | 36.4 | 342 | 87.5 | 1602 | 19.54 | 31.4 |
| 1996 | 82 | 390 | 43.0 | 117 | 39.3 | 205 | 82.3 | 1102 | 13.44 | 21.7 |
| 3 Year Avg | 51 | 177 | 44.5 | 85 | 39.7 | 82 | 90.1 | 521 | 10.22 | 16.3 |
| Career | 1300 | 8567 | 45.2 | 2973 | 40.0 | 4398 | 89.4 | 24505 | 18.85 | |
Depth Chart
| | SG |
| --- | --- |
| | |