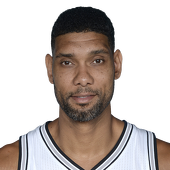 Own

99%

Start

83%

PF Rank

24
Latest News
Duncan scored 10 points (5-9 FG) while adding a game-high 18 rebounds, four assists, two blocks and a steal in 28 minutes during Saturday's win over the Hawks. Apparently, the rest he got Friday night paid off. It was the fifth double-double of the season for the ageless Duncan, and while his minutes and production continue their gradual decline, his field goal percentage is also the highest it's been since the 2006-2007 season.

Duncan, along with the rest of the Spurs players, will be available for Saturday's game against the Hawks, Project Spurs' Paul Garcia reports. He missed the first half of this weekend's back-to-back set to rest, but will be back in the starting lineup Saturday, as expected. Deploy him as usual, just be sure to continue to diligently follow his status, as more rest days will surely be coming.

Duncan (rest) will not play Friday in Denver, Tom Osborn of MySanAntonio.com reports. Duncan did not travel with the team as the Spurs have opted to rest their star veteran. He and Manu Ginobili will not be in attendance. This does not come as a surprise considering coach Popovich's history of resting his players during the regular season. It is unclear what the Spurs will do with their rotation, but one option would be bumping LaMarcus Aldridge to center and inserting David West in at Power Forward. Duncan could return on the second half of the Spurs' back-to-back Saturday versus Atlanta.

Duncan scored a season-low two points (1-4 FG) to go with nine rebounds, four assists, and two blocks in 28 minutes Wednesday against the Mavericks. Duncan has now scored in single-digits three times over the last four games, and it appears he's exerting himself a little more passively on the offensive end than usual. He's already 39 years old, and with the Spurs set on getting a strong seed for the regular season, it wouldn't be surprising to see Duncan's numbers take a dip. If there's a time to sell him at a decent price before it's too late, now may be ideal.

Duncan posted 12 points (5-8 FG, 2-2 FT), 11 rebounds, six assists, a season-high six blocks, and one steal in 28 minutes Wednesday against the Nuggets. Duncan is averaging 12.0 points, 8.8 rebounds, 2.8 assists, 0.6 steals, and 3.2 blocks over the last five games and has demonstrated consistency throughout the season. He's not scoring too many points, but he's been very efficient with the minutes given, and owners can continue this steady all-around production moving forward.
Recent Tweets
Twisted dough knots + fudge + powdered sugar @ Halftime Pizza https://t.co/efz6AmbIBw

Cheeeeeese... @ Halftime Pizza https://t.co/tqQcMajsWY

Millsap has a mismatch with Green in the post, but Duncan is there to help: https://t.co/nNByLozbIf , https://t.co/CE9XJ0QTBb