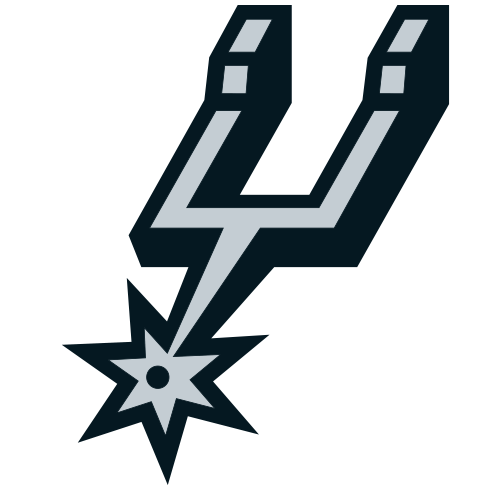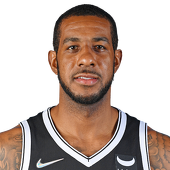 Own

100%

Start

96%

PF Rank

21
by RotoWire Staff | Special to CBSSports.com

Spurs' LaMarcus Aldridge: Drops 21 on Magic in victory Wednesday

Aldridge scored 21 points (8-16 FG, 5-5 FT) to go with seven rebounds, two assists, and two blocks over 33 minutes in a 98-96 victory over the Magic on Wednesday. Aldridge's stretch of unprecedented shooting continued in Wednesday's victory. Over his last eight games, Aldridge has now averaged 24.1 points on 60.2 percent shooting from the field. While the Spurs will enter the All-Star break enjoying a six-game winning streak, Aldridge will suit up for the Western Conference All-Stars in a reserve role.

by RotoWire Staff | Special to CBSSports.com

Spurs' LaMarcus Aldridge: Scores game-high 28 in Tuesday win

Aldridge had 28 points (10-16 FG, 8-8 FT), four rebounds, four assists and a block on Tuesday in a win against the Heat. Aldridge got it done again, this time over a very stout defense in the Heat. Without Tim Duncan in the lineup, Aldridge has seen his usage rate go up and the Spurs are benefitting because of it, winning their fifth straight game. Aldridge has had a great start to the month of February, going 38-for-41 from the free-throw line and he's also shooting 60% from the field. Continue to roll out Aldridge in every fantasy format while Duncan is out of the lineup.

by RotoWire Staff | Special to CBSSports.com

Spurs' LaMarcus Aldridge: Manages team-high 26 points in Saturday victory

Aldridge managed 26 points (11-18 FG, 4-5 FT), nine rebounds and two assists over 34 minutes in Saturday's 106-102 victory over the Lakers. The 10-year veteran continues to resemble the superstar of the last several seasons, posting over 20 points for the fourth time in the last six contests and coming just a rebound short of his second consecutive double-double. Aldridge has now impressively shot 60 percent or better in five of the last six games, and is averaging 23.8 points, 6.2 rebounds, 1.0 assists, 2.0 blocks and 0.6 steals over 30.8 minutes over the last five games. While his notable boost in production has coincided with Tim Duncan's seven-game absence, the former All-Star has certainly proven capable of these types of numbers over extended periods as a featured offensive component during his Portland tenure.

by RotoWire Staff | Special to CBSSports.com

Spurs' LaMarcus Aldridge: Posts double-double in Friday victory

Aldridge posted 14 points (5-11 FG, 4-4 FT), 10 rebounds, two assists, two blocks and two steals over 28 minutes in Friday's 116-90 victory over the Mavericks. The 30-year-old was a force on the glass and on defense during his modest time on the court, and played a major role in the game being definitively decided by halftime. Aldridge has been outstanding during Tim Duncan's multi-game absence, and has been given the opportunity to put up numbers that are reminscent of his glory days in a Portland uniform. He's gotten February off to a remarkable start, averaging 26.0 points, 6.7 rebounds, 1.0 assists, 3.3 blocks, and 1.0 steals over 31.0 minutes in three contests. As long as Duncan remains sidelined, Aldridge has certainly proven capable of offering stellar multi-category production.

by RotoWire Staff | Special to CBSSports.com

Spurs' LaMarcus Aldridge: Scores season-high 36 points Wednesday

Aldridge recorded 36 points (12-20 FG, 12-12 FT), six rebounds, three blocks, one assist, and one steal in 34 minutes during the Spurs' 110-97 win over the Pelicans on Wednesday. That's back-to-back games in which Aldridge set season-highs in scoring. Apart from his clunker against the Warriors, Aldridge has picked up his efforts with Tim Duncan (knee) sitting out the last five games and counting. It's unclear how much longer Duncan will be sidelined, but Aldridge figures to continue enjoying a slight increase in value until the Big Fundamental returns.

by RotoWire Staff | Special to CBSSports.com

Spurs' LaMarcus Aldridge: Season-high in scoring versus Magic

Aldridge scored a season-high 28 points (9-13 FG, 10-13 FT) while swatting five shots and securing four rebounds in 32 minutes of Monday's win over the Magic. Assuming a larger offensive role again in the continued absence of Tim Duncan, Aldridge also tied a season-high in blocks in what was one of his better games as a Spur. The rebounding totals have been lacking of late, as Aldridge is averaging just 4.8 boards per game over the last five, but some of that can be attributed to playing time that has been limited by several blowouts. Aldridge's fantasy production has suffered an undeniable blow since his move to San Antonio, but his scoring numbers are trending upward as the main low-post option with Duncan out.

by RotoWire Staff | Special to CBSSports.com

Spurs' LaMarcus Aldridge: Contributes 15 points in Saturday loss

Aldridge contributed 15 points (7-11 FG, 1-2 FT) and two rebounds over 26 minutes in Saturday's 117-103 loss to the Cavaliers. Despite a strong shooting performance from the field, Aldridge had a relatively quiet night. This was particularly true on the glass, one of the areas in which the veteran power forward has made his mark. His two boards were the lowest he's amassed all season, and it was also his first game without an assist since Jan. 2 versus the Rockets. Aldridge did turn in his best month to date in a Spurs uniform in January however, posting a season-high average of 16.1 points, while also adding 8.6 boards and 1.7 assists per contest over 29.3 minutes.

by RotoWire Staff | Special to CBSSports.com

Spurs' LaMarcus Aldridge: Scores 25 points on 13 shots to go with 10 boards

Aldridge recorded 25 points (9-13 FG, 7-7 FT), 10 rebounds, and five assists in 30 minutes during the Spurs' 130-99 win over the Rockets on Wednesday. Aldridge was dominant on Wednesday, delivering his fourth double-double of the month. Aldridge has only logged 10 double-doubles all season, and though his demise has been over-stated, his statistics have noticeably dropped off since joining the team-first, pass-happy Spurs.

by RotoWire Staff | Special to CBSSports.com

Spurs' LaMarcus Aldridge: Scores five points in return

Aldridge (back) finished with five points (2-9 FG, 0-1 3Pt, 1-2 FT), three rebounds, two blocks, and one assist across 25 minutes in Monday's 120-90 loss to the Warriors. With frontcourt mate Tim Duncan (knee) sitting out Monday's contest, Aldridge was unable to pick up the slack in his return from a one-game absence, and finished with fewer than 10 points for the third time in his last four games. Single-digit scoring efforts have occasionally been common for Aldridge in blowout victories, but rarely have the Spurs found themselves on the other side of a beating. The Spurs and Aldridge should be able to regroup quickly Wednesday against a Rockets squad that could be without Dwight Howard, who is battling an ankle sprain.

by RotoWire Staff | Special to CBSSports.com

Spurs' LaMarcus Aldridge: Set to play Monday

Aldridge (back) appears in line to play Monday against the Warriors, CSN Bay Area's Monte Poole reports. Coach Gregg Popovich said that all Spurs except Tim Duncan (knee) would be available for the matchup with the NBA's top team, so we'll take that as confirmation that Aldridge will start at power forward Monday after sitting out Friday's win over the Lakers due to back spasms. That absence likely had more to do with the Spurs playing the second half of a back-to-back set than as a result of Aldridge's injury, so don't expect the big man to face any limitations Monday. Popovich has routinely relaxed Aldridge's minutes count this season with the Spurs rolling to a 38-6 start, but expect the 30-year-old to easily clear the 30-minute mark now that the team will be facing a worthy opponent.