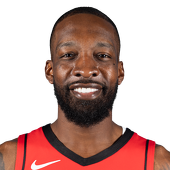 Own

71%

Start

30%

PF Rank

43
by RotoWire Staff | Special to CBSSports.com

Grizzlies' Jeff Green: Scores 20 points Wednesday

Green contributed 20 points (5-10 FG, 0-1 3Pt, 10-10 FT), seven rebounds, one assist, and one steal in 32 minutes during the Grizzlies' 102-93 win versus the Rockets on Wednesday. Green has been fairly solid since joining the starting lineup against the Timberwolves back on Nov. 15, and so have the Grizzlies, winners of five of their last six games. It seems like there is a good chance Green sticks in the starting five long-term, but his ability to play multiple positions means he will still have the opportunity to earn plenty of minutes even if coach Dave Joerger were to changed his mind down the road.

by RotoWire Staff | Special to CBSSports.com

Grizzlies' Jeff Green: Scores 19 points in Tuesday's win

Green netted 19 points (8-14 FG, 1-1 3Pt, 2-2 FT) with seven rebounds, three assists and two blocks over 35 minutes in Tuesday's 110-96 win over the Mavericks. Green also added a highlight reel alley-oop dunk to go along with his solid scoring night. He started the season coming off the bench, but has seen an obvious uptick in production since being inserted into the starting lineup.

by RotoWire Staff | Special to CBSSports.com

Grizzlies' Jeff Green: Continues to play well in start

Green posted 20 points (5-13 FG, 2-2 3Pt, 8-8 FT), five rebounds, one assist, two steals, and one block in 34 minutes of action Monday against the Thunder. As a newly-dubbed starter for the Grizzlies, Green is now averaging 18.3 points, 4.7 rebounds, and 1.3 steals over the last three games. The Grizzlies shook up their rotation and it appears to be working, as they're now riding on a three-game winning streak. It's unclear if the move is permanent, but it wouldn't hurt to grab Green in standard leagues to see where this pans out.

by RotoWire Staff | Special to CBSSports.com

Grizzlies' Jeff Green: Scores 21 points as starter on Sunday

Green recorded 21 points (7-12 FG, 1-3 3Pt, 6-6 FT), four rebounds, and three assists in 35 minutes during the Grizzlies' 114-106 win versus the Wolves on Sunday. Green started in place of Courtney Lee on Sunday, perhaps in an effort to match-up better with the Wolves' super-sized starting wing duo of Andrew Wiggins and Tayshaun Prince. Though the change didn't help the Grizzlies get off to a particularly strong start, Green saw a season-high 35 minutes. Green has reached the 30 minute mark in the Grizzlies' past two games, something he failed to do through the team's first nine games. If recent history is any indication, it's certainly possible that Green can improve on his modest averages of 8.5 points, 3.2 rebounds, 1.6 assists, 0.5 steals, and 0.2 blocks in 24 minutes per game going forward.

by RotoWire Staff | Special to CBSSports.com

Grizzlies' Jeff Green: Grizzlies' Green Plays Well Off Bench Versus Pacers On Thursday

Green recorded 12 points (5-6 FG, 2-2 3Pt), three rebounds, three assists, one steal, and one block in 29 minutes during the Grizzlies' 112-103 win versus the Pacers on Thursday. Green returned to a reserve role on Thursday after starting the season opener against the Cavaliers on Wednesday, allowing Tony Allen to take his spot in the lineup. Grizzlies' coach Dave Joerger started Green upon his arrival to town last season via trade, but switched Allen in as the starter during the playoffs. Allen may very well stick with the starting group given what he brings to the table defensively, but as shown on Thursday, Green is still capable of playing multiple positions and earning plenty of time off the bench. In fact, Green was in the game down the stretch, and made some timely buckets to help the Grizzlies earn their first win of the season. The team's depth will make it hard for Green to crack 30 minutes per game like he's grown accustomed to during his career, but he'll likely still have a decent role going forward so long as he stays healthy.

by RotoWire Staff | Special to CBSSports.com

Grizzlies' Jeff Green: Does not start Thursday against Pacers

Green will not start Thursday against the Pacers, Rob Fischer of Fox Sports Southeast reports. Green is still a candidate to get a large number of minutes, but he'll just be coming off the bench for them tonight. This isn't a long-term fix, as Green could still see starts later in the season. Tony Allen will start in his place.

by RotoWire Staff | Special to CBSSports.com

Grizzlies' Jeff Green: Expected to start in opener

Green is expected to receive the start at small forward in Wednesday's season opener against the Cavaliers, Kevin Lipe of the Memphis Flyer reports. Green played with the first unit for much of the preseason as coach Dave Joerger looks to squeeze more offense out of his starting unit. With LeBron James in town, former starter and defensive maven Tony Allen still figures to see plenty of run, but in most instances this season, it appears as though Jeff Green will assume the larger share of the minutes at small forward.

by Sean d'Oliveira | CBSSports.com

Grizzlies F Jeff Green picks up player option

Grizzlies forward Jeff Green has decided to exercise his player option for the 2015-16 season, per ESPN.com. Green would have been a free agent if he bypassed the option. In 78 games last season, Green averaged 15.0 points and 4.2 rebounds.

by Marty Gitlin | CBSSports.com

Report: G Jeff Green likely staying with Grizzlies next year

A disappointing season should have Grizzlies guard Jeff Green taking his $9.2 million player option for next year, per ESPN. Memphis had big expectations for Green when they acquired him from Boston in January. But he failed to deliver and was particularly ineffictive in the playoffs despite averaging 27 minutes per game. Green shot just 33 percent from the field (36-for-108) in the postseason.

by Sean d'Oliveira | CBSSports.com

Report: Grizzlies might start Jeff Green on Wednesday

Hoping to provide their offense with a boost, the Grizzlies are considering starting forward Jeff Green in Wednesday's Game 5 matchup at Golden State, a source told ESPN. With guard Tony Allen questionable with a hamstring injury, the Grizzlies could turn to Green to provide more offense to the starting unit. Green averaged 9.0 points during the first four games of the series. The Grizzlies are 9 1/2-point underdogs Wednesday at Golden State.