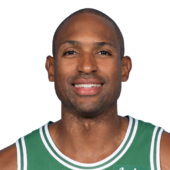 Own

100%

Start

98%

C Rank

5
by RotoWire Staff | Special to CBSSports.com

Hawks' Al Horford: Quiet double-double in Saturday's loss

Horford scored 10 points (4-12 FG, 1-3 3Pt, 1-1 FT) with 10 rebounds, three assists and a block in 34 minutes during Saturday's loss to the Cavaliers. It's his first double-double in 10 games and only the third of the season, but the 10 points are actually a season low for Horford, who's put up his usual numbers despite his slight rebounding swoon in November.

by RotoWire Staff | Special to CBSSports.com

Hawks' Al Horford: Nets team-high 18 points in Tuesday's loss

Horford scored a team-high 18 points (8-11 FG, 2-3 3Pt) with just five rebounds, two assists and two blocks over 34 minutes in Tuesday's 90-88 loss to the Nets. Horford continues to struggle on the glass, failing to reach double-digit rebounds for the eighth straight game. Still, he's managed to contribute enough in other categories -- most surprisingly his three-point shooting -- which has kept him in the top-20 in PER at 23.70 this season.

by RotoWire Staff | Special to CBSSports.com

Hawks' Al Horford: Catches fire with 26 points

Horford posted 26 points (11-15 FG, 4-6 3Pt), eight rebounds, three assists, and three blocks in 30 minutes of action Wednesday against the Pelicans. Horford caught fire on Wednesday and managed to produce in other categories as well. He's always been an efficient scorer from the field, but owners certainly shouldn't expect 11-for-15 performances normally. Still, he's a high-end big man in fantasyland, and owners can continue to ride him throughout the season.

by RotoWire Staff | Special to CBSSports.com

Hawks' Al Horford: Registers second straight double-double Tuesday

Horford had another double-double Tuesday, scoring 17 points (8-17 FG, 1-1 FT) and grabbing 13 rebounds over 34 minutes of a 98-92 win over the Heat. Horford was slow on the glass to start the season, but has picked up his rebounding in this recent stretch, pulling down 25 boards over his past two contests. The Hawks are beginning to resemble the squad that won 60 games last season, so Horford has a decent shot of keeping his double-double streak going Wednesday against the Nets.

by RotoWire Staff | Special to CBSSports.com

Hawks' Al Horford: Contributes double-double on Sunday

Horford had 16 points (7-14 FG, 0-5 3Pt, 2-2 FT), 12 rebounds, one assist, and three blocks in 35 minutes during the Hawks' 94-92 win versus the Hornets on Sunday. Horford is off to an awesome start in 2015-16, and delivered his first double-double performance of the year on Sunday versus the Hornets. The well-rounded former Gator is in a contract year, and will look to build on this strong showing when the Hawks are back in action on Tuesday versus the Heat.

by RotoWire Staff | Special to CBSSports.com

Hawks' Al Horford: Huge all-around effort on Thursday

Horford scored 21 points (9-for-18 FG, 1-for-2 FT) with nine rebounds, three blocks, two steals, two treys, an assist and three turnovers in 31 minutes of a win over the Knicks Thursday night. Horford shot five treys on Thursday, making two of them, which potentially adds a devastating new part to his game. Combining the long ball with his defensive abilities and efficient scoring game makes him one of the best rotisserie bigs in the league now that he's fully healthy again.

by RotoWire Staff | Special to CBSSports.com

Hawks' Al Horford: Double-double against Grizzlies

Horford collected 13 points (6-11 FG, 1-5 3Pt), 14 rebounds, four assists, one steal and four blocks in an 82-81 loss to the Grizzlies on Wednesday. This was a monster line for the big man and fantasy owners just wish it counted towards the regular season. Horford is now a year removed from a torn pectoral muscle and that means he could be even better this year than he was last season. Horford averaged 15.2 points, 7.2 rebounds, 3.2 assists, and 1.3 blocks a game last season. He also implemented the three-point shot into his game and that should only raise his value.

by RotoWire Staff | Special to CBSSports.com

Hawks' Al Horford: Expanding shooting range

Horford said Monday that improving as a three-point shooter was a point of emphasis this offseason, KL Chouinard of Hawks.com reports. Horford attempted a career-high 36 three-pointers last season, up significantly from his previous high of 11 set in 2013-14. The 29-year-old isn't likely to become a true threat from distance, but considering he's a career 32.3 percent shooter, an increase in volume should provide a bit of a boost, from a fantasy perspective.

by RotoWire Staff | Special to CBSSports.com

Hawks F Al Horford scores 10 points in 21 minutes Friday

Hawks forward Al Horford scored 10 points (4-9 FG, 2-3 3Pt) with 5 rebounds and 1 block in 21 minutes of action Friday night vs the Pelicans. While preseason stats for established stars like Horford are typically trivial, tonight's line counters that premise. There hasn't been much chatter about Horford shooting 3's this year, but he went 2-3 Friday night, and that qualifies as an eye opener. His value will have to be reconsidered if this trend continues throughout the preseason, as adding 3 pointers to his repertoire would significantly increase his value. Stay tuned.

by Jason Butt | CBSSports.com

Hawks' Al Horford won't face additional discipline after ejection

There will not be any additional discipline subjected to Hawks forward Al Horford following his ejection from Sunday's Game 3 loss to the Cavaliers, according to the Atlanta Journal-Constitution. Horford was tossed afterd delivering an elbow above the shoulders of Cavs guard Matthew Dellavedova after the two were tangled up with one another. This appeared to be in retaliation after Dellavedova dove toward Horford's knees. Horford received a Flagrant 2 and Dellavedova received a technical foul. With the NBA making this decision, Horford will be available for Game 4. The Cavaliers lead the series 3-0.