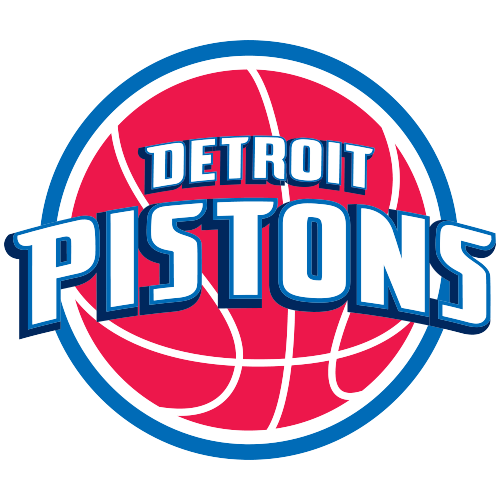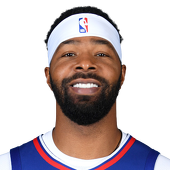 Own

93%

Start

62%

PF Rank

39
by RotoWire Staff | Special to CBSSports.com

Pistons' Marcus Morris: Scores team-high 17 in Friday's loss

Morris scored 17 points (5-13 FG, 2-4 3Pt, 5-6 FT) while adding four rebounds and a steal in 40 minutes during Friday's loss to the Thunder. The entire Detroit roster struggled in the road loss, shooting 34.4 percent from the floor, so Morris' efforts weren't that bad relatively speaking. His bulk numbers are up in his first season with the Pistons, but his shooting efficiency has taken a tumble as his offensive responsibilities have increased, and his 38.8 percent field goal percentage and 27.4 three point percentage would both be his lowest since he became a rotation regular.

by RotoWire Staff | Special to CBSSports.com

Pistons' Marcus Morris: Manages only four points in 26 minutes Monday

Morris managed only four points (2-7 FG, 0-3 3Pt), five rebounds, and an assist in 26 minutes Monday versus the Bucks. Morris was unable to get the offense going Monday with his season-low point total. The 26 minutes he played was also a season-low. This may have been as a result of the Pistons being behind by a large amount, but his ineffectiveness on offense couldn't have helped his case. He had been one of the Pistons' top scoring options prior to this poor outing, averaging 14.1 PPG in 36.6 minutes per game this season.

by RotoWire Staff | Special to CBSSports.com

Pistons' Marcus Morris: Posts double-double Friday

Morris recorded 16 points (6-14 FG, 0-5 3Pt, 4-4 FT), 11 rebounds, one steal, and one block in 36 minutes during the Pistons' 96-86 win versus the Wolves on Friday. Morris has been one of the top waiver wire adds of the season, and continues to impress while playing both forward positions for the Pistons. Morris couldn't find his range from deep on this night, but the fact that he is arguably the team's most potent threat from beyond the arc makes him extremely valuable on a squad that looks to provide Reggie Jackson and Andre Drummond with enough space to run the pick-and-roll at astronomical rates.

by RotoWire Staff | Special to CBSSports.com

Pistons' Marcus Morris: Gets double-double in debut with Pistons

Morris turned in a double-double in his regular season debut for the Pistons on Tuesday. He had 18 points (6-19 FG, 1-4 3Pt, 5-6 FT) with 10 rebounds and four assists in a win against the Hawks. Morris certainly didn't appear to miss his twin brother Markieff that much in his first regular season action in Detroit. Starting at SF for Stan Van Gundy, Morris poured in 18 points, eight more than his average from last season. The Pistons gave it to an Atlanta team that won 60 games en route to an Eastern Conference regular season title in 2014-15. Morris played 37 minutes, which he isn't very accustomed to seeing in one night, so he's worth an add early on in the fantasy season.

by RotoWire Staff | Special to CBSSports.com

Pistons' Marcus Morris: Confirmed as starter

Pistons coach Stan Van Gundy confirmed that Morris would open the season as the team's starting small forward, Keith Langlois of Pistons.com reports. Morris and rookie Stanley Johnson looked to be neck-and-neck in the competition for the starting role during the first half of training camp, but Johnson's struggles down the stretch in the face of Morris' strong shooting performances allowed the veteran to capture the job. Johnson is still expected to remain an integral member of Van Gundy's rotation, however, so it's far from guaranteed that Morris exceeds 30 minutes of playing time in Tuesday's season opener against the Hawks.

by RotoWire Staff | Special to CBSSports.com

Pistons' Marcus Morris: Turns in productive start Wednesday

Morris amassed 12 points (4-11 FG, 4-6 FT), five rebounds, and three steals over 27 minutes in Wednesday's 99-94 preseason loss to the Hornets. Morris drew the start in a lineup that is supposed to mirror the one the Pistons will roll out in the Oct. 27 regular-season opener and acquitted himself well, making contributions on both ends of the floor. The fifth-year pro turned in his third consecutive double-digit scoring night and fourth overall in the preseason, while also posting a high of three steals. Morris, for the time being, appears to have been anointed the starter at small forward, although it should certainly be a fluid situation with impressive first-round pick Stanley Roberts waiting in the wings and also slated to receive significant minutes off the bench right from the onset.

by RotoWire Staff | Special to CBSSports.com

Pistons SF Marcus Morris seeks starting spot

Pistons small forward Marcus Morris will get the start Wednesday against Charlotte and hopes to keep it for a while. He should at least be a starter to begin the regular season. Stan Van Gundy said his starters Wednesday would likely be the same ones he'd use for the Oct. 27 regular-season opener in Atlanta, so it appears safe to conclude that Morris has beaten out rookie Stanley Johnson for that role. While Johnson has shown the ability to light it up on occasions in the preseason and probably remains the preferred long-term asset, Morris' greater experience to go along with his versatility should help ensure that he sees around 25 minutes per night.

by RotoWire Staff | Special to CBSSports.com

Pistons PF Marcus Morris scores 17 points in preseason win

Pistons forward Marcus Morris racked up 17 points (7-11 FG, 1-3 3Pt, 2-2 FT) and three rebounds over 18 minutes in Wednesday's preseason win over the Bulls. Rookie Stanley Johnson has been putting plenty of pressure on Morris in their battle for the starting small forward gig, but the veteran may have pulled back ahead in the race with this performance. With Ersan Ilyasova coming off the bench Tuesday and resting Wednesday, Johnson has entered the starting lineup in two straight games, but seems to have a hit a bit of a wall, as he's shot just 8 for 24 from the field during that span. Look for coach Stan Van Gundy to observe the final three exhibition games closely before announcing a starter, but Morris couldn't have picked a better time to come through with one of his best showings of the preseason.

by RotoWire Staff | Special to CBSSports.com

Pistons' Marcus Morris: Scores eight points Thursday

Morris notched eight points (4-7 FG, 0-1 3Pt), three rebounds, an assist, and a steal in 19 minutes during Thursday's preseason loss to the Nets. Morris is in contention for the Pistons' starting small-forward role this season, and entered training camp as the presumptive leader in the clubhouse. Though he submitted a decent performance Thursday, Morris has been overshadowed by rookie Stanley Johnson through the Pistons' first two games. However, with Morris earning the nod in starting lineup for both games, he likely still maintains a narrow lead in the competition, though perhaps not as sizable as it was a week ago. Coach Stan Van Gundy may take the entire preseason before making a decision on which player will start at the position on opening night.

by Elliott Smith | Staff Writer

Suns make deal with Pistons official

The Suns officially completed their trade with the Pistons on Thursday, sending Marcus Morris, Reggie Bullock and Danny Granger to Detroit in exchange for a second-round pick, the team announced in a statement. Morris averaged a career-high 10.4 points and 4.8 rebounds last season. Granger and Bullock both saw limited action after being acquired by the Suns during the year.