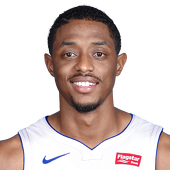 Brandon Knight
#3 SG / Phoenix Suns / EXP: 4YRS
Height: 6-3
Weight: 189 lb
Age: 23
College: Kentucky
Own

100%

Start

91%

PG Rank

18
by RotoWire Staff | Special to CBSSports.com

Suns' Brandon Knight: Tallies 21 points in loss Friday

Knight tallied 21 points (9-19 FG, 1-6 3Pt, 2-3 FT), five assists, a rebound and a steal over 35 minutes in Friday's 135-116 loss to the Warriors. Knight appears to have really hit his stride offensively in his first full season in Phoenix. The 23-year-old has scored in double digits in every game to date, been over 30 points twice, and collected two double-doubles and a triple-double so far in the new campaign. Although his defense appears to have suffered somewhat, Knight is still providing excellent all-around fantasy performances on the majority of nights.

by RotoWire Staff | Special to CBSSports.com

Suns' Brandon Knight: Scores 19 in Sunday's loss

Knight scored 19 points (5-18 FG, 2-6 3Pt, 7-8 FT) with seven assists, three rebounds and two steals in 37 minutes during Sunday's loss to the Pelicans. After a slow start to the season Knight has found another gear, averaging 27.5 points, 8.0 assists, 6.8 boards, 3.0 threes and 2.3 steals over the last four games. Those numbers have come against some of the league's worst defenses, however, including the Lakers and Nuggets, so don't expect his hot streak to last.

by RotoWire Staff | Special to CBSSports.com

Suns' Brandon Knight: Questionable to return Friday with sprained ankle

Knight sprained his ankle in Friday's game and is questionable to return, Paul Coro of azcentral.com reports. Knight had accumulated six points, two assists, one rebound, and one steal in nine minutes before exiting the game late in the first quarter. Any chance to return is currently up in the air.

by RotoWire Staff | Special to CBSSports.com

Suns' Brandon Knight: Continues stellar performance

Knight continued his stellar performance Wednesday against the Bulls, posting 23 points (8-20 FG, 1-2 3Pt, 6-6 FT), four assists, three rebounds, and one steal in 38 minutes. Knight is averaging 22.8 points, 4.0 rebounds, 4.8 assists, and 1.2 steals over the last five games in what seems to be a mini-streak of ramped up production. He's never been a model of consistency, so there's a good chance he'll cool off soon. However, his the upside to his dynamic game style is that he'll post stray numbers on the box score even when his shot isn't falling.

by RotoWire Staff | Special to CBSSports.com

Suns' Brandon Knight: Explodes for 37 points Thursday

Knight exploded for 37 points (14-22 FG, 6-10 3Pt, 3-4 FT), four assists, and two rebounds over 34 minutes in Thursday's 118-104 victory over the Clippers. Knight was granted a reprieve from a dose of Chris Paul defense when the Clippers' All-Star point guard sat out Thursday's game, and he took full advantage. The 23-year-old posted a career high in points and set season bests in field goal percentage, three-pointers, and three-point shooting percentage. Additionally, after an alarming eight-turnover night versus the Thunder's Russell Westrbook in the Suns' most recent contest, Knight handed the ball over to the opposition on only one occasion Thursday. The stellar performance brought Knights per-game scoring metric up to 20.3 on the young season, a figure he has supplemented with nightly averages of 4.4 assists and 4.0 rebounds.

by RotoWire Staff | Special to CBSSports.com

Suns' Brandon Knight: Scores 27 on Saturday

Knight scored 27 points (10-19 FG, 4-9 3Pt, 3-4 FT) with five rebounds, five assists, two steals and a block in 34 minutes during Saturday's win over the Trail Blazers. He and Eric Bledsoe have been dynamite together in the Suns backcourt through the early part of the schedule, and Knight is now averaging 20.0 points, 5.0 boards, 4.0 assists, 2.3 threes and 1.7 steals on the young season.

by RotoWire Staff | Special to CBSSports.com

Suns G Brandon Knight stuffs stat sheet in victory Friday

Suns guard Brandon Knight posted 18 points on 7 of 14 shooting, four rebounds, four assists, and three steals over 33 minutes in a win over the Trail Blazers on Friday. This was exactly the type of performance that the team could use from Knight on a consistent basis, with the fifth-year pro making contributions all across the stat sheet and serving as an ideal complement to Eric Bledsoe in the backcourt. Knight has tallied 33 points over his first two contests on 48 percent shooting overall.

by RotoWire Staff | Special to CBSSports.com

Suns' Brandon Knight: Scores 10 in win over Spurs

Knight totaled 10 points (4-12 FG, 1-4 3Pt, 1-2 FT), seven assists, two rebounds, two steals and five turnovers in a 104-84 win over the Spurs on Tuesday. Knight struggled in his short time with the Suns last season and that appears to be carrying over here a bit. He's a very talented player with a lot of upside, but it may be tough for him to get going with teammate Eric Bledsoe handling the ball so much. In any case, this offense and his talent alone should come through and reward fantasy owners with some nice production.

by Marty Gitlin | CBSSports.com

Suns all set on $70 million deal with G Brandon Knight

What was expected now appears official: the Suns have signed guard Brandon Knight to a five-year extension worth $70 million, a source has told CBSSports.com NBA Insider Ken Berger. Knight, who lost time late in the year to minor ankle surgery, has established himself as a standout. He averaged 17.2 points and a career-high 5.2 assists in 32 minutes per game last season. He hit a career-best 38.9 percent from beyond the arc as well.

by Elliott Smith | Staff Writer

Report: Brandon Knight to ink five-year deal with Suns

Free-agent guard Brandon Knight is expected to sign a five-year deal with the Suns once the free-agency period opens on July 1, per the Racine Journal-Times. Knight, who was traded to the Suns by the Bucks during last season, will receive around $70 million fro the deal, which will pair him with fellow guard Eric Bledsoe in the Suns backcourt. Knight played just 11 games with the Suns last season, as an ankle injury caused him to miss 16 of the team's last 17 contests.