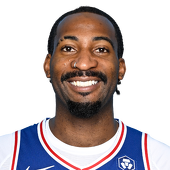 Andre Drummond
C / Detroit Pistons / EXP: 3YRS
Height: 6-11
Weight: 279 lb
Age: 22
College: Connecticut
Own

100%

Start

100%

C Rank

2
by RotoWire Staff | Special to CBSSports.com

Pistons' Andre Drummond: Has another monster night Tuesday against Cavs

Drummond had another monster night, scoring 25 points (10-15 FG, 5-9 FT) and pulling down 18 rebounds with three steals over 39 minutes in Tuesday's 104-99 win against the Cavs. Drummond has hauled in a double-double in all 11 games this season and this one was another huge one to end the Pistons' four-game losing streak. He's averaging an otherworldly 18.4 PPG and 20.1 RPG in the month of November.

by RotoWire Staff | Special to CBSSports.com

Pistons' Andre Drummond: Another double-double Saturday

Drummond scored 18 points (6-13 FG, 6-14 FT) with 19 rebounds, two assists, a steal and a block in 34 minutes during Saturday's loss to the Clippers. He got the better of DeAndre Jordan in a battle of the league's most dominant rebounders en route to his ninth straight double-double to begin the season, and even flashed a couple of behind-the-back passes as he continues to play with incredible confidence. Drummond is now averaging a staggering 20.7 boards, to go along with 18.7 points, 2.0 steals and 1.3 blocks, in six November games.

by RotoWire Staff | Special to CBSSports.com

Pistons' Andre Drummond: Huge game in Sunday's win

Drummond scored 29 points (14-19 FG, 1-6 FT) with 27 rebounds, three blocks and two steals in 36 minutes during Sunday's win over the Trail Blazers. Just two games after setting a new career high with 29 boards, Drummond nearly did it again Sunday. The big man is now averaging an amazing 20.3 points and 20.3 boards, along with 1.8 blocks and 1.8 steals, through six games.

by RotoWire Staff | Special to CBSSports.com

Pistons' Andre Drummond: Scores 25, rips down 29 rebounds Tuesday

Drummond pulled down 29 rebounds and had 25 points (12-17 FG, 1-2 FT) with three steals in Tuesday's 94-82 loss to the Pacers. It was Drummond's second consecutive game with at least 20 points and 20 rebounds, but the Pistons fell short in this one. Drummond, who has to be an early MVP candidate, played a season-high 43 minutes, as coach Stan Van Gundy really rode his starters in the loss. We all saw what SVG was able to do with Dwight Howard in Orlando, so while Drummond's breakout is a bit surprising, it was likely bound to happen.

by RotoWire Staff | Special to CBSSports.com

Pistons' Andre Drummond: Drummond Drops 20-20 Gem In Friday's Overtime Win Versus Bulls

Drummond recorded 20 points (8-19 FG, 4-10 FT), 20 rebounds, two steals, and two blocks in 39 minutes during the Pistons' 98-94 overtime win versus the Bulls on Friday. After taking a small step backwards in 2014-15, Drummond finally appears ready to turn the corner and have a breakout campaign for the Pistons, who are now 3-0 to start the year. Despite his lackluster free-throw percentage, Drummond seems set to be among the top fantasy centers in the league this season. The Pistons are back in action on Tuesday versus the Pacers.

by RotoWire Staff | Special to CBSSports.com

Pistons' Andre Drummond: Records double-double in season opening win

Drummond had a monster double-double in Tuesday's season opening win against the Hawks. He scored 18 points (6-16 FG, 6-10 FT) with 19 rebounds, three assists and two blocks. With Greg Monroe out of the Pistons' frontcourt, Drummond is the go-to guy, and proved that in Tuesday's impressive upset over the Hawks. Drummond was just too much for Atlanta to handle down low, as Detroit won the rebounding battle 59 to 40. The seven-footer had a monster preseason and appears poised for a breakout season with an improved Pistons squad.

by RotoWire Staff | Special to CBSSports.com

Pistons C Andre Drummond posts huge double-double Tuesday

Pistons center Andre Drummond was in midseason form Tuesday against the Pacers, totaling 17 points (8-20 FG, 1-1 FT), 21 rebounds, a steal and a block in 30 minutes of play. Drummond has gotten off to a spectacular start in the exhibition slate, posting double-digit scoring in all four games and recording his second double-double over that span Tuesday. The fourth-year pro also continued to be aggressive from the field, with his 20 shot attempts bringing his total in that category to 57 in the preseason. Still only 22 years of age but with three solid years of pro playing experience under his belt, Drummond may be primed for the most prolific season of his career to date.

by RotoWire Staff | Special to CBSSports.com

Pistons C Andre Drummond records double-double Thursday

Pistons center Andre Drummond scored 14 points and pulled down 11 rebounds while playing 35 minutes in a loss Thursday to Brooklyn. Drummond shot less than 50 percent from the field in the game, but the high total of attempts bodes well for his chances or improving on the career-best 13.8 points per game he averaged in 2015-16. With the Pistons replacing Greg Monroe at power forward with more of a stretch-four type in Ersan Ilyasova, Drummond should have more room to operate in the low block this season, which should help his production on both ends of the court. He'll likely finish as one of the league leaders in double-doubles.

by Ruben Palacios | Staff Writer

Pistons center Andre Drummond: 'I'm just so tired of losing'

Pistons center Andre Drummond wants things to change in Detroit. He's simply tired of the agony of losing again and again, per the Detroit Free Press. Drummond, who is enetering his fourth year in the league, wants to step his game up and wants that to translate over to his teammates and, ultimately, to winning. "It's just a mentality," Drummond said. "I just have the mind-set right now that I don't think has been there before. I told myself this is a big summer for me. Obviously, everybody knows it's my contract year, but it's not even because of that. "I'm just so tired of losing that it comes down to me and what I'm doing on the floor and that if I'm not in the best condition, the best playing shape, I can't do nothing for my team." Drummond averaged a double-double last season, but says he wants to take his play to another level, which has to be scary for opposing teams. "I'm willing to take this summer real seriously to really become a better leader and show everybody that I'm here to get the program where it needs to be." Drummond averaged 13.5 points and 13.8 rebounds per game last season.

by Shawn Krest | CBSSports.com

Pistons' owner: Andre Drummond is a max player

The Pistons' Andre Drummond is still on his rookie contract, and the team could head off his restricted free agency in 2016 by offering him a maximum extension. The team tipped its hand on Friday, when owner Tom Gores said Drummond deserved the maximum. "Andre's a maximum guy," Gores said, per MLive. "He's a maximum guy. He's not only a great player, he's a great person."