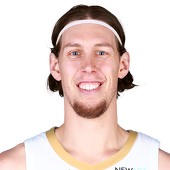 Own

21%

Start

8%

C Rank

41
by RotoWire Staff | Special to CBSSports.com

Celtics' Kelly Olynyk: Produces during garbage time

Olynyk posted eight points, six rebounds, a block, a steal, two assists and one three-pointer during Boston's blowout win in Houston. Olynyk put up most of his numbers after Boston had established a big lead. And he shot a poor 3-for-11 from the field. He is still behind Jared Sullinger, Amir Johnson and David Lee in the Boston big-man pecking order.

by RotoWire Staff | Special to CBSSports.com

Celtics' Kelly Olynyk: Scores 19 points off bench on Friday

Olynyk went for 19 points (7-11 FG, 3-5 3Pt, 2-3 FT), seven rebounds, four assists, four steals, and one block in 27 minutes during the Celtics' 118-98 win versus the Wizards on Friday. Olynyk offered up his best performance of the season on Friday, scoring efficiently while contributing in every category. The Celtics' front-court rotation is crowded, and it will be difficult for Olynyk to earn substantial minutes unless the team makes a trade or he starts performing like this on a more regular basis.

by RotoWire Staff | Special to CBSSports.com

Celtics' Kelly Olynyk: Minutes decline

Olynyk, through three matches, is averaging only 13 minutes of playing time per game. After averaging 22 minutes per game last season, the burly Canadian has seen his minutes decline as new Celtics Amir Johnson and David Lee receive significant playing time. Olynyk has not done much while on the floor. He's shooting only 22 percent with a scoring efficiency rating of only 0.61, half the rating he produced last season. Coach Brand Stevens moved Lee and Tyler Zeller to the bench on Wednesday, opting to start Johnson and Jared Sullinger. That left Olynyk once again coming off the bench and only receiving 11 minutes of playing time. Olynyk is only valuable in very deep fantasy contests.

by RotoWire Staff | Special to CBSSports.com

Celtics' Kelly Olynyk: Suspended for season opener

Olynyk (suspension) will sit out Wednesday's season opener against the 76ers. It's just a one-game ban for Olynyk, who earned the suspension after he recklessly battled the Cavaliers' Kevin Love for a loose ball in Game 4 of the Celtics' first-round playoff series loss, which resulted in a dislocated elbow for Love. Olynyk is slated to come off the bench this season, but looks to be included in a four-man frontcourt rotation that also features Tyler Zeller, David Lee, and Amir Johnson. In Olynyk's absence, the slimmed-down Jared Sullinger could absorb more minutes than usual off the bench.

by RotoWire Staff | Special to CBSSports.com

Celtics C Kelly Olynyk appears primed for bench role

Celtics center Kelly Olynyk has come off the bench in both of the Celtics' exhibitions in Europe, scoring 11 points (5-for-11 FG, 0-3 3Pt, 1-2 FT) and grabbing seven rebounds in that span. Though coach Brad Stevens hasn't confirmed as much, it seems the Celtics are prepared to enter the season with a starting frontcourt of David Lee and Tyler Zeller, with Olynyk, Jared Sullinger, Jonas Jerebko, and Amir Johnson left to contend for minutes off the bench. Neither Lee nor Zeller are overwhelming superior options to those bench players, so expect Stevens to utilize a rather deep rotation of big men, at least initially. As a result, Olynyk could still come close to seeing the 22.3 minutes per game he averaged in 2014-15.

by Shawn Krest | CBSSports.com

Report: Celtics likely to get offers for Jared Sullinger, Kelly Olynyk

Celtics forwards Jared Sullinger and Kelly Olynyk will be among the players most in demand over the offseason. Multiple league sources told CSN New England that those two players would garner heavy trade interest. The two players on the roster least likely to be traded are reportedly guard Marcus Smart and center Tyler Zeller.

by Shawn Krest | CBSSports.com

Ainge: Celtics' Kelly Olynyk didn't hurt Kevin Love on purpose

In his end-of-season meeting with the media, Celtics GM Danny Ainge said he didn't think Kelly Olynyk hurt the Cavaliers' Kevin Love on purpose. Olynyk pulled on Love's arm while going for a loose ball, separating Love's shoulder and putting him out for four-to-six months. "I think that's a little bit over the top," Ainge said when asked if he thought Olynyk's actions were intentiona, per the Boston Globe. "I feel bad for Kevin Love." "I thought it was just a foul," he added. "Two guys going for a loose ball."

by Elliott Smith | Staff Writer

Celtics F Kelly Olynyk wants to be more aggressive

Celtics forward Kelly Olynyk finished his second year on a sour note thanks to his involvement in the Kevin Love injury, but the Celtics are hoping he can take a more aggresive stance next season. Olynyk averaged 10.2 points and 4.7 rebounds last season while battling a variety of injuries. "I think I had stretches where I was playing well and doing a lot of different things on the floor, whether passing or creating shots, shooting or getting to the rim," Olynyk said. "And then I had other games where I wasn't as good, not the same aggressiveness."

by Brandon Wise | Staff Writer

NBA suspends J.R. Smith two games, Kelly Olynyk one game

The NBA has suspended Cavaliers guard J.R. Smith two games and Celtics forward Kelly Olynyk for their actions in Sunday's Game 4 in Boston, according to ESPN. Smith punch forward Jae Crowder in the head while jumping up for a rebound and was immediately ejected. Crowder landed awkwardly on his leg and was later diagnosed with an ACL sprain. He will miss the first two games of the Eastern Conference Semifinals. Smith is averaging 9.8 points per game this postseason. Olynyk grabbed forward Kevin Love's arm while fighting for a loose ball, dislocating his shoulder. He will serve his suspension to begin the 2015-2016 season.

by R.J. White | CBSSports.com

Celtics' Kelly Olynyk denies trying to injure Cavaliers' Kevin Love

Celtics center Kelly Olynyk was stunned that Cavaliers forward Kevin Love said he intentionally tried to injure Love on the play in which the forward suffered a dislocated shoulder Sunday, the Boston Herald reports. "I thought it was a bush league play," Love said. "Olynyk was in a compromising position, had no chance to get the ball and it's just too bad that he would go to those lengths to take somebody out of the game and do that to someone. I have no doubt in my mind that he did that on purpose." Olynyk's opinion of what happened on the first-quarter play was in stark contrast to Love's words. "That's ridiculous," Olynyk said after Sunday's game. "I would never intentionally hurt Kevin or anyone else. He locked my arm up, I locked up his as we were fighting for a loose ball. You lock up arms all the time in this league." Love is set to undergo an MRI Monday but is expected to miss a minimum of two weeks, which could keep him sidelined through the team's second-round matchup if not longer. "I was definitely surprised (by what Love said)," Olynyk said. "In basketball, I don't think anyone is trying to hurt anyone. For (Love), it's very unfortunate. I know they're trying to make a run right now."