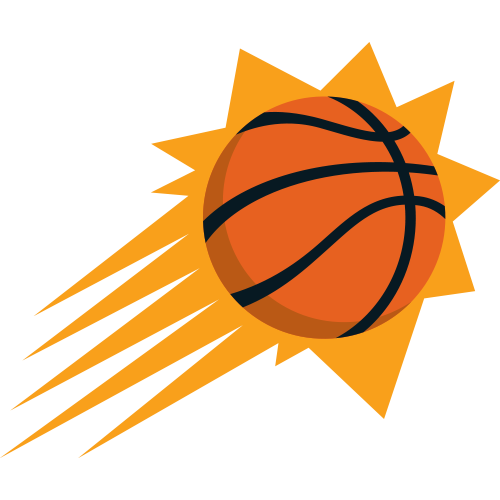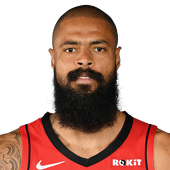 Tyson Chandler
#4 C / Phoenix Suns / EXP: 14YRS
Height: 7-1
Weight: 240 lb
Age: 33
College: No College
Own

64%

Start

27%

C Rank

28
by RotoWire Staff | Special to CBSSports.com

Suns' Tyson Chandler: Posts double-double in Saturday loss

Chandler supplied 10 points (4-7 FG, 2-2 FT), 14 rebounds and a block over 25 minutes in Saturday's 98-89 loss to the Jazz. The 15-year veteran was able to stand his ground against the considerable challenge of Rudy Gobert, managing his second double-double in the last four games. It was also Chandler's second straight contest with double-digit boards, and he's now impressively hauled in 24 rebounds over that span. While he's a potential threat for a double-double each time he takes the court, Chandler remains a marginal offensive threat who typically takes minimal shot attempts, capping his upside for fantasy purposes on most nights.

by RotoWire Staff | Special to CBSSports.com

Suns' Tyson Chandler: Double-doubles in 33 minutes Sunday

Chandler contributed 12 points (6-8 FG, 0-3 FT), 13 rebounds, two assists, one steal, and one block in 33 minutes during the Suns' 91-78 loss versus the Mavericks on Sunday. Chandler hauled in 9.7 rebounds per game during January. However, he scored in double figures only twice, and recorded merely 0.5 steals and 0.5 blocks per appearance. Even seeing 25 minutes per contest this last month, Chandler has made for a forgettable fantasy option outside of category leagues in which you're desperate for rebounding.

by RotoWire Staff | Special to CBSSports.com

Suns' Tyson Chandler: Plays only 19 minutes Tuesday

Chandler was limited to only 19 minutes in Tuesday's 113-103 loss to the 76ers, finishing with five points (1-2 FG, 3-4 FT), five rebounds, one assist, and one block. Chandler attracted plenty of attention after gathering 14, 20, and a franchise-record 27 rebounds in three successive games last week, but with the 76ers deploying a smaller lineup, the veteran center ended up taking a backseat to Alex Len, who put up a double-double in 35 minutes. There's a possibility that Chandler could see his playing time pick up Wednesday against the Cavaliers' starting frontcourt of Kevin Love and Tristan Thompson, but now that the Suns are getting healthier as a team, there's not much of a need for coach Jeff Hornacek to regularly play Chandler more than 30 minutes.

by RotoWire Staff | Special to CBSSports.com

Suns' Tyson Chandler: Ties franchise record with 27 boards in win

Chandler tallied 13 points (3-10 FG, 7-10 FT) to go with a franchise-record tying 27 rebounds (13 offensive), five assists, two blocks, and one steal across 44 minutes in Saturday's 98-95 win over the Hawks. With several members of the Suns' frontcourt sidelined the last two games due to injury, Chandler has been forced to assume heavy minutes and has started to look like the glass-clearing beast he was in Dallas last season. He's now compiled 47 boards in the last two games, and while his rebound production will eventually decline as the team starts to get healthy, he's certainly worth rostering on a temporary basis while his playing time remains abundant.

by RotoWire Staff | Special to CBSSports.com

Suns' Tyson Chandler: Hauls in 20 rebounds in blowout loss

Chandler posted eight points (3-7 FG, 2-2 FT), 20 rebounds, four assists and a block over 36 minutes in Thursday's 117-89 loss to the Spurs. The 33-year-old exploded for a performance reminiscent of some of the ones he managed last season in Dallas, hauling in his highest amount of boards to date in a Suns uniform while equaling his season high in playing time. Chandler's increased production was due in part to the significantly depleted condition of the Phoenix frontcourt, which necessitated the Suns starting Alex Len alongside the veteran center. Chandler now has 34 rebounds over the last two games, and could be in line for extended minutes in the immediate future if the likes of Markieff Morris (shoulder), Jon Leuer (back) and Mirza Teletovic (ankle) remain sidelined.

by RotoWire Staff | Special to CBSSports.com

Suns' Tyson Chandler: Notches 14 boards in loss

Chandler was held to three points (0-3 FG, 3-4 FT), but pulled down 14 rebounds and added a blocked shot across 27 minutes in Tuesday's 97-94 loss to the Pacers. Alex Len (hand) returned from a three-game absence to give the Suns a little more depth at center, but his presence didn't result in a drop in minutes for Chandler, who actually received his most playing time of January. It's no surprise that he was also able to clear double-digit boards for the first time this month, but Chandler could end up splitting the playing time more evenly with Alex Len over the weeks to come as the Suns look to get their younger players some more run in what's become a rebuilding season.

by RotoWire Staff | Special to CBSSports.com

Suns' Tyson Chandler: Ejected Saturday

Chandler was ejected in the second quarter of Saturday's loss to the Kings after arguing a foul call and receiving his second technical, finishing with six points (2-2 FG, 2-3 FT), one rebounds, one assist and one steal in 12 minutes. The Suns elected to roll with a smaller lineup after Chandler's ejection, although Alex Len's inability to contain DeMarcus Cousins played a large part in that decision. Chandler isn't expected to face further discipline, and should be back in the lineup Sunday in a road game against the Lakers.

by RotoWire Staff | Special to CBSSports.com

Suns' Tyson Chandler: Posts double-double in Thursday start

Chandler posted 13 points (6-9 FG, 1-2 FT), 10 rebounds and four assists over 31 minutes in Thursday's 110-106 loss to the Thunder. The veteran center has now surprisingly managed consecutive double-doubles, and three in his last four games. While in Chandler's case this wouldn't have been a notable feat prior to this season, the 2015-16 campaign has seen the 33-year-old's playing time go through wild fluctuations. Chandler has posted single-digit scoring efforts in all but three of the 23 games prior to his current stretch, and he'd played under 20 minutes in the four previous contests as well. It remains to be seen if coach Jeff Hornacek will continue to keep Chandler in the starting lineup and Alex Len coming off the bench, but the former has proven he can still produce in multiple categories when given sufficient playing time.

by RotoWire Staff | Special to CBSSports.com

Suns' Tyson Chandler: Starts Thursday

Chandler will start Thursday against the Thunder, Paul Coro of The Arizona Republic reports. Coach Jeff Hornacek hinted of this change pregame and it ultimately came to fruition as Alex Len moves to the bench with a minor hand injury which isn't severe enough to make him inactive. Chandler's workload has been in flux this season, however, which means his designation as a starter doesn't guarantee significant time on the court Thursday.

by RotoWire Staff | Special to CBSSports.com

Suns' Tyson Chandler: Could be in line for Thursday start

Chandler is being considered for the start at center Thursday in Oklahoma City, Paul Coro of The Arizona Republic reports. Chandler has been coming off the bench for the past week while Alex Len starts, but it appears coach Jeff Hornacek is having a change of heart. It may only be because power forward John Leuer has been ruled out with an ankle sprain, but regardless, both Chandler and Len have seen inconsistent minutes this season while starting and coming off the bench.