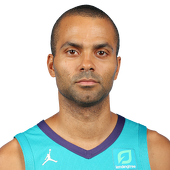 Tony Parker
#9 PG / San Antonio Spurs / EXP: 14YRS
Height: 6-2
Weight: 185 lb
Age: 33
College: No College
Own

84%

Start

55%

PG Rank

44
by RotoWire Staff | Special to CBSSports.com

Spurs' Tony Parker: Catches fire for 20 points

Parker caught fire Monday against the Suns and posted 20 points (10-13 FG, 0-2 FT), eight assists, three steals, and one rebound in 32 minutes. Parker has looked to be more aggressive in scoring over the last four games, attempting 11.8 field goals and 5.0 free throws per game during that span. He's always been a capable scorer who can dish out assists, but as the season ages, his usage rate will probably go down. That being said, he's still an efficient fantasy point guard, and he should continue to contribute similar numbers as long as he's healthy.

by RotoWire Staff | Special to CBSSports.com

Spurs' Tony Parker: Scorches Nuggets for season-high 25 points

Parker tallied a season-high 25 points (9-14 FG, 0-1 3Pt, 7-8 FT) and nine assists over 32 minutes in Wednesday's win over the Nuggets. Parker had steadily been raising his point production in recent games after a sluggish start to the season, but he cranked things up a notch Wednesday. The veteran guard was able to exploit inexperienced Nuggets rookie Emmanuel Mudiay on the defensive end, which allowed Parker to move to the forefront of the San Antonio attack after playing a complementary role to Kawhi Leonard and LaMarcus Aldridge for much of the Spurs' first 11 games. While Parker should have a few of these type of efforts left in him over the course of the season, they probably won't come along as often as they used to for the 33-year-old, who has seen his scoring average decline in both of the previous two campaigns.

by RotoWire Staff | Special to CBSSports.com

Spurs' Tony Parker: Double-digit scoring in four straight

Parker notched a double-digit scoring total in his fourth straight game in Monday's win over the Trail Blazers. He finished with 10 points (4-9 FG, 0-1 3Pt, 2-2 FT), seven assists, and three steals over 28 minutes. Considering that point guard is one of the deeper positions in the league, Parker's four-game scoring run isn't especially remarkable, and he's barely cracking double digits in the process. With an average of 11.6 points and 3.8 assists on the season, Parker's name value outstrips his fantasy production, but that's to be expected for a 33-year-old whose numbers have been declining steadily the last few seasons.

by RotoWire Staff | Special to CBSSports.com

Spurs' Tony Parker: Scores 17 points

Parker posted 17 points (6-11 FG, 1-1 3Pt, 4-5 FT), two rebounds, four assists, and one steal in 30 minutes of action Wednesday against the Wizards. Parker continues to be an efficient scorer, starting the season shooting 26-for-48 (54 percent) from the field. He's seen his assists decrease this season, averaging just 3.0 per game, and isn't providing many steals or triples either. That being said, he's still a valid low-end option in 12-man leagues.

by RotoWire Staff | Special to CBSSports.com

Spurs' Tony Parker: Scores 16 points Monday

Parker scored 16 points (7-12 FG, 2-2 FT) and dished out three assists against the Knicks on Monday. Parker was one of four Spurs starters to score in double figures on Monday, and did so in 29 minutes of action. The 33-year-old is averaging only 26.5 minutes per game and we are seeing the early signs that head coach Gregg Popovich is focused on keeping the point guard fresh. Patty Mills continues to prove to be a steady point guard behind Parker, which allows for more rest. Parker's numbers are down in comparison to his career averages due in large part to the playing time, however when he is playing he is as good and consistent as they come.

by RotoWire Staff | Special to CBSSports.com

Spurs' Tony Parker: Contributes across the board in win over Rockets

Parker collected 12 points, five rebounds, five assists and one steal across just 23 minutes in a preseason blowout over Houston on Friday. Parker has been contributing good assisting numbers this preseason and that should be where the majority of his value comes from for the regular season. The Frenchman has been dropping far in drafts this season and that may make him a nice value. What worries owners is that his minutes have been declining over recent years, but he still should provide good value even if he plays only 25-30 minutes per game.

by RotoWire Staff | Special to CBSSports.com

Spurs' Tony Parker: Eight assists in preseason loss

Parker played a team-high 31 minutes and tallied six points (3-9 FG, 0-1 3Pt), eight assists and two steals in a preseason loss to the Suns on Tuesday. Playing 31 minutes is a bit of a surprise, but the production has to worry fantasy owners. The Spurs added LaMarcus Aldridge this offseason and that will probably add to Tony Parker's struggles, as there will be less shots to go around. The team is trying to hand the keys to the Spurs' car to Kawhi Leoard and LaMarcus Aldridge and slowly difussing Parker's role in the offense. The fantasy value has dropped significantly for Parker over recent years and he's simply hard to trust in most formats.

by RotoWire Staff | Special to CBSSports.com

Spurs' Tony Parker: Will play versus Suns

Parker (ankle) said he will play in Tuesday's preseason game against the Suns, Jabari Young of the San Antonio Express-News reports. Parker sat out Sunday's matchup with Detroit due to an ankle issue, but it appears to be nothing serious, and he'll return to the starting lineup Tuesday. Through two preseason contests, Parker is averaging 8.0 points, 3.0 assists and 3.0 rebounds in 19.5 minutes per game.

by RotoWire Staff | Special to CBSSports.com

Spurs guard Tony Parker won't play Sunday in order to rest

Spurs guard Tony Parker (ankle) has been ruled out for Sunday's preseason game versus the Pistons, Paul Garcia of Project Spurs reports. Parker missed practice Friday due to an ankle injury, but the Spurs are listing his absence in advance of Sunday's exhibition for purposes of rest. Such an approach is expected be employed during the regular season in order to keep Parker and company fresh for a likely lengthy postseason run, as he's played between 66 and 68 games in three consecutive seasons. His next chance to take the floor arrives Tuesday against the Suns.

by RotoWire Staff | Special to CBSSports.com

Spurs' Tony Parker: Sat out of Friday's practice with ankle injury

Parker (ankle) sat out of practice Friday with an ankle injury, Jeff McDonald of San Antonio Express-News reports. This is the first we've heard of the injury, so it's likely just something minor. Considering he was given the day off for the injury Friday, Parker should be considered questionable for Sunday's preseason matchup with the Pistons. If Parker is forced to miss the game Sunday, look for Patty Mills to take over as the starter. Parker should be healthy by the start of the regular season.