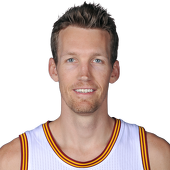 Mike Dunleavy
#34 SF / Chicago Bulls / EXP: 13YRS
Height: 6-9
Weight: 230 lb
Age: 35
College: Duke
Own

3%

Start

0%

SF Rank

NR
INJURY ALERT:
Out | Back | Out until at least early December
by RotoWire Staff | Special to CBSSports.com

Bulls' Mike Dunleavy: Progressing from back injury

Dunleavy (back) has been doing some "side to side work" and is working on his conditioning, Nick Friedell of ESPN Chicago reports. While it is encouraging to hear some news that Dunleavy is progressing, he still has a ways to go before he will be ready to play. Expect the Bulls to take it slow with Dunleavy as they want to make sure he is healthy for the second half of the season and the playoffs.

by RotoWire Staff | Special to CBSSports.com

Bulls' Mike Dunleavy: Will travel with team, but still without timetable

Dunleavy (back) will travel with the Bulls on their upcoming four-game West Coast trip but remains without a timetable for his return, K.C. Johnson of the Chicago Tribune reports. It doesn't sound like Dunleavy will warrant consideration to play in any of those games, but he does plan to step up his workouts with the team during that stretch. Though Dunleavy is expected to take part in non-contact walkthroughs with the team, it could still be another week or longer before he starts fully practicing with the team. As a result, it's looking increasingly likely that Dunleavy might not make his season debut until December.

by RotoWire Staff | Special to CBSSports.com

Bulls' Mike Dunleavy: Ramping up workouts

Dunleavy (back) began running earlier this week and is expected to start cutting within a few days, CSN Chicago's Vincent Goodwill reports. "[Dunleavy's] getting closer to getting back out there on the floor," Bulls coach Fred Hoiberg said. "He did a tempo run [Tuesday], all in a straight line as of right now." Hoiberg also relayed that Dunleavy remains in the strength-building phase of his recovery, so a return to full practice may not immediately be on the horizon. Dunleavy, who is seven weeks removed from the lower-back surgery that was expected to sideline him for eight-to-10 weeks, looks set to return closer to the long end of that timetable, if not slightly after it. The Bulls have already cycled through two starters at small forward (Tony Snell and Doug McDermott), so it's still possible that Dunleavy will be able to ascend back to the top of the depth chart when he's healthy again.

by RotoWire Staff | Special to CBSSports.com

Bulls unsure when Mike Dunleavy will return

Bulls forward Mike Dunleavy did not appear to be overly optimistic in regards to the 8-10 week timetable the team handed down last week, Vincent Goodwill of CSN Chicago reports. Dunleavy underwent a back procedure recently and the team is expecting him to miss 8-10 weeks. Or at least that's what the Bulls told the media in a press release Friday. Dunleavy, himself, seemed to intimate that his recovery could extend further into the regular season, so at this point he becomes an even riskier fantasy commodity. In his absence, Tony Snell, Nikola Mirotic and Doug McDermott all could see bumps in value with McDermott having arguably the most to gain.

by RotoWire Staff | Special to CBSSports.com

Back surgery to sideline Bulls SF Mike Dunleavy for two months

Bulls forward Mike Dunleavy underwent a lower-back procedure Friday and is expected to miss about two months. Dunleavy had been dealing with back discomfort throughout the offseason and, according to the report, the pain worsened in recent weeks. As such, Dunleavy underwent a "microdiscectomy" procedure after trying several more conservative remedies. His recovery will keep him sidelined throughout camp, and he projects to miss roughly the first month of the season. In his absence, Tony Snell and Nikola Mirotic figure to be the primary beneficiaries from a playing time standpoint.

by Shawn Krest | CBSSports.com

Bulls re-sign Mike Dunleavy

The Bulls re-signed swing man Mike Dunleavy, the team announced on Tuesday. Terms of the deal weren't released. Dunleavy averaged 10.5 points, 4.1 rebounds and 2.1 assists with the Bulls over the last two years.

by Jason Lempert | Staff Writer

Report: Bulls agree to three-year deal with G Mike Dunleavy Jr.

The Bulls have agreed to re-sign guard Mike Dunleavy Jr. to a three-year, $14.4 million deal, sources have told Yahoo Sports. The 35-year-old Dunleavy had 10.5 points and 3.9 rebounds per game last season.

by Marty Gitlin | CBSSports.com

Report: G Mike Dunleavy targeted by Cavaliers

The Cavaliers are planning to pursue free agent guard Mike Dunleavy, sources have told ESPN.com. Cleveland is desperate for depth, particularly in the backcourt, where point guard Kyrie Irving has been injury prone and J.R. Smith could leave in free agency. Iman Shumpert is also a free agent, but is expected to return. Dunleavy would not only provide depth, but a keen outside shot that was lacking in the NBA Finals for the Cavaliers. He shot a fine 40.7 percent from beyond the arc this season and nearly 50 percent in the playoffs. Sources, however, have also told ESPN that the 35-year-old Dunleavy is expected to stay in Chicago.

by Shawn Krest | CBSSports.com

Thibodeau: Bulls' Pau Gasol 'feeling a lot better'

Bulls forward Pau Gasol has been slowed by a sore hamstring and is probable for Game 6 on Thursday. Gasol has missed the last two games, but at Wednesday shootaround, Bulls coach Tom Thibodeau said that Gasol was "feeling a lot better," per the Daily Herald. Gasol's teammates don't seem concerned that Gasol will be slowed by the injury. "Pau doesn't move around out there like a gazelle," Mike Dunleavy Jr. said. "Him at not 100 percent is OK with us."

by Ted Leshinski | Staff Writer

Bulls F Mike Dunleavy won't be suspended for Flagrant 1 foul

Bulls forward Mike Dunleavy will not receive a suspension for his Flagrant 1 foul committed in Thursday's Game 6 blowout win in Milwaukee, reports Yahoo Sports. The foul was called on Dunleavy for a hit on Bucks guard Michael Carter-Williams. Dunleavy led all scorers with 20 points in a physical game that saw the Bulls close out the Bucks and move on to round two of the playoffs.