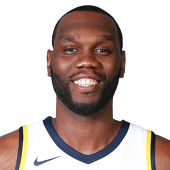 Al Jefferson
#25 C / Charlotte Hornets / EXP: 11YRS
Height: 6-10
Weight: 289 lb
Age: 30
College: No College
Own

100%

Start

80%

C Rank

4
by RotoWire Staff | Special to CBSSports.com

Hornets' Al Jefferson: Double-doubles Wednesday

Jefferson posted 14 points (6-13 FG, 2-2 FT), 11 rebounds, one assist, and one steal in 30 minutes during the Hornets' 101-87 win versus the Wizards on Wednesday. The 30-year-old center isn't guaranteed to hit the 30 minute mark every night, as coach Steve Clifford has made it clear he will ride whoever has the hot hand on a given night. However, despite playing the fewest minutes per game since his sophomore season, Jefferson still provides adequate scoring for his position while shooting above 50 percent from the field.

by RotoWire Staff | Special to CBSSports.com

Hornets' Al Jefferson: Plays just 23 minutes in OT win

Jefferson saw just 23 minutes of action in Monday's overtime win over the Kings, finishing with 10 points (4-10 FG, 2-4 FT), three rebounds, three assists, a block, and a steal. Despite only committing one foul on the night, Jefferson barely saw the floor in the final quarter and in overtime, as coach Steve Clifford decided to go with Frank Kaminsky and Cody Zeller as his two post men during crunch time. At a burly 6-foot-10 and 289 pounds, Jefferson's body type isn't well suited to assuming big playing time, and Clifford seems to be cognizant of that fact, as the center is averaging 27.1 minutes per game this season -- his lowest total since 2005-06. The three-minute drop in playing time compared to a season ago has resulted in a diminished stat line, with Jefferson's averages of 14.8 points and 6.4 rebounds also at their lowest levels since 2005-06. He should get more than 23 minutes most nights, but it looks like the 30-year-old's role is only likely to deteriorate from here forth, especially as the prized rookie Kaminsky gets more acclimated to the NBA game.

by RotoWire Staff | Special to CBSSports.com

Hornets' Al Jefferson: Posts best game of season Friday

Jefferson contributed 26 points (11-19 FG, 4-5 FT), 10 rebounds, two assists, one steal, and five blocks in 31 minutes during the Hornets' 113-88 win versus the 76ers on Friday. His throwback performance came against the lowly 76ers, but Jefferson was smooth as silk in the post on Friday, giving 76ers' rookie Jahlil Okafor a free clinic on offensive footwork. Jefferson may be highly unlikely to post career-best numbers in 2015-16, but the front office's focus on improving the team's shooting during the off-season should allow him more space to operate down low than in recent years.

by RotoWire Staff | Special to CBSSports.com

Hornets' Al Jefferson: Scores 29 in Sunday's win

Jefferson scored 29 points (13-17 FG, 3-4 FT) with five rebounds, three assists, a steal and a block in 30 minutes during Sunday's win over the Trail Blazers. After scoring just 19 points in his previous three games combined, Jefferson abused a weak Portland frontcourt to snap out of his mini-slump. He's had an overall disappointing start to the season but there's been no indication he's playing through an injury, so if you have shares in Jefferson you'll just need to be patient and hope Sunday's performance was the beginning of a breakout.

by RotoWire Staff | Special to CBSSports.com

Hornets' Al Jefferson: Struggles in win

Jefferson posted four points (2-10 FG), five rebounds, and two assists in 23 minutes of action Wednesday against the Knicks. Jefferson struggled on both ends of the court Wednesday and put up a rather forgettable performance. He's able to contribute in points, rebounds, steals, and blocks, but Wednesday was just one of those days. Owners can hope he bounces back sooner than later.

by RotoWire Staff | Special to CBSSports.com

Hornets' Al Jefferson: Posts season-best game Thursday

Jefferson posted 31 points (15-18 FG, 1-1 FT), nine rebounds, an assist, and a block over 27 minutes in Thursday's 108-94 victory over the Mavs. Big Al exploded for his best scoring output in almost a full year, and posted an eye-popping 83 percent field goal percentage in the process. The fact that the stellar performance came in just 27 minutes of floor time makes it all the more amazing, but the reality is that Jefferson is more likely to produce scoring in the teens with some solid rebounding on the majority of nights. Still, the occasional outlier performance such as Thursday's is certainly welcome by both the Hornets and fantasy owners.

by RotoWire Staff | Special to CBSSports.com

Hornets' Al Jefferson: Struggling a bit to begin the year

Jefferson managed 10 points (5-12 FG), 10 rebounds, two assists, and two blocks in 29 minutes during the Hornets' 94-92 loss versus the Hawks on Sunday. Jefferson is averaging 12.3 points on 44 percent shooting from the field to go along with 8.6 rebounds, 1.0 assist, 1.3 steals, and 0.7 blocks in 27 minutes per game through three games. He has only committed one turnover on the year, but he has also attempted only three free-throws, all in the opener against the Heat, and just one of which he actually made. The Heat and the Hawks both have fairly stout defensive front-lines, so it's possible that has played a factor in Jefferson's slow start. Still, fantasy owners have to be a tad concerned. The Hornets are back in action on Tuesday versus the Bulls.

by RotoWire Staff | Special to CBSSports.com

Hornets' Al Jefferson: Big first half but unexplained quiet second half

Jefferson scored 17 points (8-for-14 FG, 1-for-3 FT) with five boards, one assist, one steal and one turnover in 22 minutes of action in his season debut Wednesday night. Jefferson had 17 points at the half, but didn't score in the second half. He also only played 22 minutes in the game despite only one foul and a fairly competitive game. There hasn't been any news of injury, but this was an unexpectedly small load for Jefferson in the opener.

by RotoWire Staff | Special to CBSSports.com

Hornets' Al Jefferson: Scores 17 in preseason win over Clips

Jefferson posted 17 points (8-17 FG), six rebounds, one assist, one steal and two blocks in a 113-71 blowout over the Clippers on Wednesday. Jefferson is not a sexy pick in terms of fantasy, but he provides good numbers year after year. The only concern with Jefferson are his bad legs, as he seems to be dealing with a foot or knee injury every season. Although Jefferson has never played less than 50 games in any season, he's missed over 40 games in his past four years, while playing injured in many of those games. The free throw percentage has been dropping as well, as he has gone from 77% to 69% to 65% over the last three seasons.

by RotoWire Staff | Special to CBSSports.com

Hornets' Al Jefferson drops 20 pounds over offseason

Hornets center Al Jefferson has dropped 20 pounds this offseason in preparation for the upcoming season, Rick Bonnell of The Charlotte Observer reports. Jefferson has never been particularly svelte NBA career, but he's been able to make up for any conditioning issues with his mastery of post moves on the block. After knee issues limited him to 65 games and 30.6 minutes per contest in 2014-15, however, perhaps Jefferson is motivated to change his body. If the weight loss enables him to get up and down the floor with more ease this season, Jefferson could see a return to the 35 minutes he averaged in 2013-14, during which he provided marks of 21.8 points and 10.8 rebounds per game.