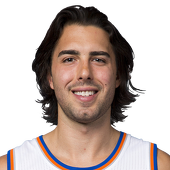 Sasha Vujacic
#18 SG / New York Knicks / EXP: 8YRS
Height: 6-7
Weight: 195 lb
Age: 31
College: No College
Own

1%

Start

0%

SG Rank

NR
by RotoWire Staff | Special to CBSSports.com

Knicks' Sasha Vujacic: Scores 13 points Thursday

Vujacic supplied 13 points (5-10 FG, 3-6 3Pt, 0-2 FT), six boards, two assists, and two steals across 24 minutes in Thursday's 103-93 loss to the Raptors. Vujacic was able to surpass 20 minutes and score double-digit points for the first time since Dec. 9, which likely wouldn't have been possible if Jose Calderon (groin), Carmelo Anthony (knee), and Kristaps Porzingis (illness) were available. At least one of those three players figures to be back for Friday's game against the Suns, which should result in a lesser role for Vujacic, who is only averaging 7.4 minutes in January.

by RotoWire Staff | Special to CBSSports.com

Knicks' Sasha Vujacic: Has seen 12 combined minutes over last three games

Vujacic scored two points (1-4 FG, 0-1 3Pt) and added one rebound over six minutes in Monday's double-overtime victory against the 76ers. Vujacic has played in all of the Knicks' last three games, but has seen just 12 total minutes of floor time. Unless Arron Afflalo succumbs to another injury at some point later this season, Vujacic likely won't have much of an opportunity to see extended minutes.

by RotoWire Staff | Special to CBSSports.com

Knicks' Sasha Vujacic: Scores 10 points in 27 minutes

Vujacic posted 10 points (3-5 FG, 2-2 3Pt, 2-4 FT), seven assists, three steals, and one rebound in 27 minutes in Wednesday's 106-85 loss to the Jazz. Vujacic hasn't logged this many minutes since Nov. 6, and he managed to put up quite a solid line as a result. Still, this doesn't mean anything from a fantasy standpoint, because the outcome of the game was a blowout, and Vujacic picked up a lot of garbage-time minutes. He's played in just 16 games this season, and is averaging just 17 minutes per contest, so Wednesday's outing was an anomaly and can be ignored for now.

by RotoWire Staff | Special to CBSSports.com

Knicks' Sasha Vujacic: Stays in deep bench role Monday

Vujacic played only three minutes and did not score in Monday's 95-78 loss to the Heat. After averaging about 23 minutes per game in the Knicks' first eight games, Vujacic's minutes have dropped drastically as he has only played 16 minutes total in the previous seven contests. The main reason for that is the shooting guard has shot very poorly this season (.286 FG%, .167 3P%) which has kept him out of the rotation as of late.

by RotoWire Staff | Special to CBSSports.com

Knicks Sasha Vujacic earns start in opener Wednesday

Knicks shooting guard Sasha Vujacic will get the start in the Wednesday season opener in Milwaukee, reports Ian Begley of ESPN. Vujacic has never averaged more than 10 points or two assists over the course of his previous eight years in the NBA and now that he's 31 years old things aren't expected to suddenly change. Until Arron Afflalo (hamstring) returns, expect Vujacic to see extended time on the court with limited production.

by RotoWire Staff | Special to CBSSports.com

Knicks' Sasha Vujacic: Could be in store for added minutes

Vujacic could be in store for unexpected minutes in Wednesday's season opener against the Bucks since Arron Afflalo is battling a hamstring injury. Afflalo hasn't been ruled out, but has missed the last couple days of practice and a large portion of the preseason with his hamstring injury. If Afflalo is unable to play in the opener, Vujacic would likely share time with Langston Galloway at shooting guard.

by RotoWire Staff | Special to CBSSports.com

Knicks' Sasha Vujacic: Collects eight points in starting role Monday

Vujacic tallied eight points (3-13 FG, 2-2 FT), three assists, five rebounds, and a steal over 21 minutes in Monday's 94-88 victory over the Sixers. The veteran has started all three exhibitions, even though he is fully expected to come off the bench as Arron Affalo's primary backup during the regular season. After hitting 75 percent of his shots from long range in his last contest on Oct. 9 against the Wizards, Vujacic went cold from beyond the arc Monday, missing all four attempts and shooting just 23 percent from the field overall. Nevertheless, Vujacic was a consistent source of other counting stats once again, hauling in five boards for the third consecutive contest and contributing a trio of assists for the second time in the first three preseason games. As previously stated by Knicks President Phil Jackson, the 31-year-old is expected to play an important role in the regular rotation in 2015-16, although his average amount of playing time is yet to be determined.

by Marty Gitlin | CBSSports.com

Knicks make signing of G Sasha Vujacic official

What was reported has not been made official by the Knicks. They have signed guard Sasha Vujacic. Vujacic has played in just two NBA games since 2011. But he averaged a career-high 9.8 points per game that year with the Lakers and Nets.

by Sean d'Oliveira | CBSSports.com

Report: Knicks sign guard Sasha Vujacic

The Knicks reached a contract agreement with guard Sasha Vujacic on Friday, a source told the New York Daily News. Vujacic played in two games for the Clippers last season. In eight seasons, Vujacic has a career average of 5.6 points per game.

by R.J. White | CBSSports.com

Clippers will not resign Sasha Vujacic

The Clippers will not resign guard Sasha Vujacic to another 10-day contract at this time, ESPN reports. Head coach Doc Rivers said Monday that it's possible Vujacic could be signed later, but the team will part ways with him for now. He made two appearances with the Clippers during his 10-day contract, scoring five points on 2 of 5 shooting in 10 minutes of action.