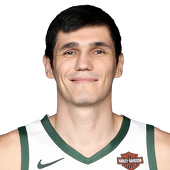 Ersan Ilyasova
#23 PF / Detroit Pistons / EXP: 7YRS
Height: 6-10
Weight: 235 lb
Age: 28
College: None
Own

49%

Start

23%

SF Rank

NR
by RotoWire Staff | Special to CBSSports.com

Pistons' Ersan Ilyasova: Scores 13 points

Ilyasova posted 13 points (3-7 FG, 3-4 3Pt, 4-4 FT), three rebounds, and three assists in 23 minutes Wednesday against the Heat. Ilyasova has been extremely inconsistent over the past five games, scoring 20, six, 18, zero, and 13 points, respectively. He's managed to maintain his starting role so far this season, in spite of occasional bursts of Stanley Johnson taking on more minutes. That being said, the Pistons could eventually decide to prioritize giving their rookie Johnson more minutes down the stretch, so now may not be a bad time to sell Ilyasova.

by RotoWire Staff | Special to CBSSports.com

Pistons' Ersan Ilyasova: Fails to score in 24 minutes Monday

Ilyasova failed to score (0-7 FG, 0-3 3Pt) while posting three rebounds, two assists, a steal, and a block in 24 minutes Monday versus the Bucks. Ilyasova has high-scoring potential, but he has been fairly inconsistent. Over his last six games, he has alternated between scoring around 20 points per game and scoring under 10 points. The turkish veteran has some appeal thanks to his ability to get hot from behind the arc, but it's tough to rely heavily on him when he's mixing in these cold-shooting nights.

by RotoWire Staff | Special to CBSSports.com

Pistons' Ersan Ilyasova: Scores 20 points for second time in three games

Ilyasova scored 20 points (6-10 FG, 4-6 3Pt, 4-4 FT) and grabbed six rebounds over 29 minutes in Tuesday's 104-99 win against the Cavs. The 20 points matched a season high Ilyasova set Saturday against the Clippers as the veteran forward played 29 minutes for the third straight contest. With his increased playing time and hot shooting from outside, Ilyasova makes for an interesting option in daily formats.

by RotoWire Staff | Special to CBSSports.com

Pistons' Ersan Ilyasova: Score 20 in Saturday's loss

Ilyasova scored a season-high 20 points (5-8 FG, 3-4 3Pt, 7-9 FT) with two rebounds and a block in 29 minutes during Saturday's loss to the Clippers. It's just the third time in nine games that Ilyasova has scored in double digits this season, as he typically hasn't supplemented his three-point shooting with additional production. The 28-year-old is now averaging 9.3 points, 2.5 boards and 1.7 threes through six November games.

by RotoWire Staff | Special to CBSSports.com

Pistons' Ersan Ilyasova: Not seeing heavy minutes

Coach Stan Van Gundy suggested that Ilyasova's playing time could be monitored throughout the season, MLive.com's David Mayo reports. "I'm concerned with him," Van Gundy said of Ilyasova. "He plays at a real high pace and intensity level. He had a long summer. I am somewhat conscious of not over-playing him needlessly. Now, there may be games where we need him, but I am trying to -- 26 [minutes] might actually be a little low -- but I'd like to keep him around that 28 to 30 range, and not have him up in the mid- to upper-30s, and keep him fresh." Through six games, Ilyasova is averaging only 26.7 minutes per contest, a mark far less than the Pistons' other four starters. Based on Van Gundy's comments, it doesn't sound like Ilyasova's minutes count will budge much from here, limiting the power forward's overall upside. He's still seeing four minutes per game more than he did with the Bucks in 2014-15, but Ilyasova is averaging only 8.3 points, 3.8 boards, 1.3 assists, and 0.7 steals, production that hardly translates to fantasy gold.

by RotoWire Staff | Special to CBSSports.com

Pistons' Ersan Ilyasova: Scores 12 points Tuesday

Ilyasova scored 12 points (5-13 FG, 2-4 FT) and grabbed four rebounds (all offensive) in Tuesday's loss to the Pacers. Ilyasova is seeing 28.3 minutes per game through the Pistons' first four contests, a healthy uptick from the 22.7 he averaged with the Bucks last season. However, his scoring (9.5 points per game) and rebound rates (4.5 rebounds) are both down, and that can probably be attributed in large part to sharing the frontcourt of Andre Drummond, who is averaging an eye-popping 20.3 points and 19.5 rebounds per game. Ilyasova never had to contend with such a formidable post partner during his time in Milwaukee, and will likely be relegated to floating toward the perimeter in order to let Drummond set up shop in the post. It could lead to a career-best mark in three-point attempts for Ilyasova, but his production in other areas seems likely to disappoint.

by RotoWire Staff | Special to CBSSports.com

Pistons' Ersan Ilyasova: Confirmed as starting power forward

Pistons coach Stan Van Gundy confirmed that Ilyasova would open the season as the team's starting power forward, Pistons.com's Keith Langlois reports. This was expected all along, as Ilyasova was deployed almost exclusively in the starting lineup during the preseason and was acquired over the summer with the express purpose of creating more spacing for the Pistons due to his three-point prowess. The arrival of Ilyasova should be most beneficial to frontcourt partner Andre Drummond, who often found himself bottled up in the low post last season next to Ilyasova's predecessor at power forward, Greg Monroe.

by RotoWire Staff | Special to CBSSports.com

Pistons SF Ersan Ilyasova collects 17 points Tuesday

Pistons forward Ersan Ilyasova collected 17 points (6-17 FG, 4-7 3Pt, 1-1 FT), an assist, and six rebounds in 28 minutes versus the Pacers on Tuesday. Ilyasova found his long-range shot for the first time this preseason Tuesday, after going 1-for-8 from beyond the arc over the previous three exhibition contests. The veteran forward, acquired in an offseason trade with the Bucks, will attempt to replace the considerable production of the departed Greg Monroe at the four. Ilyasova has been lauded by coach Stan Van Gundy as one of the top performers in camp, and has now posted double-digit scoring nights in two of the first four preseason outings. While he has certainly demonstrated solid scoring capacity in the past, Ilyasova's health has also been a persistent issue, making him a speculative mid-to-late-round pick in many drafts.

by RotoWire Staff | Special to CBSSports.com

Pistons' Ersan Ilyasova appears to have claimed starting PF role

Pistons forward Ersan Ilyasova appears to have solidified himself as the starting power forward for the Pistons during training camp, NBA.com reports. Aside from guard Kentavious Caldwell-Pope, coach Stan Van Gundy cited Ilyasova as one of the top performers in camp, all but assuring that the offseason acquisition is secure in his role. Ilyasova had a modest preseason debut (six points, four rebounds, four turnovers in 23 minutes), but with little notable competition behind him on the depth chart, the 28-year-old should eat up most of the playing time made available by Greg Monroe's departure.

by Sean d'Oliveira | CBSSports.com

Bucks trade Ilyasova to Pistons for Butler, Williams

The Bucks agreed to trade forward Ersan Ilyasova to the Pistons in exchange for Caron Butler and Shawne Williams, the Pistons announced. Ilyasova averaged 11.5 points and 4.8 rebounds in 58 games during the 2014-15 season. Meanwhile, Butler averaged 5.9 points and Williams averaged 5.4 points.