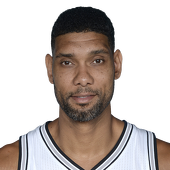 Own

99%

Start

83%

PF Rank

24
by RotoWire Staff | Special to CBSSports.com

Spurs' Tim Duncan: Active Saturday

Duncan, along with the rest of the Spurs players, will be available for Saturday's game against the Hawks, Project Spurs' Paul Garcia reports. He missed the first half of this weekend's back-to-back set to rest, but will be back in the starting lineup Saturday, as expected. Deploy him as usual, just be sure to continue to diligently follow his status, as more rest days will surely be coming.

by RotoWire Staff | Special to CBSSports.com

Spurs' Tim Duncan: Out Friday in Denver

Duncan (rest) will not play Friday in Denver, Tom Osborn of MySanAntonio.com reports. Duncan did not travel with the team as the Spurs have opted to rest their star veteran. He and Manu Ginobili will not be in attendance. This does not come as a surprise considering coach Popovich's history of resting his players during the regular season. It is unclear what the Spurs will do with their rotation, but one option would be bumping LaMarcus Aldridge to center and inserting David West in at Power Forward. Duncan could return on the second half of the Spurs' back-to-back Saturday versus Atlanta.

by RotoWire Staff | Special to CBSSports.com

Spurs' Tim Duncan: Scores season-low two points

Duncan scored a season-low two points (1-4 FG) to go with nine rebounds, four assists, and two blocks in 28 minutes Wednesday against the Mavericks. Duncan has now scored in single-digits three times over the last four games, and it appears he's exerting himself a little more passively on the offensive end than usual. He's already 39 years old, and with the Spurs set on getting a strong seed for the regular season, it wouldn't be surprising to see Duncan's numbers take a dip. If there's a time to sell him at a decent price before it's too late, now may be ideal.

by RotoWire Staff | Special to CBSSports.com

Spurs' Tim Duncan: Tallies season-high six blocks

Duncan posted 12 points (5-8 FG, 2-2 FT), 11 rebounds, six assists, a season-high six blocks, and one steal in 28 minutes Wednesday against the Nuggets. Duncan is averaging 12.0 points, 8.8 rebounds, 2.8 assists, 0.6 steals, and 3.2 blocks over the last five games and has demonstrated consistency throughout the season. He's not scoring too many points, but he's been very efficient with the minutes given, and owners can continue this steady all-around production moving forward.

by RotoWire Staff | Special to CBSSports.com

Spurs' Tim Duncan: Swats five in Saturday's win

Duncan scored 15 points (7-12 FG, 1-3 FT) with five blocks, four rebounds, two assists and a steal in 27 minutes during Saturday's win over the 76ers. With the five blocks, Duncan passed former teammate David Robinson to become the Spurs' all-time franchise leader in the category at 2,955, which also puts him fifth on the league's career leader board. The 19-year veteran just keeps rolling along, and Duncan is now averaging 11.4 points, 8.9 boards, 3.4 assists and 1.4 blocks in seven November games.

by RotoWire Staff | Special to CBSSports.com

Spurs' Tim Duncan: Grabs double-double

Duncan grabbed a double-double with 16 points, 10 rebounds, six assists, one steal, and two blocks in 35 minutes of action Monday against the Knicks. Even at the age of 39, Duncan has proven that he can be a reliable fantasy option, thanks to his efficient production across the board. As usual, he'll be slated to sit some games every now and then (per Spurs tradition), but as long as he's healthy, he'll be well worth a spot in most leagues.

by RotoWire Staff | Special to CBSSports.com

Spurs' Tim Duncan: Yet to see 30 minutes in a game this year

Duncan contributed seven points (3-9 FG, 0-1 3Pt, 1-2 FT), nine rebounds, five assists, and one block in 29 minutes during the Spurs' 95-87 win versus the Celtics on Sunday. Duncan has only averaged 30 minutes per game during the regular season once in the last five years, so the fact that he's averaging only 28 minutes per game thus far is hardly surprising. Further, the Spurs have never had this much depth down low. With Duncan, LaMarcus Aldridge, Boris Diaw, and David West, the Spurs barely have enough minutes to go around, and coach Gregg Popovich will likely play it safe with his longtime meal ticket throughout the year. Those who drafted Duncan likely didn't expect him to log a lot of minutes or post eye-popping stats this season, but instead are relying on his consistently efficient and well-rounded production, which he'll likely continue to provide so long as he stays healthy.

by RotoWire Staff | Special to CBSSports.com

Spurs' Tim Duncan: Meshes well with Aldridge in preseason debut

Duncan scored 14 points while shooting a perfect 7-for-7 from the field in Monday's exhibition loss to the Heat. He also added six rebounds and two assists in 19 minutes. In his first game playing alongside free-agent import LaMarcus Aldridge, Duncan adapted well to his new teammate, with both players turning in productive performances. The two combined to shoot 14-for-19 from the field, with Aldridge even stretching out to the three-point line to fire off an attempt. The two big men should still have some occasional rough patches as they learn to work off each other, but coach Gregg Popovich and his staff will likely have both players working effectively in concert by the time the postseason rolls around. The acquisition of Aldridge will likely result in Duncan resting more frequently as Popovich aims to preserve the 19th-year pro for the long slog of the regular season.

by RotoWire Staff | Special to CBSSports.com

Spurs G Manu Ginobili makes preseason debut Monday

Spurs veteran guard Manu Ginobili played 14 minutes Monday' in a preseason loss to Miami and finished with 10 points on 3 of 4 shooting. He added two assists and two steals. Gregg Popovich waited until the second exhibition to use his aging core of Ginobili, Tim Duncan and Tony Parker, with none of the three players seeing more than 19 minutes. Expect all three to see frequent rest throughout the season in the form of reduced minutes and entire games off, particularly when the Spurs play back-to-back sets. The anticipated drop in playing time will work against Ginobili's Fantasy value, even as he remains effective on a per-minute basis.

by RotoWire Staff | Special to CBSSports.com

Spurs forward Tim Duncan sitting out preseason opener

Spurs forward Tim Duncan , as well as Tony Parker, Manu Ginobili and Boris Diaw, will sit out Thursday's preseason opener, Marc Spears of Yahoo! Sports reports. Given what we've seen from the Spurs over the years, this comes as no surprise, and coach Gregg Popovich will likely continue to rest his veterans throughout the exhibition season. New addition LaMarcus Aldridge will suit up Thursday in what will be his first action in Spurs uniform.