2017 Fantasy Football Draft Prep: Picking at No. 2 overall in standard leagues
There are three elite-level running backs who will go early in Fantasy drafts. Simple math tells us that whoever gets the No. 2 overall pick is guaranteed one of them.
Drafting from: 1 | 2 |  3 | 4 | 5 | 6 | 7 | 8 | 9 | 10 | 11 | 12
There's nothing like winning in Fantasy Football, and the easiest way to win is to build a roster with great, productive players. Having a running back who is a no-brainer for your lineup each week is an incredible luxury -- picking at No. 2 overall gives you a shot at such a talent.
So the first thing you'll need to do is rank your running backs. The candidates: Le'Veon Bell , David Johnson and Ezekiel Elliott . I ranked them that way only because Bell and Johnson do more out of the passing game than Elliott, and Bell has the easiest schedule of the three. You'll see below when I was on the clock, Bell was gone, so I took Johnson. Trust me, I didn't shed many tears when Bell went first overall -- Johnson is going to work a ton in that Cardinals offense and should have a shot at 15 Fantasy points every week no matter who he plays.
Get ready for some tough choices late in Round 2 and early in Round 3. My original plan was to couple Johnson with two rock star receivers to solidify my lineup, but I took a detour when Rob Gronkowski was still on the board and the best receivers weren't. Gronk's a risky pick given his injury history, but I couldn't pass up his potential for big points every week when he's active.
I took Gronk hoping Davante Adams or DeAndre Hopkins would make it back to me in Round 3. Didn't happen. Faced with the decision of taking Isaiah Crowell , Lamar Miller or Terrelle Pryor (and yeah, believe it or not, I like all of those guys), I decided to play it safe and take another stud player at a different position. That would be Aaron Rodgers , who really needs no introduction.
Consider my trio as one of several scenarios you'll see on your Draft Day, but not necessarily the most likely. Most drafts have quarterbacks go off the board sooner than Round 3, and don't be surprised when Gronkowski gets nabbed before 20th overall. When those guys get taken sooner, better talent at receiver and running back falls into your lap. For instance, if those two were picked before my second-round selection, my picks might have been Doug Baldwin and Todd Gurley . Not too shabby, right?
Expect to find at least one desirable receiver with your first three picks, if not two with your first four. But if the draft falls like mine did, you cannot afford to let great values on elite players slip through your fingers.
Here is my team at No. 2 overall:
1.2 David Johnson
2.23 Rob Gronkowski
3.26 Aaron Rodgers
4.47 Mike Gillislee
5.50 Tyreek Hill
6.71 Brandon Marshall
7.74 Kelvin Benjamin
8.95 Tyrell Williams
9.98 Jeremy Hill
10.119 Marlon Mack
11.122 Thomas Rawls
12.143 Houston Texans DST
13.146 Matt Bryant
14.167 Josh Doctson
You could say my draft strategy morphed into taking the best available player regardless of position. I can't say it's a bad strategy, but it did leave my roster with plenty of holes. Tyreek Hill is my No. 1 receiver, Brandon Marshall is my No. 2. Jeremy Hill is my No. 3 running back. It's not exactly pretty, but the flipside is that Johnson, Gronkowski and Rodgers should score loads of points every week while the other guys I start supplement them. Ultimately, I cannot be upset about having three studs in my lineup.
Favorite pick: Aaron Rodgers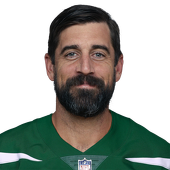 Aaron Rodgers
QB / Green Bay (2016 stats)
CMP%:
65.7
YDS:
4,428
TD:
40
INT:
7
My theory on drafting quarterbacks is to wait until you feel like you're stealing one. Well, Rodgers is assumed to have a Round 2 ADP, so picking him up in the third round is a pretty decent steal. He's a cinch to finish as a top-five quarterback so long as the Packers aren't bombarded with injuries. And it's not like Green Bay shored up its run game with a bunch of superstars, so we could be on the brink of another season of Rodgers throwing over 550 times. That usually means great things for Fantasy.
Pick I might regret: Mike Gillislee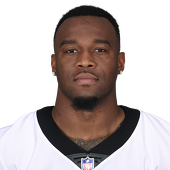 Mike Gillislee
RB / New England (2016 stats)
ATT:
101
YDS:
577
TD:
8
REC:
9
YDS:
50
TD:
1
There are two reasons why this pick could turn rotten.
First, I passed on Golden Tate to take Gillislee when I desperately needed a receiver. Had I taken Tate in Round 4, I could have still splurged on Hill in Round 5 and the pressure of drafting receivers would have been lifted off my shoulders. Then I might have been able to do a better job building running back depth with Doug Martin in Round 6 or Jamaal Williams in Round 7.
Second, there's no guarantee Gillislee will be "the guy" in the New England Patriots backfield. We know he's the highest-paid Patriots running back, and I think he's the best back they have on the roster, but the Patriots tend to use their rushers differently than most. He's got the upside to pick up 10 touchdowns, but he's also got the downside of riding the bench if other Pats rushers pick up some steam.
Player who could make or break my team: Rob Gronkowski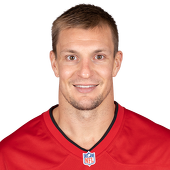 Rob Gronkowski
TE / New England (2016 stats)
TAR:
38
REC:
25
YDS:
540
TD:
3
Really, it all comes back to Gronk.
In 2014 and 2015 he helped Fantasy owners steamroll to a postseason berth with back-to-back 1,100-yard and 11-plus touchdown campaigns. Last year he might have been the reason why Fantasy owners didn't make the playoffs -- he missed eight games and barely played in three others. Gronkowski was a part of spring minicamps and appears ready to begin training camp without any injuries holding him back.
 It seems like it's a good time to have Gronk on a Fantasy team -- I hope it stays that way.  
The receiver class of 2015 is led by Amari Cooper, but Jamey Eisenberg also looks at potential...

The Dolphins are coming off a surprisingly good year, but there are still questions about the...

Heath Cummings says Alex Smith isn't a good Fantasy quarterback but that doesn't keep the Chiefs...
Heath Cummings is excited about the Raiders' Fantasy outlook, just not their most recent a...

The competition for targets in Los Angeles is going to be intense. Heath Cummings breaks down...

The Giants added Brandon Marshall and Evan Engram in the passing game and Heath Cummings wonders...