Fantasy Football: Bradford staying in Philly, can boost Matthews and Ertz
The Eagles signed Sam Bradford to a two-year contract extension, and Jamey Eisenberg says his main goal as a Fantasy option is to make Jordan Matthews and Zach Ertz elite players.
• 1 min read
Chip Kelly might be gone, but the Eagles remain committed to the quarterback he traded for last season. Sam Bradford signed a two-year contract extension Tuesday worth a reported $36 million, including $26 million guaranteed.
Bradford was acquired via trade from St. Louis last season for Nick Foles, and he struggled in 2015 as Kelly's starter. He passed for 3,725 yards, 19 touchdowns and 14 interceptions in 14 games and completed 65 percent of his passes, which was a career high.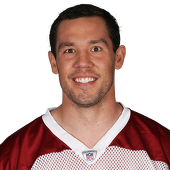 Sam Bradford
QB / Philadelphia Eagles
2015 stats:
3,725 pass yards, 19 TD, 14 INT
Even though he was a free agent, Eagles general manager Howie Roseman and new coach Doug Pederson expressed an interest to keep Bradford, and this new deal reflects that. Now, we'll find out if Bradford can perform at a higher level in a new system.
From a Fantasy perspective, owners will take a cautious approach with Bradford -- and rightfully so. He generated plenty of hype in training camp and the preseason when it looked like he was going to star in Kelly's offense. Instead, Bradford got off to a slow start and had only two games with more than 17 Fantasy points in his first 11 games.
He closed the season playing better with an average of 20.3 Fantasy points in his final three games, but we hope he can play better in 2016. He should be considered a No. 2 quarterback heading into the season and is only worth drafting with a late-round pick.
What we mostly care about with Bradford is that he will help Jordan Matthews and Zach Ertz play at a high level since both have plenty of upside. If Bradford can excel in Pederson's offense, Matthews and Ertz should play well.
We consider Matthews a No. 3 Fantasy receiver with the chance to be a weekly starter, and Ertz showed in 2015 that he can be a starting Fantasy tight end in all leagues. We also hope Bradford can get better production from Nelson Agholor, who was a bust after being a prized rookie last year.
This offense still has plenty of potential, and DeMarco Murray should also play better now that Kelly is gone. It all comes down to Bradford, and hopefully the change from Kelly to Pederson will help his game flourish at a high level.
The Eagles expect that to happen, which is why he got a new deal. Bradford could emerge as a starting Fantasy option, but he has to prove it first.
The receiver class of 2015 is led by Amari Cooper, but Jamey Eisenberg also looks at potential...

The Dolphins are coming off a surprisingly good year, but there are still questions about the...

Heath Cummings says Alex Smith isn't a good Fantasy quarterback but that doesn't keep the Chiefs...
Heath Cummings is excited about the Raiders' Fantasy outlook, just not their most recent a...

The competition for targets in Los Angeles is going to be intense. Heath Cummings breaks down...

The Giants added Brandon Marshall and Evan Engram in the passing game and Heath Cummings wonders...