In Washington, Terrelle Pryor becomes a legitimate Fantasy Football stud
If you thought Terrelle Pryor was good playing with the Browns last year, just wait and see how he does catching passes from Kirk Cousins.
After losing DeSean Jackson and Pierre Garcon via free agency, the Redskins needed receiver help in the worst way. They got it -- and might have gotten better in the process.
Terrelle Pryor agreed to a one-year, $8 million deal with Washington on Friday, giving assumed starting quarterback Kirk Cousins a big target to work with.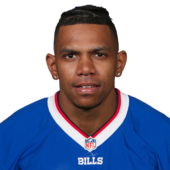 Terrelle Pryor
QB / Cleveland (2016 stats)
TAR:
140
REC:
77
YDS:
1,007
TD:
4
Pryor performed as the No. 1 receiver for the Browns, and while he delivered good enough numbers for Fantasy fans, he really could have been so much better.
All four of his touchdowns came in the red zone, but he only had 13 red-zone targets thanks in part to, well, playing on the Browns. It's not like Cleveland had competent quarterbacks -- the ones they did have threw to Pryor behind a depleted offensive line and led to a 55.0 percent catch rate. That includes 10 completions on 29 deep targets.
By comparison, Cousins had 80 red-zone pass attempts last year and connected for 14 touchdowns and two interceptions. He was even better than that the year before (22 touchdowns, no interceptions in the red zone). And of six teammates with at least 40 receptions in 2016, five had a catch rate of 67.7 percent or better from Cousins.
Pryor has a better quarterback in an offense that should throw the ball a bunch. But best of all, Pryor won't have to absorb all of the defense's attention. This is an offense with Jordan Reed and Jamison Crowder -- they'll draw bodies away from Pryor everywhere on the field including the red zone.
Pryor probably won't get quite as many targets as he did in 2016, but he'll have a significantly higher catch rate with Cousins than he would have with whoever the Browns end up starting. He should also be much more involved in the red zone, creating more touchdown opportunities.
So long as Cousins is his quarterback, Pryor should exceed the 1,000 yards he had with the Browns and at least double the four touchdowns as well. After all, not only will Pryor be in "prove it" mode with his one-year deal, but so too will his quarterback.
Pryor is a Top 50 Fantasy option. Lock him in as a No. 2 wideout with a Round 4 pick.
Show Comments
Hide Comments
Heath Cummings looks at the crowded backfields created by the NFL Draft and reveals his updated...

In our latest mock draft, Jamey Eisenberg selected Tom Brady in Round 4, which might have ruined...

Along with answering your #fantasymail questions, Jamey Eisenberg looks at the backfields for...
Free agency and the NFL Draft helped move Marcus Mariota and Jameis Winston into the top five...

Instead of lousing up a backfield in New England, Detroit, Baltimore or Arizona, LeGarrette...

In our latest PPR mock draft, Jamey Eisenberg went with a best-player available approach but...