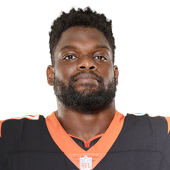 Own

27%

Start

19%

DT Rank

NR
Player News
Atkins had a sack in the Bengals' first-round playoff loss to the Steelers, capping off a big rebound season. In addition to the playoff sack, Atkins had 11 sacks in the regular season, second only to his big breakout season in 2012 where he had 12.5 sacks. The Bengals are still well-equipped to have a great pass rush in 2016, with Atkins and Carlos Dunlap leading the way.

Bengals defensive tackle Geno Atkins only had three sacks a year ago. Having had to spend much of last offseason rehabbing a torn ACL, Atkins wasn't able to look like his old self during the 2014 regular season. However, Atkins has looked much improved in OTAs, at least according to Bengals defensive line coach Jay Hayes. "Scary," Hayes said, via the Bengals' official team site. "It's scary how fast and explosive he is right now. I think he has the confidence that he has his legs under him. He feels like he did." In 2012, Atkins recorded a career-best 12 1/2 sacks. Defensive coordinator Paul Guenther believes Atkins could be on his way back to that level. "He looks as good as any guy we've got on our team. On the defensive side at least," Guenther said. "He's real explosive. He looks strong. He looks as good as he's ever had. I'm proud of the way he's come back. He gives us a huge boost. Huge. You're talking about one of the elite players in the league."

Bengals defensive tackle Geno Atkins was named to the Pro Bowl roster Friday. It will be his third Pro Bowl appearance. Atkins totaled 34 tackles (20 solo) and three sacks in 16 games in 2014.

Bengals defensive coordinator Paul Guenther said the team will look for a pass-rushing defensive tackle if Geno Atkins doesn't recover his past form. Atkins struggled coming off ACL surgery, recording 34 tackles, three sacks and a forced fumble while playing every game. "We need to get him back to where he was when he was one of the best three techniques in the game," Guenther told the team's website. "This year he was just three technique No. 20. He was just a guy out there. We need to get him back where he was a game wrecker inside." Atkins, 26, is signed through 2018 and is set to make $5.7 million next season. He had 26.5 sacks from the start of the 2011 season until tearing his ACL in Week 9 of the 2013 season.

Bengals defensive tackle Geno Atkins sustained a slight hyperextension of his surgically repaired knee Thursday night against Cleveland, per NFL Network Insider Ian Rapoport, who is further reporting that it's not considered serious. Atkins left the game with the knee issue, but has started every game this season.
Completed Games
| WK | OPP | TK | SACK | INT | FF | DFR | DFTD | PDEF | FPTS |
| --- | --- | --- | --- | --- | --- | --- | --- | --- | --- |
| 1 | @OAK | 2.0 | 1 | 0 | 1 | 0 | 0 | 0 | 1 |
| 2 | SD | 0.0 | 1 | 0 | 0 | 0 | 0 | 0 | 1 |
| 3 | @BAL | 2.0 | 0 | 0 | 0 | 0 | 0 | 0 | 0 |
| 4 | KC | 2.0 | 1 | 0 | 0 | 0 | 0 | 0 | 1 |
| 5 | SEA | 2.0 | 1 | 0 | 0 | 0 | 0 | 0 | 1 |
| 6 | @BUF | 2.0 | 0 | 0 | 0 | 0 | 0 | 0 | 0 |
| 7 | BYE | - | - | - | - | - | - | - | - |
| 8 | @PIT | 2.0 | 1 | 0 | 0 | 0 | 0 | 0 | 1 |
| 9 | CLE | 3.0 | 1 | 0 | 0 | 0 | 0 | 0 | 1 |
| 10 | HOU | 1.0 | 0 | 0 | 0 | 0 | 0 | 0 | 0 |
| 11 | @ARI | 4.0 | 1 | 0 | 0 | 0 | 0 | 0 | 1 |
| 12 | STL | 3.0 | 1 | 0 | 0 | 0 | 0 | 0 | 1 |
| 13 | @CLE | 0.0 | 0 | 0 | 0 | 0 | 0 | 0 | 0 |
| 14 | PIT | 1.0 | 0 | 0 | 0 | 0 | 0 | 0 | 0 |
| 15 | @SF | 4.0 | 2 | 0 | 0 | 0 | 0 | 0 | 2 |
| 16 | @DEN | 0.0 | 0 | 0 | 0 | 0 | 0 | 0 | 0 |
| 17 | BAL | 3.0 | 1 | 0 | 0 | 0 | 0 | 0 | 1 |