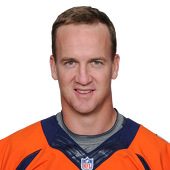 Own

64%

Start

2%

QB Rank

3
INJURY ALERT:
Doubtful | Foot | Doubtful for Week 13 at San Diego
Latest News
NFL Network's Ian Rapoport suggested Thursday that Manning (foot) is at least three weeks away from playing again. When explaining the basis of the estimate, Rapoport noted Thursday that Manning is "going to be in a cast for up to 10 days, then he's got another week of rehab, and then he's got to try to get on the field." Based on that, Rapoport suggests that "the date to circle on your calendar is Dec. 20 against the Steelers. That's the most realistic date that Manning could be back, but no one has guaranteed to me that he'll definitely be back on the field, especially if Brock Osweiler is playing well." In any case, the Broncos have already acknowledged that Manning -- who continues to recover from a plantar fascia tear -- is expected to miss at least the next two games, with Osweiler slated to fill in for him at QB in the meantime.

Broncos quarterback Peyton Manning (plantar fascia tear) will miss at least the next two weeks, the team announced Tuesday. He had a consultation Monday with foot and ankle specialist Dr. Robert Anderson, and his foot will be in a walking cast for at least a week. According to this latest news, the soonest Manning could be back under center would be Dec. 13 at home against the Raiders, although coach Gary Kubiak was non-committal about whether Manning would be the team's starting quarterback when he is medically cleared to play. Brock Osweiler will start again Sunday against the Patriots, and the team is expected to work out former Vikings quarterback Christian Ponder on Wednesday to add depth.

Broncos head coach Gary Kubiak did not commit to Manning (foot/ribs) when asked Monday if the veteran signal-caller will get his starting job back when/if he is healthy, Mike Klis of 9News reports Kubiak ruled Manning out for Sunday's game against the Patriots, also saying that the team will evaluate its quarterback situation on a week-to-week basis. Manning is clearly in danger of missing time beyond Week 12, and he is visiting with orthopedic foot specialist Dr. Robert Anderson on Monday, according to ESPN's Adam Schefter.

Manning (foot) will not return for Sunday's game against the Patriots, ESPN's Adam Schefter reports. Manning may have had this one circled on his calendar, but his absence comes as no surprise. There's been no shortage of suggestions that the absence will last multiple weeks, along with speculation that he won't play again this season. It's still too early for any assumptions beyond Week 12, but Brock Osweiler will start Sunday's game against the Patriots.

Manning (foot/ribs) will meet with head coach Gary Kubiak on Monday to discuss the quarterback's plan for the upcoming week, ESPN.com reports. The Broncos have yet to make any kind of announcement, but with Manning still in significant pain, it will be surprising if Brock Osweiler doesn't get at least one more start. The larger question pertains to what the team will do if Osweiler continues to play well and Manning's injury improves. Last week, Manning was ruled out after meeting with Kubiak on Monday. It will be notable if the same thing doesn't happen after this week's meeting.
Recent Tweets
He wasn't on the field after kickoff, but here's how #Manning helped the #BroncosWin https://t.co/r2wzgiGaVF https://t.co/7dBNxzovLC

Peyton Manning didn't hang out on the field after kickoff, but he stayed involved Sunday: https://t.co/ZmWWQ4fbut https://t.co/j3he44Gm5p

Coach Kubiak updates injuries to Ward, Williams, Vasquez and Manning. WATCH https://t.co/yPkCyFcI1n https://t.co/G6gEffNFhc
Completed Games
WK
OPP
PAATT
PACMP
PAYD
PATD
PAINT
RUYD
RUTD
FPTS
1
BAL
40
24
175
0
1
-1
0
6
2
@KC
45
26
256
3
1
0
0
27
3
@DET
42
31
324
2
1
-1
0
23
4
MIN
27
17
213
1
2
-2
0
12
5
@OAK
35
22
266
0
2
0
0
8
6
@CLE
48
26
290
1
3
0
0
14
7
BYE
-
-
-
-
-
-
-
-
8
GB
29
21
340
0
1
0
0
12
9
@IND
36
21
281
2
2
0
0
21
10
KC
20
5
35
0
4
0
0
-3

*

11
@CHI
0
0
0
0
0
0
0
0

*

12
NE
0
0
0
0
0
0
0
0
PROJECTION
595
393
4730
35
13.3
40.1
0.3
379.5
Career Stats
| Season | CmpPct | PaYd | PaTD | PaInt | RuYd | RuTD | FPTS |
| --- | --- | --- | --- | --- | --- | --- | --- |
| 2015 | 59.9 | 2180 | 9 | 17 | -4 | 0 | 124 |
| 2014 | 66.2 | 4727 | 39 | 15 | -24 | 0 | 412 |
| 2013 | 68.3 | 5477 | 55 | 10 | -31 | 1 | 545 |
| 2012 | 68.6 | 4659 | 37 | 11 | 6 | 0 | 397 |
| 2011 | 0.0 | 0 | 0 | 0 | 0 | 0 | 0 |
| 2010 | 66.3 | 4700 | 33 | 17 | 18 | 0 | 370 |
| 2009 | 68.8 | 4500 | 33 | 16 | -13 | 0 | 362 |
| 2008 | 66.8 | 4002 | 27 | 12 | 21 | 1 | 318 |
| 2007 | 65.4 | 4040 | 31 | 14 | -5 | 3 | 351 |
| 2006 | 65.0 | 4397 | 31 | 9 | 36 | 4 | 379 |
| 2005 | 67.3 | 3747 | 28 | 10 | 45 | 0 | 311 |
| 2004 | 67.6 | 4557 | 49 | 10 | 38 | 0 | 469 |
| 2003 | 67.0 | 4267 | 29 | 10 | 26 | 0 | 336 |
| 2002 | 66.3 | 4200 | 27 | 19 | 148 | 2 | 337 |
| 2001 | 62.7 | 4131 | 26 | 23 | 157 | 4 | 337 |
| 2000 | 62.5 | 4413 | 33 | 15 | 116 | 1 | 376 |
| 1999 | 62.1 | 4135 | 26 | 15 | 73 | 2 | 325 |
| 1998 | 56.7 | 3739 | 26 | 28 | 62 | 0 | 283 |
| 3 Year Avg | 67.7 | 4954 | 44 | 12 | -16 | 0 | 452 |
| Career | 65.3 | 71871 | 539 | 251 | 669 | 18 | |
Depth Chart
| | QB |
| --- | --- |
| | |