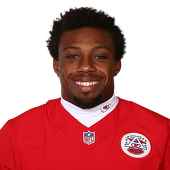 Own

9%

Start

4%

FS Rank

NR
Player News
Berry finished the 2015 campaign with 61 tackles (55 solo) and two interceptions. After missing a the 2014 campaign due to a bout with cancer, Berry emerged better than ever, and returned to his previous form in 2015. He'll likely put his name in the hat for the Comeback Player of the Year award alongside teammate Derrick Johnson, but he will enter the offseason as an unrestricted free agent. It seems likely the Chiefs will make a push to re-sign Berry, but there's no guarantee he will be back in Kansas City for 2016.

The Chiefs announced that safety Eric Berry has been medically cleared, after a battle with Hodgkins Lymphoma. Berry was diagnosed in December and completed treatment in June. He'll return to practice on Wednesday.

Andy Reid has declared that Chiefs safety Eric Berry doing "well" and has been through all his treatments, the Kansas City Star is reporting. The 26-year-old Berry is battling Hodgkin's lymphoma, which limited him to six games last season. It remains to be seen if and when he returns to the field.

Chiefs safety Eric Berry is staying positive and doing well in his treatment to battle Hodgkin lymphoma, according to the Kansas City Star. "He's doing well in that treatment process, but that's a tough process to go through," said Clark Hunt, who visited Berry in Atlanta in January and gets regular updates on his status. Head coach Andy Reid also reiterated that Berry is progressing well. "He's doing well," said Reid, who said he last spoke to Berry a week before he arrived for the meetings. "(He's) positive and upbeat." Berry, 26, has 289 total tackles, 5.5 sacks, eight interceptions and 31 passes defensed in five seasons with the Chiefs.

Chiefs general manager John Dorsey told Sirius XM NFL Radio that safety Eric Berry's battle with Hodgkin's lymphoma is going well. "Well, anybody who knows Eric Berry knows that if there's a challenge presented to him, he will attack it with a vengeance," Dorsey said, per NFL.com. "And he will do that. Everything that I have gotten back has been very positive. I have not spoken with him on the phone for probably six weeks, but I have texts. We communicated through texts. He's in good spirits, he's fine, he's driving, and he's going to conquer it."Berry, 26, was diagnosed in December. His career is on hold while he fights the treatable disease.
Recent Tweets
Here are the top safety contracts for those wondering where the range is for Berry. #Chiefs https://t.co/QBJ71PiYlt

Position Evaluation: LT Eric Fisher makes strides in third year with #Chiefs https://t.co/LEB9k1v2Gt https://t.co/b44lv4vijS

Fully expect Sean Smith, Jaye Howard & Eric Berry to get pay days in KC or on the open market.
Completed Games
| WK | OPP | TK | SACK | INT | FF | DFR | DFTD | PDEF | FPTS |
| --- | --- | --- | --- | --- | --- | --- | --- | --- | --- |
| 1 | @HOU | 2.0 | 0 | 0 | 0 | 0 | 0 | 1 | 0 |
| 2 | DEN | 4.0 | 0 | 0 | 0 | 0 | 0 | 0 | 0 |
| 3 | @GB | 4.0 | 0 | 0 | 0 | 0 | 0 | 0 | 0 |
| 4 | @CIN | 4.0 | 0 | 0 | 0 | 0 | 0 | 0 | 0 |
| 5 | CHI | 3.0 | 0 | 0 | 0 | 0 | 0 | 2 | 0 |
| 6 | @MIN | 3.0 | 0 | 0 | 0 | 0 | 0 | 0 | 0 |
| 7 | PIT | 3.0 | 0 | 1 | 0 | 0 | 0 | 1 | 2 |
| 8 | DET | 3.0 | 0 | 0 | 0 | 0 | 0 | 0 | 0 |
| 9 | BYE | - | - | - | - | - | - | - | - |
| 10 | @DEN | 2.0 | 0 | 1 | 0 | 0 | 0 | 4 | 2 |
| 11 | @SD | 8.0 | 0 | 0 | 0 | 0 | 0 | 0 | 0 |
| 12 | BUF | 5.0 | 0 | 0 | 0 | 0 | 0 | 0 | 0 |
| 13 | @OAK | 3.0 | 0 | 0 | 0 | 0 | 0 | 0 | 0 |
| 14 | SD | 4.0 | 0 | 0 | 0 | 0 | 0 | 0 | 0 |
| 15 | @BAL | 4.0 | 0 | 0 | 0 | 0 | 0 | 0 | 0 |
| 16 | CLE | 3.0 | 0 | 0 | 0 | 0 | 0 | 2 | 0 |
| 17 | OAK | 0.0 | 0 | 0 | 0 | 0 | 0 | 0 | 0 |