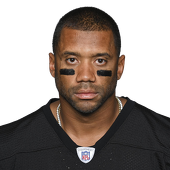 Own

100%

Start

77%

QB Rank

8
Player News
Wilson completed 31 of 48 passes for 366 yards, three touchdowns and two interceptions in Sunday's loss to the Panthers. He added 32 yards on three carries. Two early picks put Seattle in a very early bind, forcing the team to play catch-up by throwing a bunch in the second half. None the less, Wilson threw for at least three touchdowns for the seventh time in his last eight games after having just six such performances in his regular season career prior to that. Wilson's running ability made him a top-level quarterback coming into the season. Though he only scored once on the ground in 2015, his new-found ability to put up consistently big passing performances should make him an even hotter commodity in 2016.

Wilson completed 13 of 26 passes for 142 yards, a touchdown and an interception in Sunday's win over Minnesota. He added 21 yards on the ground on five attempts. With temperatures hanging below zero for much of the game, Wilson and Seattle's offense was held scoreless through three quarters. Then, on a botched snap, Wilson improvised and found Tyler Lockett down field for a 35-yard gain. A few plays later, Wilson connected with Doug Baldwin in the end zone for the 13th time in nine games and the tides turned. Next up for Wilson is a date at Carolina, a team that narrowly beat the Seahawks in Seattle in Week 6 with Wilson tallying 294 total yards, a passing touchdown and no turnovers.

Wilson completed 19 of 28 passes for 197 yards and three touchdowns in Sunday's 36-6 win at Arizona. In a tougher matchup than last week against St. Louis, Wilson was fantastic, tossing three touchdown passes in the first half. The stud QB didn't need to do much in the second half, and was pulled in the fourth quarter with the game out of hand. He's thrown multiple touchdowns in seven straight games, after achieving the feat just once over Seattle's first nine contests. With his big game Sunday, he set a season franchise record in passing yards and touchdowns at 4,024 and 34, respectively. He'll head into the playoffs with serious momentum, but it will be interesting to see the dynamic of the team's offense when Marshawn Lynch (abdomen) returns, which could be as early as their wild card game next weekend.

Wilson completed 25 of 41 passes for 289 yards with two touchdowns and an interception in Sunday's 23-17 loss to the Rams. He also ran six times for 39 yards, losing a fumble late in the game. In rainy and wet conditions, Wilson finally cooled off, throwing his first interception and less than three touchdown passes for the first time since Week 10. His interception came on an ill-advised throw into double coverage, and his second touchdown pass didn't come until 27 seconds left in the game. No matter, his record-setting hot streak (19:0 TD:INT ratio over the previous four games) probably catapulted a lot of fantasy owners deep into the playoffs. If you still need him next week, he'll have a tough matchup at Arizona, which held him to just 14 of 32 pass attempts for 240 yards and one touchdown in the middle of November.

Wilson completed 21 of 30 passes for 249 yards with three touchdowns in Sunday's 30-13 win over the Browns. He also carried the ball five times for 46 yards. Wilson entered Sunday's contest on a four-week tear, and did not disappoint in a favorable matchup. Over his last five games, he's thrown an amazing 19 touchdowns without tossing a single interception. He and Doug Baldwin, who scored twice Sunday, established an NFL record for the most touchdown passes between a QB and WR in a four-game span, hooking up for 10 touchdowns. The former Wisconsin product has a trickier matchup, at least on paper, next week against St. Louis, although the game will be in Seattle.
Recent Tweets
Russell Wilson wrote a pretty cool goodbye letter for Peyton Manning. https://t.co/0BAPWOD8j8

Monday Round-Up: One moment @DangeRussWilson "won't forget" about Peyton Manning [https://t.co/XUsuzme2Hk] https://t.co/IN2tE4RGYD

Crazy stat: The Seahawks have twice as many wins (46) in their four seasons with Russell Wilson than they did in the four seasons prior (23)
Completed Games
WK
OPP
PAATT
PACMP
PAYD
PATD
PAINT
RUYD
RUTD
FPTS
1
@STL
41
32
251
1
1
31
0
18
2
@GB
30
19
206
2
1
78
0
26
3
CHI
30
20
235
1
0
28
0
17
4
DET
26
20
287
1
0
40
0
21
5
@CIN
23
15
213
1
1
21
0
15
6
CAR
30
18
241
1
0
53
0
20
7
@SF
24
18
235
1
2
20
0
15
8
@DAL
30
19
210
1
1
32
0
16
9
BYE
-
-
-
-
-
-
-
-
10
ARI
32
14
240
1
1
52
0
19
11
SF
29
24
260
3
0
30
0
31
12
PIT
30
21
345
5
0
14
0
44
13
@MIN
27
21
274
3
0
51
1
39
14
@BAL
32
23
292
5
0
6
0
41
15
CLE
30
21
249
3
0
46
0
31
16
STL
41
25
289
2
1
38
0
25
17
@ARI
28
19
197
3
0
13
0
26
PROJECTION
421
263
3551
25.3
13.7
759
4.3
363.9
Scheduled Games
| WK | DATE | OPP | OPP RANK | OPP FPTS |
| --- | --- | --- | --- | --- |
Career Stats
| Season | CmpPct | PaYd | PaTD | PaInt | RuYd | RuTD | FPTS |
| --- | --- | --- | --- | --- | --- | --- | --- |
| 2015 | 68.1 | 4024 | 34 | 8 | 553 | 1 | 417 |
| 2014 | 63.1 | 3475 | 20 | 7 | 849 | 6 | 373 |
| 2013 | 63.1 | 3357 | 26 | 9 | 539 | 1 | 340 |
| 2012 | 64.1 | 3118 | 26 | 10 | 489 | 4 | 342 |
| 3 Year Avg | 63.5 | 3317 | 24 | 9 | 626 | 4 | 353 |
| Career | 64.7 | 13974 | 106 | 34 | 2430 | 12 | |
Depth Chart
| | QB |
| --- | --- |
| | |