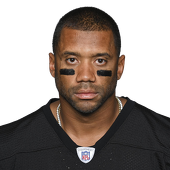 Own

96%

Start

57%

QB Rank

8
Latest News
Wilson completed 24 of 29 passes for 260 yards and three touchdowns in Sunday's 29-13 win over the 49ers. He also ran nine times for 30 yards. In one of Wilson's most favorable matchups of the season, he put together a great fantasy game, tossing a pair of touchdowns to rookie Tyler Lockett and adding another to Thomas Rawls. Until Sunday's mini explosion, Wilson had been a boring, yet steady option this season, with over 200 passing yards and at least one touchdown in all 10 games. His prowess as a runner has provided a boost too, scampering for 386 yards, although he's still searching for his first rushing touchdown (he scored six times on the ground in 2014). On the flip side, he still hasn't thrown for more than 300 yards and has just two games with multiple passing touchdowns. Next up for Wilson will be a relatively tough matchup with the Steelers at home.

Wilson completed 14 of 32 passes for 240 yards, with a touchdown and an interception in Sunday's 39-32 loss to the Cardinals. He added six carries for 52 yards. Wilson didn't get much help from his teammates besides Doug Baldwin, who caught seven passes for 134 yards and a touchdown. The Seattle offense otherwise struggled, partially because Wilson was inaccurate. He did pad his rushing stats in garbage time, but he still doesn't have a rushing touchdown this season and has just 10 passing touchdowns in nine game. Drafted by most to be an every-week starter, Wilson is now a borderline option in many formats, and he probably won't have much volume in a Week 11 home game against the 49ers.

Wilson completed 19-of-30 passes for 210 yards with one touchdown and an interception in Sunday's 13-12 win at Dallas. He also rushed for 32 yards on six carries. It was somewhat ugly for Wilson and the entire offense, but he was able to convert a couple of key third downs, mainly with his legs, on the team's penultimate drive of the game, which resulted in the game-winning field goal at the 1:10 mark of the fourth quarter. Wilson was on pace to shatter his career high in passing attempts for a season, but the Seahawks have been running the ball a bit more lately, especially with Marshawn Lynch healthy again. While Wilson has provided nice rushing numbers for fantasy owners, he still hasn't thrown for 300 yards or recorded more than two passing touchdowns in a game this year. Make sure he's on your bench in Week 9, as the Seahawks will have their bye.

Wilson completed 18 of 24 passes for 235 yards, with one touchdown and two interceptions in Sunday's 20-3 win over the 49ers. He added 20 yards on seven carries. Wilson appeared to be on his way to an excellent game after he hit Tyler Lockett for a 43-yard touchdown to give the Seahawks a 17-0 lead with just under three minutes remaining in the first half. Wilson struggled from that point forward, throwing one bad interception right before halftime and another midway through the third quarter. He was also sacked five times, with the Seattle offensive line once again struggling to protect the passer. Wilson will eventually have a big game, but given the current state of Seattle's offense, it's hard to see that happening without a bunch of his production coming on the ground. The Seahawks head to Dallas in Week 8.

Wilson completed 18-of-30 passes for 241 yards and a touchdown in Sunday's 27-23 loss to Carolina. He added 53 yards on eight carries. Wilson salvaged his fantasy day with nice rushing numbers, and a 40-yard touchdown to Ricardo Lockette, although Lockette had to make a spectacular catch in the end zone. The Seahawks once again struggled on the opposing team's side of the field, as Steven Hauschka kicked three field goals. On a positive note, Wilson hooked up early and often with TE Jimmy Graham, who had eight receptions for a season-high 140 yards. Wilson will have a short week to prepare, traveling to San Francisco on Thursday.
Recent Tweets
Mic'd up for #SFvsSEA @DangeRussWilson 🔊: "Victory - Best play in football." #SoundFX VIDEO: [https://t.co/fu1sGixZlH]

Bevell's QBs pre-Wilson were Brad Johnson, Tarvaris, Bollinger, Holcomb, Frerotte, Webb, Favre, Ponder, Whitehurst https://t.co/189rNwZhWr

What they're saying about the Seahawks: Rawls has never run out of bounds; the plan at RCB; Wilson's big day. https://t.co/m9VsBC7YBj
Completed Games
WK
OPP
PAATT
PACMP
PAYD
PATD
PAINT
RUYD
RUTD
FPTS
1
@STL
41
32
251
1
1
31
0
18
2
@GB
30
19
206
2
1
78
0
26
3
CHI
30
20
235
1
0
28
0
17
4
DET
26
20
287
1
0
40
0
21
5
@CIN
23
15
213
1
1
21
0
15
6
CAR
30
18
241
1
0
53
0
20
7
@SF
24
18
235
1
2
20
0
15
8
@DAL
30
19
210
1
1
32
0
16
9
BYE
-
-
-
-
-
-
-
-
10
ARI
32
14
240
1
1
52
0
19
11
SF
29
24
260
3
0
30
0
31
PROJECTION
421
263
3551
25.3
13.7
759
4.3
363.9
Career Stats
| Season | CmpPct | PaYd | PaTD | PaInt | RuYd | RuTD | FPTS |
| --- | --- | --- | --- | --- | --- | --- | --- |
| 2015 | 67.5 | 2378 | 13 | 7 | 385 | 0 | 204 |
| 2014 | 63.1 | 3475 | 20 | 7 | 849 | 6 | 373 |
| 2013 | 63.1 | 3357 | 26 | 9 | 539 | 1 | 340 |
| 2012 | 64.1 | 3118 | 26 | 10 | 489 | 4 | 342 |
| 3 Year Avg | 63.5 | 3317 | 24 | 9 | 626 | 4 | 353 |
| Career | 64.2 | 12328 | 85 | 33 | 2262 | 11 | |
Depth Chart
| | QB |
| --- | --- |
| | |