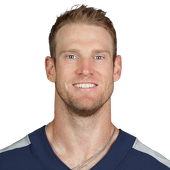 Own

77%

Start

15%

QB Rank

11
Latest News
Tannehill completed 33 of 58 passes for 351 yards, with three touchdowns and one interception Sunday against the Jets. He also failed to record a rushing yard and lost a fumble. While the stats looked good by the end, a significant amount came with the Dolphins trailing by as many as three touchdowns. Tannehill connected with nine different receivers, with Jarvis Landry (knee) leading the way by catching 13 of 16 targets for 165 yards and a touchdown. The Dolphins continue to spiral out of the AFC playoff picture, though Tannehill has at least taken advantage of the garbage time, throwing seven touchdowns in the last three games. Up next is a Week 13 home game against the Ravens, who are allowing the ninth-most passing yards per game while giving up the seventh-most passing touchdowns.

Tannehill completed just 13 of 24 passes for 188 yards, two touchdowns and an interception in Sunday's loss to the Cowboys. He also gained 13 yards on three carries. The meager yardage output was Tannehill's lowest of the season, thanks to constant harassment from the Dallas defense, but he was able to salvage the day for his owners with the pair of scores. Tannehill's fantasy output has been all over the map since Dan Campbell took over as head coach, placing added emphasis on the run, but he has still thrown for multiple scores in four of the last six. The Dolphins will hit the road to take on the Jets in Week 12.

Tannehill completed 21 of 36 passes for 217 yards and two touchdowns Sunday against the Eagles. He was also sacked four times for a loss of 27 yards, including once in the end zone that resulted in a safety. Tannehill connected with six different players, throwing his touchdowns to running back Lamar Miller and wideout Jarvis Landry. His one to Landry was incredibly lucky, as it was tipped at the line near the end zone and somehow landed in Landry's hands despite being in the air for quite some time. Tannehill snapped a two-game streak with no touchdowns, as he threw for at least two for the sixth time this season. Up next is a Week 11 home game against the Cowboys.

Tannehill completed 27-of-36 passes for 309 yards Sunday against the Bills. He also rushed twice for three yards. Tannehill connected with seven different receivers, though three of them caught just a single pass. Running back Lamar Miller led the way with 97 receiving yards (seven catches on seven targets), while wideout Jarvis Landry caught 11-of-13 targets for 69 yards, but none of them found their way into the end zone (Lamar MIller had two one-yard rushing TDs). Tannehill continues to be very accurate with his passes, completing over 70 percent in three of the last four games, but he's failed to throw a touchdown pass in back-to-back games after his four-TD performance in Week 7 against the Texans. Up next is a Week 10 road game against the Eagles, the Dolphins' third road game in four games.

Tannehill completed 28 of 44 passes for 255 yards, with no touchdowns and two interceptions in Thursday's 36-7 loss to the Patriots. Following back-to-back dominant performances in soft matchups, Tannehill and the entire Miami offense took a huge step back Thursday night. Tannehill made a number of poor decisions and struggled to handle pressure, but he also didn't get any help from his receivers, offensive line or running game. He should bounce back in Week 9 at least to some extent, despite drawing a tough road matchup with the Bills.
Recent Tweets
As another season turns dark, is Ryan Tannehill enough? Is he the #Dolphins' franchise QB? https://t.co/0UK1ZwvEGg

I'm not saying Bill Lazor was Mike Martz, circa 1999. But let's be realistic here: Tannehill has been a bottom 10 QB in the league this year

That Tannehill quote from my column on Sunday ... https://t.co/72fu1gRP9P
Completed Games
WK
OPP
PAATT
PACMP
PAYD
PATD
PAINT
RUYD
RUTD
FPTS
1
@WAS
34
22
226
1
0
7
0
15
2
@JAC
44
30
359
2
0
17
0
27
3
BUF
49
26
297
2
3
-1
0
22
4
NYJ
44
19
198
2
2
4
0
17
5
BYE
-
-
-
-
-
-
-
-
6
@TEN
29
22
266
2
2
14
0
21
7
HOU
19
18
282
4
0
3
0
35
8
@NE
44
28
300
0
2
-1
0
10
9
@BUF
36
27
309
0
0
3
0
12
10
@PHI
36
21
217
2
0
-2
0
20
11
DAL
24
13
188
2
1
13
0
19
12
@NYJ
58
33
351
3
1
0
0
31
PROJECTION
585
376
4092
25.1
15
320
1
323.6
Career Stats
| Season | CmpPct | PaYd | PaTD | PaInt | RuYd | RuTD | FPTS |
| --- | --- | --- | --- | --- | --- | --- | --- |
| 2015 | 62.1 | 2993 | 20 | 11 | 57 | 0 | 235 |
| 2014 | 66.4 | 4045 | 27 | 12 | 311 | 1 | 348 |
| 2013 | 60.4 | 3913 | 24 | 17 | 238 | 1 | 312 |
| 2012 | 58.3 | 3294 | 12 | 13 | 211 | 2 | 223 |
| 3 Year Avg | 61.9 | 3751 | 21 | 14 | 254 | 1 | 295 |
| Career | 61.9 | 14243 | 83 | 53 | 817 | 4 | |
Depth Chart
| | QB |
| --- | --- |
| | |