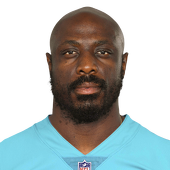 Own

57%

Start

38%

OLB Rank

NR
INJURY ALERT:
Questionable | Knee | Questionable for Week 13 at Oakland
Latest News
Houston (knee) is week-to-week with a sprained PCL, NFL.com's Ian Rapoport reports. Although a sprained PCL isn't overly serious, Houston will likely still miss at least one game. He already missed most of Sunday's win over the Bills, allowing Frank Zombo to get extensive playing time at left outside linebacker. The drop-off would be significant for the Kansas City defense, even if it's only for a game or two.

Houston (knee) is believed to have only suffered a minor injury, as initial tests revealed a PCL sprain, NFL.com's Ian Rapoport reports. Houston was forced out of Sunday's win over Buffalo with a knee injury, but seems to have avoided serious damage. While tests are reportedly ongoing, Houston thus far has only been diagnosed with a sprained PCL, which is considered minor. The All Pro linebacker's status will be updated as more information is made available, but early indications appear relatively positive.

Houston (knee) is questionable to return Sunday against the Bills. Houston's absence is a huge blow to a Chiefs defense that has been on fire lately. While he misses time, Frank Zombo is likely to take over at left outside linebacker.

Houston picked up two sacks in Sunday's game against the Broncos. Houston had two of the team's five sacks on the day, hitting the quarterback four times total. While he will likely fall well short of his 22 sacks from last season, he should have another double-digit sack season again in 2015.

Chiefs linebacker Justin Houston notched three tackles (all for loss, solo) and one sack Sunday against the Vikings. While he doesn't really impact the box score in many other categories, he finally paid off what he was drafted for again Sunday, and faces a Steelers offensive line in Week 7 that has allowed 16 sacks through six games this season.
Recent Tweets
Even with Houston potentially missing Raiders game, Chiefs remain 3-point favorites https://t.co/q7SABvT8IH

Yeah will definitely be a tough game if Houston doesn't play https://t.co/R0xYoH6t2P

Justin Houston will receive an MRI on his knee later today. UPDATE ➡️ https://t.co/gID7RuUGYD https://t.co/QPy1IKlmTk
Completed Games
| WK | OPP | TK | SACK | INT | FF | DFR | DFTD | PDEF | FPTS |
| --- | --- | --- | --- | --- | --- | --- | --- | --- | --- |
| 1 | @HOU | 3.0 | 1 | 0 | 1 | 0 | 0 | 0 | 1 |
| 2 | DEN | 5.0 | 2 | 0 | 0 | 0 | 0 | 1 | 2 |
| 3 | @GB | 4.0 | 0 | 0 | 0 | 0 | 0 | 0 | 0 |
| 4 | @CIN | 1.0 | 0 | 0 | 0 | 0 | 0 | 0 | 0 |
| 5 | CHI | 2.0 | 0 | 0 | 0 | 0 | 0 | 0 | 0 |
| 6 | @MIN | 3.0 | 1 | 0 | 0 | 0 | 0 | 2 | 1 |
| 7 | PIT | 1.0 | 0 | 0 | 0 | 0 | 0 | 1 | 0 |
| 8 | DET | 2.0 | 1.5 | 1 | 0 | 0 | 0 | 1 | 3.5 |
| 9 | BYE | - | - | - | - | - | - | - | - |
| 10 | @DEN | 3.0 | 2 | 0 | 0 | 0 | 0 | 0 | 2 |
| 11 | @SD | 1.0 | 0 | 1 | 0 | 0 | 1 | 1 | 8 |
| 12 | BUF | 0.0 | 0 | 0 | 0 | 0 | 0 | 0 | 0 |