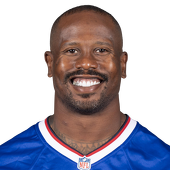 Own

32%

Start

23%

OLB Rank

NR
Player News
Miller tallied three solo tackles, a sack and a forced fumble in Sunday's loss to the Raiders. Miller recorded his 10th sack of the season on Sunday along with his fourth forced fumble in a defensive battle against the Raiders. He's now recorded a sack in five straight games, and he's shown no signs of slowing down. Miller is one of the top pass-rushers in the game and he'll continue to hold very strong IDP value moving forward.

Broncos linebacker Von Miller had four tackles and his second sack of the season Sunday against the Vikings. Miller has picked up a sack in two of his last three games, but as long as he's defined as a linebacker in most fantasy formats, his fantasy IDP value is limited because he doesn't get nearly as many tackles as most other players at his position.

Broncos linebacker Von Miller was recently released from the NFL's drug program, a source told The Denver Post. With Miller not failing a drug test over the last two years along with a new drug policy, Miller has been removed from the program and will no longer require multiple tests each week. Miller violated the league's drug policy in 2013 and was suspended for six games.

Broncos linebacker Von Miller has changed his diet during the offseason and he said it's starting to pay off, reports The Denver Post. "Sometimes you just have to step away from the burgers and stuff," Miller said. "It might not be hurting you, but it's definitely not helping you." As a result of the diet changes, Miller said he's gone from 252 pounds last season to 242 pounds. "I was in pretty good shape last year, but going to another level, it's always about how far you push yourself," Miller said. "I definitely feel like I'm in better shape than I was coming in to [organized team activities], and I'll be in even better shape coming into training camp."

Broncos defensive coordinator Wade Phillips is hoping to run a more aggressive defense in 2015, according to ESPN. "We're aggressive," Phillips said. "Defensive players, they're aggressive by nature. I think you take something away from them when you don't let them be." Phillips clarified that he won't necessarily get blitz-happy, but said he would have an "attack defense. That's the way players like to play," Phillips said. "You get the best results out of that and I think you play the best that way so we'll be that way." Phillips' strategy should be a welcome addition in Denver. Former defensive coordinator Jack Del Rio was often criticized for the team's lack of aggression on defense. Phillips already has the support of Von Miller and DeMarcus Ware. "This defense has the players to do it, we need just to get in the lab and figure out how to be better," Miller said. "Because we had moments where we showed what we can do, but we didn't do it enough, myself included, I know that." Ware added, "we feel like there's more we can do. We want every play to be hard on the quarterback."
Recent Tweets
Von Miller, T.J. Ward, Shiloh Keo each fined $23K. I wonder if Peyton Manning pays 'em back with some of that $2 million he won? #Broncos
Completed Games
| WK | OPP | TK | SACK | INT | FF | DFR | DFTD | PDEF | FPTS |
| --- | --- | --- | --- | --- | --- | --- | --- | --- | --- |
| 1 | BAL | 1.0 | 0 | 0 | 0 | 0 | 0 | 0 | 0 |
| 2 | @KC | 4.0 | 1 | 0 | 0 | 0 | 0 | 0 | 1 |
| 3 | @DET | 0.0 | 0 | 0 | 0 | 0 | 0 | 0 | 0 |
| 4 | MIN | 3.0 | 1 | 0 | 0 | 1 | 0 | 0 | 3 |
| 5 | @OAK | 2.0 | 1 | 0 | 1 | 1 | 0 | 0 | 3 |
| 6 | @CLE | 0.0 | 0 | 0 | 0 | 0 | 0 | 0 | 0 |
| 7 | BYE | - | - | - | - | - | - | - | - |
| 8 | GB | 1.0 | 1 | 0 | 0 | 0 | 0 | 0 | 1 |
| 9 | @IND | 0.0 | 0 | 0 | 0 | 0 | 0 | 0 | 0 |
| 10 | KC | 2.0 | 1 | 0 | 0 | 0 | 0 | 0 | 1 |
| 11 | @CHI | 3.0 | 1 | 0 | 1 | 0 | 0 | 0 | 1 |
| 12 | NE | 3.0 | 1 | 0 | 0 | 0 | 0 | 0 | 1 |
| 13 | @SD | 4.0 | 2 | 0 | 1 | 1 | 0 | 0 | 4 |
| 14 | OAK | 3.0 | 1 | 0 | 1 | 0 | 0 | 1 | 1 |
| 15 | @PIT | 0.0 | 0 | 0 | 0 | 0 | 0 | 0 | 0 |
| 16 | CIN | 3.0 | 0 | 0 | 0 | 0 | 0 | 0 | 0 |
| 17 | SD | 1.0 | 1 | 0 | 0 | 0 | 0 | 0 | 1 |