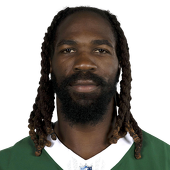 Own

74%

Start

62%

ILB Rank

NR
Latest News
Ravens linebacker C.J. Mosley (ankle) is not listed on the Ravens' Week 3 injury report. It looks safe to roll with Mosley -- who has 15 tackles and two sacks in two games to date -- as an IDP in Sunday's game against the Bengals.

Ravens linebacker C.J. Mosley injured his ankle during Sunday's loss to the Raiders, the Baltimore Sun's Jeff Zrebiec reports. Mosley didn't appear to miss much of the game, and he finished with a team-high nine tackles (eight solo). If he isn't ready for Week 3, the Ravens will have Arthur Brown, Zachary Orr and Albert McClellan as options to start alongside Daryl Smith.

Ravens inside linebacker C.J. Mosley has declared that x-rays have shown that his broken wrist is almost completely healed and that he's been cleared for full contact, per the Baltimore Sun. Mosley had predicted in June he'd be ready to roll after undergoing surgery on the wrist. The second-year player enjoyed a strong rookie season, contributing to 133 tackles and adding three sacks and two interceptions.

Ravens inside linebacker C.J. Mosley has declared that a left wrist injury that required surgery and prevented him from participating in offseason practices will not keep him sidelined from training camp. "Yeah, I'll definitely be ready for camp," he told he Baltimore Sun. "I'd doing pretty good. I'm getting there." Mosley contributed to 133 tackles as a rookie in 2014 to lead the team. He hurt his wrist in December, but played in every game.

Linebacker C.J. Mosley, who underwent wrist surgery after last season, remains in a cast and will be limited as the Ravens begin their offseason practice schedule, according to The Baltimore Sun. Mosley led the Ravens in tackles and made the Pro Bowl as a rookie last season, but hurt the wrist in a December game. He is not participating in all of the weight work the team is doing but feels confident he will be at full strength come training camp. "Everything is progressing," he said. "I haven't had any major setbacks so far."
Recent Tweets
C.J. Mosley is back in the game.

C.J. Mosley back in for this defensive series for Ravens.

C.J. Mosley goes down and gets looked at by the medical staff. He pops up quickly and jogs off the field with a limp.
Completed Games
| WK | OPP | TK | SACK | INT | FF | DFR | DFTD | PDEF | FPTS |
| --- | --- | --- | --- | --- | --- | --- | --- | --- | --- |
| 1 | @DEN | 5.0 | 2 | 0 | 0 | 0 | 0 | 1 | 2 |
| 2 | @OAK | 8.0 | 0 | 0 | 0 | 0 | 0 | 1 | 0 |
| 3 | CIN | 4.0 | 0 | 0 | 0 | 1 | 1 | 1 | 8 |
| 4 | @PIT | 3.0 | 0 | 0 | 0 | 0 | 0 | 0 | 0 |
| 5 | CLE | 1.0 | 0 | 0 | 0 | 0 | 0 | 0 | 0 |
| 6 | @SF | 6.0 | 0 | 0 | 0 | 0 | 0 | 1 | 0 |
| 7 | @ARI | 4.0 | 1 | 0 | 0 | 0 | 0 | 0 | 1 |
| 8 | SD | 4.0 | 0 | 0 | 0 | 0 | 0 | 0 | 0 |
| 9 | BYE | - | - | - | - | - | - | - | - |
| 10 | JAC | 7.0 | 0 | 0 | 0 | 0 | 0 | 0 | 0 |
| 11 | STL | 7.0 | 0 | 0 | 0 | 1 | 0 | 0 | 2 |
| 12 | @CLE | 6.0 | 0 | 0 | 0 | 0 | 0 | 0 | 0 |