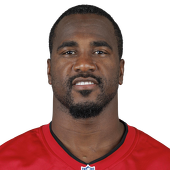 Own

94%

Start

90%

OLB Rank

NR
Player News
David managed 12 tackles (four solo), a forced fumble and a sack in Sunday's 38-10 loss to the Panthers. The fourth-year pro wrapped up another outstanding campaign with his seventh double-digit tackle afternoon of the season. David impressively contributed across virtually defensive category in 2015, collecting a career-high 147 tackles, three sacks, two forced fumbles, two fumble recoveries three interceptions, 13 passes defensed and one defensive touchdown. He and rookie standout Kwon Alexander formed a formidable duo that should only get better next season, and David was an integral component of a Bucs defense that limited opposing running backs to 3.4 yards per carry, second-best in the NFL. Having just completed the first year of a five-year, $50.25 million contract extension, David is set to serve as a centerpiece of the Tampa defense for many seasons to come.

David managed nine tackles (eight solo), including one for loss, in Sunday's 26-21 loss to the Bears. The fourth-year pro continues to pile on the stops, now totaling 41 over the last four weeks, and 135 on the season. David was as active as ever sideline-to-sideline in Week 16, and he and his teammates in the front seven figure to have their hands full against Cam Newton in Tampa's Week 17 road tilt versus the Panthers.

David collected eight tackles (six solo), including one for loss, in Thursday's 31-23 loss to the Rams. The four-year pro spearheaded the linebacking corps in the absence of both Kwon Alexander (suspension) and Bruce Carter (foot/ankle). David did actually total less stops than his first game without Alexander in Week 14, but recorded a tackle for loss for the third straight week and helped Tampa shut down Todd Gurley overall. The defensive standout has now totaled 32 tackles (22 solo), including for for loss, and an interception over his last three games. David and his defensive teammates will try their hand at limiting the Bears' ground game of Matt Forte and Jeremy Langford in Week 16.

David (ankle) totaled 13 tackles (10 solo), including a tackle for loss, and two passes defensed in Sunday's 24-17 loss to the Saints. The standout linebacker shook off a mid-week ankle tweak to post his second-highest number of total stops on the season, and a season-best figure in solo tackles as well. David stepped up to help pick up the slack in the absence of standout rookie Kwon Alexander (suspension), and was an integral part of the Bucs holding the Saints to a minuscule 2.5 yards per rush on the afternoon. The four-year pro and his defensive teammates have the tall order of attempting to slow down Todd Gurley on a quick turaround in Tampa's Week 15 Thursday Night Football road tilt versus the Rams.

David (ankle) is active Sunday against the Saints. David returned to practice on a limited basis Friday after missing Thursday's action, and has remained confident throughout the week that he would play in Sunday's matchup. It looks like that confidence is warranted, as he's set to suit up and fulfill his starting outside linebacker role. The 25-year-old logged 67 defensive snaps last week against Atlanta, where he collected 11 combined tackles and an interception.
Recent Tweets
#BOOM! Pro Bowl LB @LavonteDavid54 has 576 total tackles in his NFL career! (source: Statspass) https://t.co/qUdGI9CpFU

.@LavonteDavid54 is #2 in the #NFL in total tackles since 2012! How many career tackles does he have? #TuesdayTrivia https://t.co/Rl1gMxwLxd

Watch what @LavonteDavid54 had to say after his first #ProBowl! VID: https://t.co/3xalaMu6to https://t.co/nz6DKVBSh5
Completed Games
| WK | OPP | TK | SACK | INT | FF | DFR | DFTD | PDEF | FPTS |
| --- | --- | --- | --- | --- | --- | --- | --- | --- | --- |
| 1 | TEN | 3.0 | 0 | 0 | 1 | 0 | 0 | 0 | 0 |
| 2 | @NO | 4.0 | 0 | 0 | 0 | 0 | 0 | 2 | 0 |
| 3 | @HOU | 3.0 | 0 | 0 | 0 | 0 | 0 | 0 | 0 |
| 4 | CAR | 3.0 | 0 | 0 | 0 | 0 | 0 | 1 | 0 |
| 5 | JAC | 8.0 | 1 | 0 | 0 | 0 | 0 | 1 | 1 |
| 6 | BYE | - | - | - | - | - | - | - | - |
| 7 | @WAS | 6.0 | 0 | 0 | 0 | 0 | 0 | 0 | 0 |
| 8 | @ATL | 3.0 | 0 | 0 | 0 | 0 | 0 | 1 | 0 |
| 9 | NYG | 6.0 | 0 | 0 | 0 | 0 | 0 | 0 | 0 |
| 10 | DAL | 5.0 | 1 | 0 | 0 | 0 | 0 | 1 | 1 |
| 11 | @PHI | 6.0 | 0 | 2 | 0 | 0 | 1 | 2 | 10 |
| 12 | @IND | 4.0 | 0 | 0 | 0 | 0 | 0 | 1 | 0 |
| 13 | ATL | 6.0 | 0 | 1 | 0 | 0 | 0 | 1 | 2 |
| 14 | NO | 10.0 | 0 | 0 | 0 | 0 | 0 | 2 | 0 |
| 15 | @STL | 6.0 | 0 | 0 | 0 | 0 | 0 | 0 | 0 |
| 16 | CHI | 8.0 | 0 | 0 | 0 | 0 | 0 | 1 | 0 |
| 17 | @CAR | 4.0 | 1 | 0 | 1 | 2 | 0 | 0 | 5 |